Hello, hello! Welcome to the cover reveal for Crystal Crowned, the fifth (and final) book in the Air Awakens series! Someone will have to hold me, I am not sure what I will do when it ends. You're likely to find me curled up in the fetal position refusing to speak, or sobbing, or who even knows, maybe both? 
So that you don't forget my love for the other books, here's a quick recap. And if you haven't read them, off you go. I even have a giveaway happening right now. So extra chances to win, yay!
The first four epic adventures!!!
And now… the cover and info for Crystal Crowned!!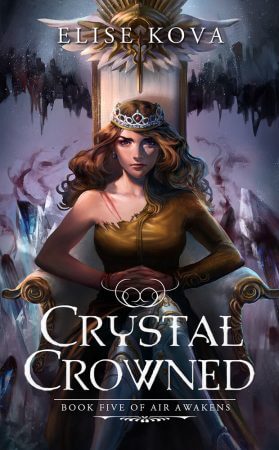 Crystal Crowned
by Elise Kova
Series: Air Awakens #5
Published by Silver Wing Press
on July 12, 2016
Pages: 400

Long live Solaris.

One bloodthirsty ruler has been overthrown by another, casting the shadow of death over the Solaris Empire. Vhalla Yarl stands upon the stage of fate, prepared to do battle one final time. Fragile alliances will be tested and new bonds will be formed as the world is reshaped. She fights as the champion of peace, but when the night is darkest will she be able to pay the price of a new dawn?.

.
.
Pre-order links (and more on the way!)
So, I need your thoughts! Do you love it as much as I do? I cannot think of a more perfect cover for the end of this series, and now I need to go sob!