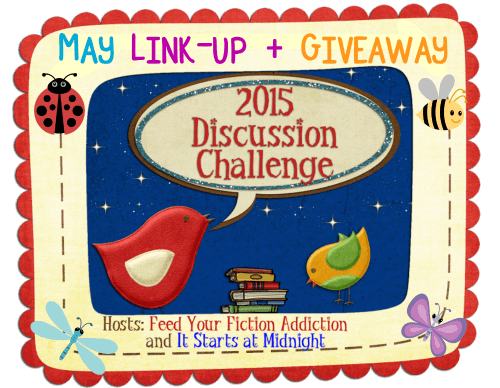 Welcome to the May monthly link-up for the 2015 Book Blog Discussion Challenge hosted by Nicole @ Feed Your Fiction Addiction and Shannon @ It Starts at Midnight!
I can't believe the year is nearly halfway over! This challenge has been going better than we ever could have imagined – we've been having an amazing time discussing books with all of you!
The winner of our March discussion challenge link-up was Silvara over at Fantasy of the Silver Dragon. She chose Frost Burned by Patricia Briggs. I haven't read the Mercy Thompson series, but Nicole has heard great things about it. (I have seriously never heard of it, but I shall look it up!) Congratulations, Silvara, and happy reading!
If you don't know what this challenge is all about or haven't signed up yet (but want to), head on over to the challenge sign-up page to learn more! Even if you'd rather not join, we hope you'll stop by occasionally to check out the MANY discussion posts that are being linked up here – there's lots of great discussions going on!
You guys have been coming up with some great discussion ideas! But, if you're coming up blank this month, try out one of these topics:
Tell us all about your favorite book boyfriend. What makes him stand out above the crowd?
Have you ever considered writing a book (or HAVE you written a book?). Tell us about it!
If you could meet any author in the world and team up with them for a day of fun, who would it be and what would you do?
Looking for more inspiration, or want to see some discussion posts as an example? Check out the discussion posts on Feed Your Fiction Addiction or It Starts at Midnight (click the links to be brought directly to our discussion posts).

Since spring is finally here, this month you can choose any book with a warm weather theme. Maybe a beach read, a summer blockbuster, a book with spring or summer in the title, or just something that takes place in a warm climate – feel free to be creative about what fits into this category. We're ready to be done with the cold, already! It can be any book that costs less than $17 US. You're eligible as long as TBD ships to your country!
a Rafflecopter giveaway
Make sure to link up all of your May discussion posts here. This linky and the May giveaway will be open until June 7th (to give people a little extra time to link up – just in case you're disorganized like we are!). If, by some chance, you forget to link up a post this month, you can add it to next month's linky (but no duplicates, please).

Go forth, and discuss!
Credits for elements used in button: Tracey
Monette, Clever Monkey Graphics, B2N2 Scraps, Sweet Digi Scraps, PicMonkey