These are the rest of my September books, plus a li'l October preview!
What Stalks Among Us by Sarah Hollowell
This Fractured Dark by Megan E. O'Keefe
Find Him Where You Left Him Dead by Kristen Simmons
Foul Heart Huntsman by Chloe Gong
Beholder by Ryan La Sala
Black River Orchard by Chuck Wendig

---
What Stalks Among Us by Sarah Hollowell
Published by Clarion Books on September 12, 2023
Pages: 400
Format:eARC
Source:Copy provided by publisher for review, via Netgalley


Best friends and high school seniors Sadie and Logan make their first mistake when they ditch their end-of-year field trip to the amusement park in favor of exploring some old, forgotten backroads. The last thing they expect to come across is a giant, abandoned corn maze.

But with a whole day of playing hooking unspooling before them, they make their second mistake. Or perhaps their third? Maybe even their fourth. Because Sadie and Logan have definitely entered this maze before. And again before that.

When they stumble on the corpses in the maze, identical to them in every way (if you can ignore the stab and gunshot wounds)--from their clothes to their hidden scars to their dyed hair, to that one missing tooth--they quickly realize they've not only entered this maze before, they've died in it too. A lot. And no matter what they try, they can't figure out what—or who—is hunting them.

Deeply unnerving, clever, and atmospheric, this time-bending, mind-bending speculative horror is a poignant meditation on the lasting effects of trauma and the healing powers of connection and forgiveness—all while delivering more surprise twists and turns than a haunted corn maze.

Content warnings can be found on the author's website
What Stalks Among Us throws the reader right the heck into the maze, literally and figuratively. That doesn't always work well for me, but in this case, it very much did! The author does a great job of fleshing out Sadie and Logan, despite us just heading right into the action with them. And the aforementioned action is a corn maze that seems to have no escape- and a lot of death.
Sadie and Logan are skipping school. Not just any school day, but the field trip to the amusement part that has Sadie's anxiety at an all time high. Logan, sensing this and being an awesome friend, suggests they skip. Sadie, a lover of corn mazes from way back, suggests they stop when they stumble across this one. As you can tell by the synopsis, this was a big old mistake, but alas, in they go.
Very quickly, they start to see some very eerie stuff. Namely, their stuff, that should not be in this maze. And I'll tell you no more (don't even read the synopsis if you haven't already, tbh). In fact, all I will tell you is why this book works so well: The characters are very relatable and well developed (extra especially for a horror), the premise itself is bananas, and done oh-so-well, and you legit won't be able to put the book down because you will be so invested in both the maze and the characters. And extra bonus, it includes some really great character growth, too. I will admit, I did probably want a bit more from the ending, but it is still satisfying enough, so this is likely just me being picky.
Bottom Line: An absolutely perfect fall horror, with some fabulous character development thrown in. You won't regret reading this, unless you had a big trip to the corn maze scheduled.
---
The Fractured Dark by Megan E. O'Keefe
Series: The Devoured Worlds #2
Published by Orbit on September 26, 2023
Pages: 544
Format:eARC
Source:Copy provided by publisher for review, via Netgalley


Dying planets, dangerous conspiracies, and secret romance abound in the second installment of the Devoured Worlds trilogy by award-winning author Megan E. O'Keefe.

Naira and Tarquin have escaped vicious counter-revolutionaries, misprinted monsters, and the pull of a dying planet. Now, bound together to find the truth behind the blight that has been killing habitable planets, they need to hunt out the Mercator family secrets.

But, when the head of Mercator disappears, taking the universe's remaining supply of starship fuel with him, chaos breaks loose between the ruling families. Naira's revolution must be put aside for the sake of humanity's immediate survival.

The Devoured Worlds
The Blighted Stars
The Fractured Dark

"Our lives are shit enough. Maybe it's time to take a chance on something good, instead of something desperate."
This was a truly awesome sequel. In fact, I think I liked it more than book one, mostly because I had a far better understanding of what was happening, and exactly what our main characters were dealing with. Not only that, but since there is a bit of downtime here and there, we get to really delve into who our characters are- especially Naira, who spent most of the first book hiding who she was. So now she has to come to terms with herself, for better and for worse, in order to move forward.
There are also a lot of relationship dynamics at play in this installment. Not only romantic (though there is indeed some romance- and a healthy one, at that!) but friendships, family relationships, and ex-romantic relationships. And as you can imagine, they are not all quite so healthy as the romance. There is a lot of messiness, and trust issues, and political problems, and so on. But I think this book had an even better balance of action and character development, which I loved.
Bottom Line: Bring on book 3! Like now, please and thank you.
---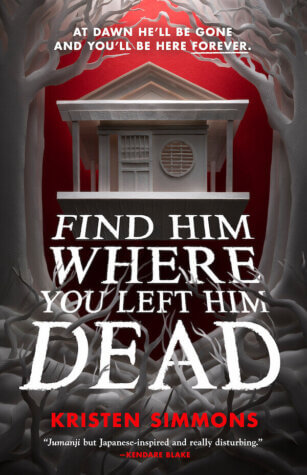 Find Him Where You Left Him Dead by Kristen Simmons
Published by Tor Teen on October 10, 2023
Pages: 272
Format:eARC
Source:Copy provided by publisher for review, via Netgalley


AT DAWN HE'LL BE GONE AND YOU'LL BE HERE FOREVER.

Kristen Simmons's masterful breakout horror novel that's " Jumanji but Japanese-inspired" (Kendare Blake) about estranged friends playing a deadly game in a nightmarish folkloric underworld.

"Twists, turns, and genuine palpable emotion." ―David Levithan • "Haunting and unforgettable." ―Melissa de la Cruz • "A nightmare I didn't want to end." ―Terry J. Benton-Walker • "Absorbing." ―C. L. Herman • "Bone-chilling." ―Lauren Shippen • "Heart-pounding." ―Margaret Rogerson • "Twisted." ―Lish McBride • "Won't let me sleep!" ―Chelsea Mueller • "Full of surprises." ―C. J. Redwine • "Intense." ―Kendare Blake

Four years ago, five kids started a game. Not all of them survived.

Now, at the end of their senior year of high school, the survivors―Owen, Madeline, Emerson, and Dax―have reunited for one strange and terrible they've been summoned by the ghost of Ian, the friend they left for dead.

Together they return to the place where their friendship ended with one find Ian and bring him home. So they restart the deadly game they never finished―an innocent card-matching challenge called Meido. A game without instructions.

As soon as they begin, they're dragged out of their reality and into an eerie hellscape of Japanese underworlds, more horrifying than even the darkest folktales that Owen's grandmother told him.

There, they meet Shinigami, an old wise woman who explains the rules:
They have one night to complete seven challenges or they'll all be stuck in this world forever.
Once inseparable, the survivors now can't stand each other, but the challenges demand they work together, think quickly, and make sacrifices―blood, clothes, secrets, memories, and worse.
And once again, not everyone will make it out alive.

TW: "This story takes place in a world of monsters. Please be aware that there is blood, gore, death, abandonment, and grief in these pages. It's a book about finding courage, trusting, healing, and fighting to make your way home, together."
The premise of this story is very cool, and I loved that it was steeped in lore and culture. That isn't to say I didn't have any issues, however. So let's dive into it, but know that the good definitely outweighed the bad at the end of the day.
What I Enjoyed:
The aforementioned Japanese mythology was amazing. This was a very cool aspect of the book, and I learned a lot of new things! In fact, I would happily learn a lot more about this mythology because that part was so interesting to me!
The characters were likable. I mean- they were flawed, very flawed in some cases, don't get me wrong. But, they had also all been through it, too. So it at least made sense. I liked that they had to face their demons, literally and figuratively, as well. They also all had to rebuild their relationships with one another if they ever had any hope of making it out alive, so that was also cool.
It eventually did have a lot of cool twists. Like I said below, I am glad I kept reading, because there were some very cool surprises and exciting bits! It just took a minute for the book to feel high stakes, but it did after the first half for sure!
What I Struggled With:
The beginning was rough for me.  The first third of the book just felt low stakes, like I didn't feel that any of the characters were really in any kind of danger? It just felt formulaic and I almost gave up, truth be told. I am really glad I didn't, but if I was a person who DNFed more easily, I fear I would have.
Likewise, the ending was a bit… ambiguous. The last thing I wrote in my Kindle notes was "is this a series?!" because the ending would lead me to believe that it was. If it isn't… I am not super satisfied?
Bottom Line: I am glad I stuck with it, but I do wish for a bit stronger beginning and end- though hey, maybe it is a series?
---
Foul Heart Huntsman by Chloe Gong
Series: Foul Lady Fortune #2
Published by Margaret K. McElderry Books on September 26, 2023
Pages: 560
Format:eARC
Source:Copy provided by publisher for review, via Netgalley


From the #1 New York Times bestselling author of These Violent Delights and Our Violent Ends comes the second book in the captivating Foul Lady Fortune duology following an immortal assassin in 1930s Shanghai as she races to save her country and her love.

Winter is drawing thick in 1932 Shanghai, as is the ever-nearing threat of a Japanese invasion.

Rosalind Lang has suffered the worst possible fate for a national spy: she's been exposed. With the media storm camped outside her apartment for the infamous Lady Fortune, she's barely left her bedroom in weeks, plotting her next course of action after Orion was taken and his memories of Rosalind wiped.
Though their marriage might have been a sham, his absence hurts her more than any physical wound. She won't rest until she gets him back.

But with her identity in the open, the task is near impossible. The only way to leave the city and rescue Orion is under the guise of a national tour. It's easy to convince her superiors that the countryside needs unity more than ever, and who better than an immortal girl to stir pride and strength into the people?

When the tour goes wrong, however, everything Rosalind once knew is thrown up in the air. Taking refuge outside Shanghai, old ghosts come into the open and adversaries turn to allies. To save Orion, they must find a cure to his mother's traitorous invention and take this dangerous chemical weapon away from impending foreign invasion—but the clock is ticking, and if Rosalind fails, it's not only Orion she loses, but her nation itself.

We're back, bitches! Back in the world of 1930s Shanghai, that is. Look, I am going to get to the one downside I have with this series in general: There are just so many characters and events to keep track of! Guys my memory is just not what it used to be, and I read a lot of books, so remembering whole dozens of characters and what happened to them is hard! But then once I get back into things, and start to remember who was who and what happened when and where, I remember why I love this world and the characters so much. Perhaps I can obtain some sort of cheat sheet?
Anyway, the action and adventure is high stakes as always, the situation always seemingly more dire than before. There are some appearances by characters you know and love and will be glad to see, and as always, romance and friendships and betrayal. I do love all the dynamics that we get to see play out, and I do understand that a large cast of characters is necessary for said dynamics. So yeah, without giving anything away, it was a great wrap up to this duology, and I seem to always be here for whatever Chloe Gong wants to throw at me!
Bottom Line: Another solid book in a really lovely series. Sometimes overwhelming, but worth it.
---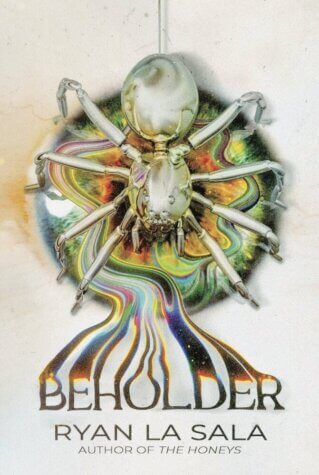 Beholder by Ryan La Sala
Published by PUSH on October 3, 2023
Format:eARC
Source:Copy provided by publisher for review, via Netgalley


From Ryan La Sala, author of the tantalizingly twisted The Honeys and riotously imaginative Reverie, comes a chilling new contemporary fable about art, aesthetic obsession, and the gaze that peers back at us from behind our reflections.

Athanasios "Athan" Bakirtzis hasn't had an easy life. Orphaned by a fire at a young age, he's had to rely on his charm, his under-the-table job as an art handler, and the generosity of family friends to care for his ailing Yiayia, his grandmother.

But Athan also has a secret: a hereditary power that allows him to rewind the reflection in any mirror, peering into its recent past. Superstitious Yiayia calls the family ability a curse, and has long warned him never to use it. For Athan, who's survived this long by keeping to the realm of the real, this is a perfectly agreeable arrangement.

Until the night of the party. After being invited to a penthouse soiree for New York's art elite, Athan breaks his grandmother's rule during a trip to the bathroom, turning back his reflection for just a moment. Then he hears a slam against the bathroom door, followed by a scream. Athan peers outside, only to be pushed back in by a boy his age. The boy gravely tells him not to open the door, then closes Athan in.

Before Athan can process what's happening, more screams follow, and the party descends into chaos. When he finally emerges, he discovers a massacre where the victims appear to have arranged themselves into a disturbingly elegant sculpture—and Athan's mysterious savior is nowhere to be found.

Something evil is compelling people to destructive acts, a presence that's been hiding behind Athan's reflection his whole life, watching and biding its time. Soon, he's swept up in a supernatural conspiracy that spans New York, of occult high societies and deadly eldritch designs. If beauty really is in the eye of the beholder, what can it do to us once it's inside?

TW: "Beholder is a contemporary supernatural horror story that includes elements of suicide ideation. Reader discretion is advised."
This book starts out with such a great opener: "The Sunday night of the party, a few hours before everyone dies, a girl with bleached bangs is telling you all about her future." How can you not be invested after a line like that!? And I was. I am trying to be very vague, because this book is full of mysteries that you are going to want to unfurl for yourself.
I really felt for Athan from the start, his life has been far from easy. He lost his parents young, and now even his grandmother is showing signs of decline. This kid just cannot lose anyone else, you know? But he also finds himself at this aforementioned party where bad things have gone down, which means both the reader and Athan are kind of thrown into the mix, and you can tell that this going to be a hell of a ride.
While the book definitely required some suspension of disbelief, the author did a great job of making all the different fantastical bits feel legit. There is a ton of action, but also a ton of character development too. I also felt really invested in the characters, and the book was surprisingly emotional at times, which I loved. (Sidenote, I feel like this would make an amazing show or movie, and someone should get on that.)
Bottom Line: Very solid book, go in without knowing too much so that you too can uncover all the things!
---
Black River Orchard by Chuck Wendig
Published by Del Rey on September 26, 2023
Pages: 544
Format:eARC
Source:Copy provided by publisher for review, via Netgalley


A small town is transformed by dark magic when a strange tree begins bearing magical apples in this new masterpiece of horror from the bestselling author of Wanderers and The Book of Accidents.

It's autumn in the town of Harrow, but something else is changing in the town besides the season.

Because in that town there is an orchard, and in that orchard, seven most unusual trees. And from those trees grows a new sort of apple: Strange, beautiful, with skin so red it's nearly black.

Take a bite of one of these apples and you will desire only to devour another. And another. You will become stronger. More vital. More yourself, you will believe. But then your appetite for the apples and their peculiar gifts will keep growing—and become darker.

This is what happens when the townsfolk discover the secret of the orchard. Soon it seems that everyone is consumed by an obsession with the magic of the apples… and what's the harm, if it is making them all happier, more confident, more powerful?

And even if buried in the orchard is something else besides the seeds of this extraordinary tree: a bloody history whose roots reach back the very origins of the town.

But now the leaves are falling. The days grow darker. And a stranger has come to town, a stranger who knows Harrow's secrets. Because it's harvest time, and the town will soon reap what it has sown.

"Is this really a 544 page horror book about… checks notes… apples?!", You ask. Why yes, yes it is! I have really loved Chuck Wendig's books in the past, but deciding to hit that "request" button on a bigass book about apples was a hard ask, even for me. I am pleased to report that I have no regrets, and a brand new knowledge of apples that I never asked for, but am strangely okay with. Let us talk about things I loved in this book:
It is set in the same world as The Wanderers, methinks! I mean Easter eggs from books that kind of hadn't happened yet? Oh hell yes.
The use of Wegner's. If you are from Pennsylvania and follow politics at all, you will know what I mean. Thank you, Chuck, for making me spit out my drink in laughter.
I somehow felt compelled by this complete mess of characters. Like- please don't misunderstand, every one of these folks is a hot mess. But I'll be damned if I didn't end up invested in them, and kind of… liking them? Certain ones, that is.
Oddly enough, the whole "magic apple" plot completely worked. I am bad at suspending disbelief, but I didn't even have to here. The author made it just… work. I can't explain how, maybe magic apples? 🤷‍♀️
It is so delightfully messed up! I mean, you'll see when you read it, but these apples are not… they're not making folks sit around singing Kumbaya, okay? They're doing all kinds of weird stuff to the community. And when you think about what happens if these apples are unleashed on a larger scale… yep.
The humorous bits were just perfectly positioned throughout. Like it could have been very heavy, but there were just enough funnier and lighter moments that you didn't want to succumb to the apples.
I was just so completely hooked that it did not in any way feel long. That's just it, I needed to know all the things, and so it was very readable.
Bottom Line: I literally drove down my street, saw some apples on the road, and confidently told my children "bet that's a 'spitter apple'", so Chuck Wendig should probably go to the corner and think about what he's done.
Have you read any of these books? Plan to? Let us chat about them!