Welcome to August's
Monthly Minutes at Midnight!
 Here's the deal: I'll share the books I've obtained, posts of interest from others, giveaways I have happening, and just general random shenanigans. You know I love a shenanigan.  Also, covers all link to Goodreads, because I am awesome. As always, I link up with the Wrap Up Round Up, too! 
The Books
For Review/From Publishers: 
Nothing this month! 
eARCs:
Huge thanks to the publishers for these lovelies! Also look at me not being ridiculous! 
Purchased: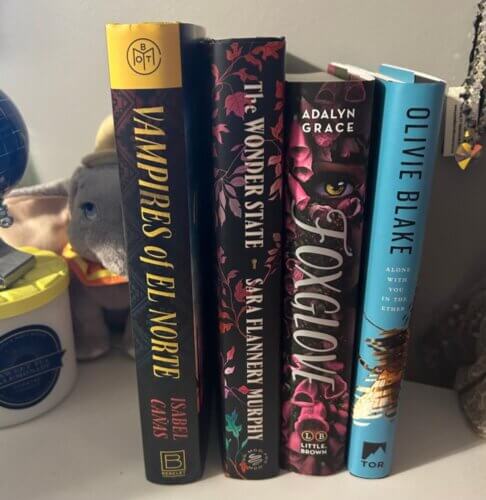 Not too bad, right? Vampires of El Norte, The Wonder State, Foxglove, and Alone With You in the Ether
Won/Gifted/Traded:
Thanks to the publishers for
---
Shenanigans Since Last Time:
I read 12 books this month. Not great, but like 5 of these were over 500 pages, so. 
These were definitely, as a rule, good. Some exceeded expectations. Some were a little less awesome. But honestly they were all at least decent! 
Giveaways: Click Here, or on Sidebar
---
Blogosphere Bulletin
Here are some of the loveliest/most entertaining/super helpful/just plain interesting posts I found this month! 
---
Fancy & New Since Last I Saw You!
I love looking at pretty covers! So here are some new ones that I have fallen in love with since our last update!
Pretty covers are pretty. 
---
Things we need to talk about at this juncture:
I am asleep while typing, I think?  Just kidding, I am in class and asleep while typing, ¡olé! Guys seriously, I am dragging and it is only the first week of school! I am substitute teaching and student teaching, all in one, and then taking three classes, and the kids' sports and homework and everything else and truly, how am I still typing? Send help. Actually, better yet, send food so I don't have to make it! And coffee, I would legit stab someone for some coffee right now.  Also I think my ass is asleep. 
Do you guys like fall? People seem to love the absolute shit out of fall. I am not among them. Like look, pumpkins are fine or whatever, but coldness and no pool and back to school? Nah, not my jam. Give me some hopeful spring any day! Though I'll be honest, if I can make it to Thanksgiving, I will be the happiest bitch this side of the Mississippi. 
I would like a vacation (on the horizon) I know, I know, you are thinking "ma'am didn't you just go to Europe?" and YES I did and I am very grateful! But I need something to look forward to- even if it is like two years from now. In other potentially amazing news, the fine folks at Conageddon keep teasing us with a potential 4th installment, and that would pretty much make my whole year! Since next year will be the 10 year anniversary of The 100, it could not be better timing, yeah?

Have a great September, loves! Let me know how your month was! Looking forward to anything coming up?