Welcome to December's
Monthly Minutes at Midnight!
 Here's the deal: I'll share the books I've obtained, posts of interest from others, giveaways I have happening, and just general random shenanigans. You know I love a shenanigan.  Also, covers all link to Goodreads, because I am awesome. As always, I link up with the Wrap Up Round Up, too! 
The Books
For Review/From Publishers: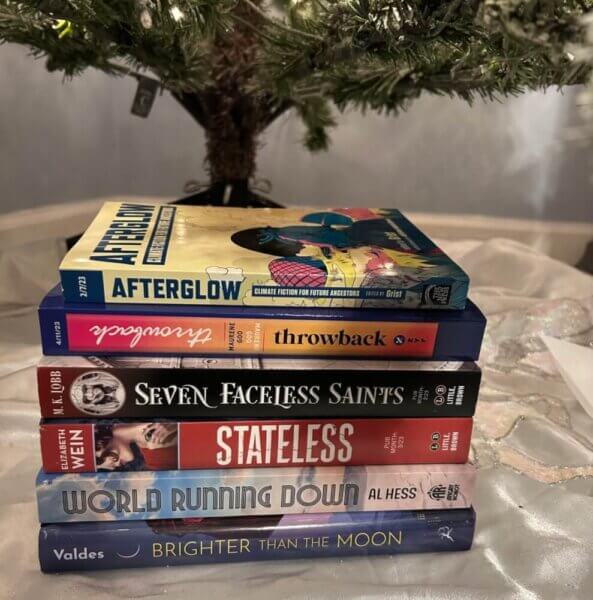 Afterglow: Climate Fiction for Future Ancestors edited by Grist
Seven Faceless Saints by M.K. Lobb
Brighter Than the Moon by David Valdes
Hugest of thanks to the publishers for these lovelies! 
eARCs:
Huge thanks to the publishers for these lovelies! 
Purchased: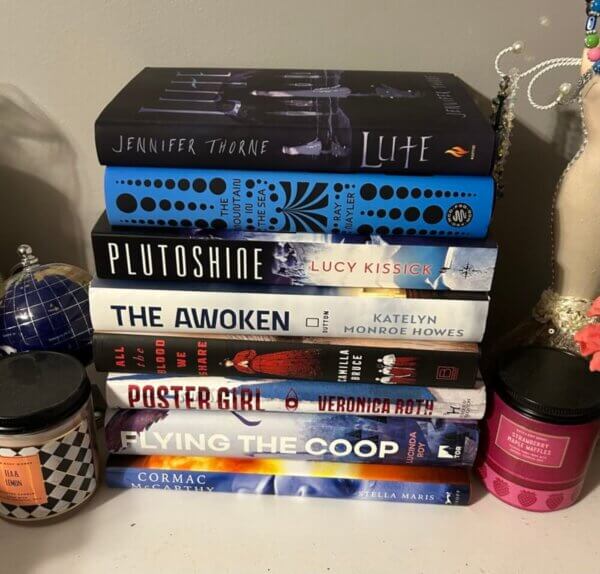 Lute ♦ The Mountain in the Sea ♦ Plutoshine ♦ The Awoken ♦ All the Blood We Share ♦ Poster Girl ♦ Flying the Coop ♦ Stella Maris 
Okay look I started out awesome. Until… I was informed that Barnes & Noble was selling all hardcovers for 50% off 😱
Won/Gifted/Traded:
Thanks so much to Amber for My Second Impression of You and A Heavy Dose of Allison Tandy!! ♥♥ And to the publisher for The Davenports!
---
Shenanigans Since Last Time:
I read 14 books this month. I can live with that.
Some of these were amazing. Most, really. A few were solid bummers. Seems like that is how 2023 will roll, eh?
Giveaways: Click Here, or on Sidebar
---
Blogosphere Bulletin
Here are some of the loveliest/most entertaining/super helpful/just plain interesting posts I found this month!
---
Fancy & New Since Last I Saw You!
I love looking at pretty covers! So here are some new ones that I have fallen in love with since our last update!
Pretty covers are pretty. 
---
Yearly Recap/Up Next:
I read 158 books. I get the sads when I don't read the most books of all time, but alas, this was the first year I was back to full-time, non-COVID interrupted work, so. And the upside is, most of them were good! I will be posting my "best of" list for TTT this week!

I truly did not post a ton, yet again. I think I managed a discussion? And I did do the Winter Olympics Book Tag, so that was something!
For the new year, I am stopping the seasonal giveaway. If anyone wants to take it up, you have my blessing. I am just trying to pare down unnecessary responsibilities and well… it has to go. I will still do giveaways, probably with the same regularity, but now I can just do them whenever the mood strikes me as opposed to feeling obligated.
For 2023, random.org has challenged me to read… 33 books. Thanks, Random! I appreciate it!
---
Things we need to talk about at this juncture:
December flew by, as the months seem to lately. I am in denial that the weeklong break is already at its end. I mean I know time flies, but this is just ridiculous! Nothing too exciting happened this month, but we did finally get to have a Christmas without COVID, so that was nice! I tried to get these nerds to take an actual, non-selfie picture several times, but alas. This is the best I can do!
Have a great January and a wonderful 2023, loves! Let me know how your month was! Looking forward to anything coming up?