Here are the rest of my November books (and an October one that got lost in the mail)! This was a very solid bunch- I would definitely recommend all of them, woo!
A Wilderness of Stars by Shea Ernshaw
A Consuming Fire by Laura E. Weymouth
To Each This World by Julie E. Czerneda
Lark Ascending by Silas House
Pulling the Wings Off Angels by K.J. Parker
In the City of Time by Gwendolyn Clare
Wayward by Chuck Wendig
---
A Wilderness of Stars by Shea Ernshaw
Published by Simon & Schuster Books for Young Readers on November 29, 2022
Pages: 400
Format:eARC
Source:Copy provided by publisher for review, via Netgalley



An illness cursing the land forces a teen girl astronomer to venture across the wilderness in search of the stars' message that will, hopefully, save them all.

If magic lives anywhere, it's in the stars…

Vega has lived in the valley her whole life—forbidden by her mother to leave the safety of its borders because of the unknown threats waiting for her in the wilds beyond. But after her mother dies, and Vega sees the fabled twin stars in the sky, it's an omen she can no longer ignore, forcing her to leave the protective boundaries of the valley. But the outside world turns out to be much more terrifying than Vega could have imagined. People are gravely sick—they lose their eyesight and their hearing, just before they lose their lives.

What Vega keeps to herself is that she is the Last Astronomer—a title carried from generation to generation—and she is the only one who carries the knowledge of the stars. Knowledge that could hold the key to the cure. And so when locals spot the tattoo on Vega's neck in the shape of a constellation—the mark of an astronomer—chaos erupts as the threats her mother warned her about become all too real.

Fearing for her life, Vega is rescued by a girl named Cricket who leads her to Noah, a boy marked by his own mysterious tattoos. On the run from the men who are hunting her, Vega, Cricket, and Noah set out across the plains in search of the cure the stars speak of. But as the lines between friend and protector begin to blur, Vega must decide whether to safeguard the sacred knowledge of the astronomer. Or if she will risk everything to try to save them all.

I am a fan of this book, full stop. When I started to read, I wasn't sure if it was going to be a fantasy revolving around stars, or if it was going to go in a different direction. I really hoped for the "different direction", and I was not let down. That is really all I can say about that, for your obvious spoiler reasons, so I will have to just convince you to read this based on other stuff!
I really enjoyed the journey with main character Vega. She's lived most of her life in solitude with her mother, who dies very early in the book. She knows that it is now time to fulfill the mission her mother spent her life preparing her for, so she sets out into the perilous wilderness. Everyone is dying of an uncontrollable illness, and not everyone is as certain about Vega's plans as she is. So she is facing some very big threats at every turn.
The stakes are really high, which I love, and Vega has to make a ton of impossible choices, which I also love. I really enjoyed many of the characters she ended up meeting along the way, too. And let's be real, I am always a huge sucker for a survival trip! I wish I could tell you more about my other favorite aspects of the story, but you'll have to trust me that the story pays off! The chapters were on the long side, which is not really my favorite, but the story was so engrossing that it wasn't a huge deal.
I can't seem to tell for sure if there will be a follow up to this, but it certainly lends itself for one, and I personally would be all in!
Bottom Line: Loved the direction this book took! While I would have loved it for the characters and the story, the twists sealed the deal for me!

---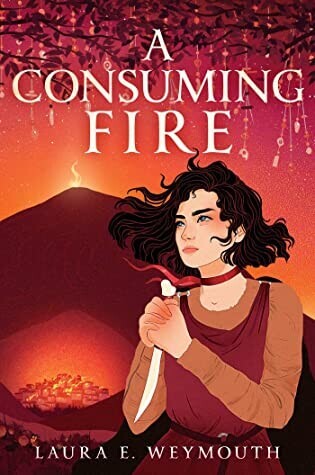 A Consuming Fire by Laura E. Weymouth
Published by Margaret K. McElderry Books on November 22, 2022
Pages: 352
Format:eARC
Source:Copy provided by publisher for review, via Netgalley



Uprooted meets The Grace Year in this dark young adult fantasy of love and vengeance following a girl who vows to kill a god after her sister is unjustly slain by his hand.

Weatherell girls aren't supposed to die.

Once every eighteen years, the isolated forest village of Weatherell is asked to send one girl to the god of the mountain to give a sacrifice before returning home. Twins Anya and Ilva Astraea are raised with this destiny in mind, and when their time comes, spirited Ilva volunteers to go. Her devoted sister Anya is left at home to pray for Ilva's safe return. But Anya's prayers are denied.

With her sister dead, Anya volunteers to make a journey of her own to visit the god of the mountain. But unlike her sister, sacrifice is the furthest thing from Anya's mind. Anya has no intention of giving anything more to the god, or of letting any other girl do so ever again. Anya Astraea has not set out to placate a god. She's set out to kill one.

A Consuming Fire is a perfect example of why it is such a good idea to give authors a second chance. Because while I didn't love the first book I read by the author, I liked the writing enough to be willing to try again. And I am so glad I did! Because A Consuming Fire was really good!
From the start, you will be so mad on behalf of our main character, Anya, and all the women who have come before her. The young women of Weatherall are expected to basically sacrifice whatever part of themselves some Mountain Monster™ chooses to take, to save everyone else from misfortune. That's cute, right? Let's throw the girls to the wolves, they don't need all their body parts and mental faculties! Nah, this is some real crap, but you can certainly understand why girls keep going- it's all they've ever known, and they think it is something they must do for their community and family.
Through a series of bad events, Anya finds herself making this dreadful journey herself. But she doesn't plan to just let this jerk take whatever he wants. She plans to fight back. And who among us can't appreciate that? I loved that she wanted to stand against this mess, frankly. She also encounters a group that I definitely loved, but am leaving vague for spoiler reasons. She also encounters a lot of self-serving jerks along the way, but in this world, that makes sense. Interestingly enough, the world, while obviously quite fictional, is based on a post-Roman England, which I found quite fun.
There are some points in the story that felt perhaps a little repetitive to me, but that is a minor qualm, as the story as a whole is really quite emotional and entertaining!
Bottom Line: We love a girl who aims to kill the Mountain Monster™.
---
To Each This World by Julie E. Czerneda
Published by Daw Books on November 15, 2022
Pages: 480
Format:eARC
Source:Copy provided by publisher for review, via Netgalley



From an Aurora Award-winning author, a new sci-fi novel follows three intrepid humans caught up in a conflict that stretches across time and space.

Biologist Julie E. Czerneda's new standalone science fiction novel, To Each This World follows a desperate mission to reconnect with long lost sleeper ships, sent centuries earlier from Earth to settle distant worlds.

A trio of Humans must work with their mysterious alien allies to rescue any descendants they can find on those worlds. Something is out there, determined to claim the cosmos for itself, and only on Earth will Humans be safe.

Or will they?

The challenge isn't just to communicate with your own kind after generations have passed. It's to understand what isn't your kind at all.

And how far will trust take you, when the truth depends on what you are?

To Each This World was a great take on aliens and humans interacting, one which I quite enjoyed! Let us chat about it!
What I Loved:
The characters! First and foremost, the characters in this story were fabulous. They are dealing with a lot during the story- more than any human beings should have to, really. And the fate of many worlds ends up in their hands, which again, is a lot. But they managed to feel completely human and relatable all while dealing with these tremendous, world-altering tasks. I also loved how they were able to bond with each other and others around them.
The stakes, like I mentioned, were crazy high. Like, could not be higher, basically. Would the Kmet really be on the side of humans, at the end of the day? Could humanity as a species be wiped out? So many nail-biting scenarios! And it was clear that the author was not afraid to take risks, so I never felt that anyone's safety was guaranteed, at any point.
Once things got going, I was wholly invested. I'll talk about this more, but while it started off a little on the slower end, things got pretty wild by the midway point, even sooner. And then, I just had to know how things would turn out!
What I Struggled With:
It just kind of felt long and/or dense at times. It is a longer book, so there is that. But especially at the beginning, I just kind of felt overwhelmed at times, and like maybe it was a bit too long? Regardless, I still really enjoyed the book and this certainly wasn't a dealbreaker.
Bottom Line: Once this story started going, I was completely absorbed in the fate of the characters and world.
---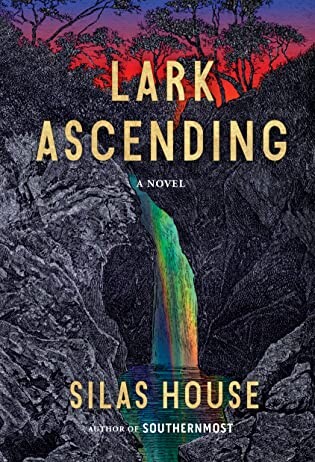 Lark Ascending by Silas House
Published by Algonquin Books on September 27, 2022
Pages: 288
Format:ARC, eARC
Source:Copy provided by publisher for review, via Netgalley



"This beautiful book is shot through with such tenderness and humanity, such love and courage and beauty and hope, that it feels almost like a prayer." —Margaret Renkl, author of Late Migrations

A timely, powerful story of survival set in the not-too-distant future, reminding us to always hold on to hope, even in the worst of times.

With fires devastating much of America, Lark and his family first leave their home in Maryland for Maine. But as the country increasingly falls under the grip of religious nationalism, it becomes clear that nowhere is safe, not just from physical disasters but also persecution. The family secures a place on a crowded boat headed to Ireland, the last place on earth rumored to be accepting American refugees.

Upon arrival, it turns out that the safe harbor of Ireland no longer exists either—and Lark, the sole survivor of the trans-Atlantic voyage, must disappear into the countryside. As he runs for his life, Lark finds two equally lost and desperate souls: one of the last remaining dogs, who becomes his closest companion, and a fierce, mysterious woman in search of her lost son. Together they form a makeshift family and attempt to reach Glendalough, a place they believe will offer protection. But can any community provide the safety that they seek?

Lark Ascending is a moving and unforgettable story of friendship and bravery, and even more, a story of the ongoing fight to protect our per­sonal freedoms and find our shared humanity, from a writer at the peak of his powers.

Lark Ascending is a lovely story. It is also an incredibly dark story. I do like a dark story, and this one is littered with hope, but it takes a minute to get to it. So at the start, be prepared for your heart to be broken, and to be kind of depressed. I was. But I also knew from the start that there would be hopeful moments, since we know we're reading the story from Lark's now very old aged perspective. So. Someone lives, right?
But legit, you will wonder if he is the only one who does, especially at the start. It's a brutal and cruel world, and I think the reason it hits so hard is because you can absolutely see the plausibility in it. Would people open their borders to refugees, or would they shoot on sight? Obviously, we know the answer even from our current world, and it is not the outcome that kinder folks would want.
Lark has lost a lot in his young life. Damn near everything, which he'll recall during his storytelling. But I did speak of hope, and I promise there is some. Quiet hope, but hope nonetheless. And it is just enough to make you able to keep reading Lark's lovely and heart-wrenching tale.
Bottom Line: Offering glimmers of good in the darkest of times, Lark Ascending is a quiet, lovely tale of an all-too-plausible end times.
---
Pulling the Wings Off Angels by K.J. Parker
Published by Tordotcom on November 15, 2022
Pages: 144
Format:eARC
Source:Copy provided by publisher for review, via Netgalley



Pulling the Wings Off Angels is a madcap adventure brimming with the ethical quandaries and sardonic wit of The Good Place by World Fantasy Award-winning author K. J. Parker

Long ago, a wealthy man stole an angel and hid her in a chapel, where she remains imprisoned to this day.

That's the legend, anyway.

A clerical student who's racked up gambling debts to a local gangster is given an ultimatum—deliver the angel his grandfather kidnapped, or forfeit various body parts in payment.

And so begins a whirlwind theological paradox—with the student at its center—in which the stakes are the necessity of God, the existence of destiny—and the nature of angels.

Also by K. J. Parker: Inside Man, Prosper's Demon, The Devil You Know, The Last Witness.

So. One probably should not pull the wings off angels, right? I feel like that goes without saying. But some of the characters in this novella are… well, they're basically of the mind that if this god cannot see them, it doesn't count. Frankly, it is a very interesting and thought provoking take on religion in general, and I enjoyed it quite a bit, especially from that perspective.
There is also a ton of humor in this novella, which I loved, especially when dealing with darker matters, like the eternal damnation of one's soul for ridiculous reasons. Since this is a short novella, I'll keep my review equally short for fear of spoilers. But suffice it to say, I quite enjoyed the moral questions posited by this story, and was certainly entertained throughout.
Bottom Line: Always, always here for thought provoking, morally messy stories.
---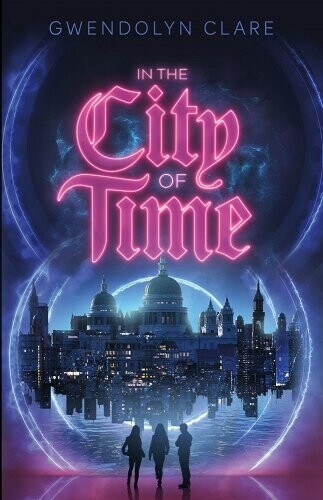 In the City of Time by Gwendolyn Clare
Series: In the City of Time #1
Published by Feiwel & Friends on November 29, 2022
Pages: 336
Format:eARC
Source:Copy provided by publisher for review, via Netgalley



From the author of the highly acclaimed Ink, Iron, and Glass series, this YA duology sends three science prodigies on a time-traveling adventure to save the Earth—if they don't accidentally destroy it first—in Gwendolyn Clare's In the City of Time.

In 1891, Willa Marconi's life falls apart when her mentor at the University of Bologna unexpectedly dies. She loses her laboratory access and her stipend, but she refuses to let anyone take her research away. While testing her prototype radio equipment, she detects a mysterious signal and pursues its origin.

In 2034, a cataclysmic event has rendered the Earth uninhabitable, and humankind survives by living inside of artificial worlds. Riley would do anything for Jaideep, who lost his parents in the collapse of the Bay Area pocket universe—and anything includes building a time machine so they can travel back to the 19th century, prevent the destabilization of the planet, and rewrite history.

But the experiment goes wrong, accidentally pulling Willa forward in time and stranding the three of them in a strange, seemingly abandoned city. Now they've got a glitchy time machine, a scary android time cop hot on their trail, and some tangled temporal mechanics to unravel. Can they save the Earth when the Continuity Agency is dead-set on preserving the current timeline?

Did you guys know that this was a companion series to another of the author's series? True story, I hadn't a clue! The author explains this at the start, and she was definitely not lying when she said you could read this series all on its own, because I did, and I definitely enjoyed it!
Here's the thing, and where you might want to read her other series first: I didn't quite understand how they made up these new worlds (apparently, via something called scriptology. And perhaps that is properly explained in the first series. But I just kind of went with it, and it turned out fine.
Because this book isn't really about that, for the most part. It starts there, but then it goes in a very different direction, where our main characters are basically time fugitives. It's a very thought provoking premise really: do you try to change the past at the risk of completely obliterating the current future? Our main characters spend a lot of time pondering the moral ramifications of their decisions, which makes complete sense, and is really necessary. They are also taking huge risks with their own personal lives, as they could quite literally no longer exist if the timeline gets too messed up.
I also loved that all of the characters really grew as people during their journeys. They all find out a lot about themselves as they undertake these massive challenges. They also spend some time exploring their relationships with each other, which is great. The whole story is very exciting and high octane, as well as high stakes. Not only are the stakes impossibly high for our characters, but for Earth at large, which makes the story even more gripping.
Bottom Line: Gotta love moral dilemmas that could change the fate of the world!
---
Wayward by Chuck Wendig
Series: Wanderers #2
Published by Del Rey Books on November 15, 2022
Pages: 816
Format:eARC
Source:Copy provided by publisher for review, via Netgalley



Five years ago, ordinary Americans fell under the grip of a strange new malady that caused them to sleepwalk across the country to a destination only they knew. They were followed on their quest by the shepherds: friends and family who gave up everything to protect them.

Their secret destination: Ouray, a small town in Colorado that would become one of the last outposts of civilization. Because the sleepwalking epidemic was only the first in a chain of events that led to the end of the world--and the birth of a new one.
The survivors, sleepwalkers and shepherds alike, have a dream of rebuilding human society. Among them are Benji, the scientist struggling through grief to lead the town; Marcy, the former police officer who wants only to look after the people she loves; and Shana, the teenage girl who became the first shepherd--and an unlikely hero whose courage will be needed again.

Because the people of Ouray are not the only survivors, and the world they are building is fragile. The forces of cruelty and brutality are amassing under the leadership of self-proclaimed president Ed Creel. And in the very heart of Ouray, the most powerful survivor of all is plotting its own vision for the new world: Black Swan, the A.I. who imagined the apocalypse.

Against these threats, Benji, Marcy, Shana, and the rest have only one hope: one another. Because the only way to survive the end of the world is together.

I was such a huge fan of Wanderers a few years back. It was long, but it certainly didn't feel it, and I devoured the thing. So I was of course quite excited to hear about this sequel! We're now meeting back up with the gang five years later, and they're basically trying to rebuild the world- or at least, to the extent that they can.
I will admit, there were some things I didn't quite remember since it had been a minute. As such, the book likely felt a bit longer, but that is probably on me. Regardless, once I got into it, I remembered more and more, and the author threw in lots of little reminders of stuff, too. Yes, it is a long book, but it didn't feel its 800+ pages, thank goodness!
I loved the characters of this story most of all, just as in the first book. They were just so well constructed, and I think that is probably the benefit of having a longer book- much more time to get invested in the characters, more time to get to know them. Likewise, the world is incredibly well developed. And we get to see just as much of it in the sequel as we did its predecessor, which is no small feat! I loved though that we didn't just get a glimpse of Ouray, CO, where our main characters start the story. No, we got to once again travel the country in search of answers and salvation.
Another huge positive of this series for me is how the author managed to balance out some really dark stuff with a lot of good, too. Like yeah there are some really shitty humans, right? But there are a lot of great and inspiring ones, too. There is also a lot of humor sprinkled throughout which I adored, and made the characters' relationships all feel very realistic and well developed.
Bottom Line: Overall, a really solid sequel, and a wonderful opportunity to revisit these beloved characters and their dire, yet equally hopeful, world.
P.S.: This would make a beyond kick-ass show. Who do we beg to make that happen?

Have you read any of these books? Plan to? Let us chat about them!