Legit, this is a good bunch of books that are either out now, or will be on Tuesday! You obviously want to jump on them. Legit I already pre-ordered a full half of these, so you know it's good!
Birds of California by Katie Cotugno
Rosebud by Paul Cornell
Child Zero by Chris Holm
Siren Queen by Nghi Vo
Under Fortunate Stars by Ren Hutchings
Some Mistakes Were Made by Kristin Dywer
---
Birds of California by Katie Cotugno
Published by Harper Perennial on April 26, 2022
Pages: 288
Format:eARC
Source:Copy provided by publisher for review, via Netgalley



Sparks fly and things get real in this sharply sexy and whip-smart romantic comedy set against the backdrop of a post #metoo Hollywood from New York Times bestselling author Katie Cotugno--page-turning escapist fun in the spirit of Beach Read, The Kiss Quotient, and Red, White and Royal Blue.

Former child actor Fiona St. James dropped out of the spotlight after a spectacularly public crash and burn. The tabloids called her crazy and self-destructive and said she'd lost her mind. Now in her late twenties, Fiona believes her humiliating past is firmly behind her. She's finally regained a modicum of privacy, and she won't let anything--or anyone--mess it up.

Unlike Fiona, Sam Fox, who played her older brother on the popular television show Birds of California, loves the perks that come with being a successful Hollywood actor: fame, women, parties, money. When his current show gets cancelled and his agent starts to avoid his calls, the desperate actor enthusiastically signs on for a Birds of California revival. But to make it happen, he needs Fiona St. James.

Against her better judgment, Fiona agrees to have lunch with Sam. What happens next takes them both by surprise. Sam is enthralled by Fiona's take-no-prisoners attitude, and Fiona discovers a lovable goofball behind Sam's close-up-ready face. Long drives to the beach, late nights at dive bars . . . theirs is the kind of kitschy romance Hollywood sells. But just like in the rom-coms Fiona despises, there's a twist that threatens her new love. Sam doesn't know the full story behind her breakdown. What happens when she reveals the truth?

I generally really enjoy a Katie Cotugno novel, but as this was her first foray into adult novels, I wasn't sure what to expect. Turns out, more of the same awesome as her YA! I admit, going in, the plot made me a wee bit hesitant- the lifestyle of Hollywood isn't really my jam, but as it turns out, neither is it the characters', so it worked out fine.
Fiona has spent the past few years trying to be as far from the Hollywood gaze as she possibly can, after a series of unfortunate paparazzi pieces made her the gossip of the town- and not in a good way. Sam is trying desperately to reignite his career after some disappointments. They're thrown back together when the opportunity is presented to reboot the show that made them both household names, Birds of California. Sam is fairly desperate to get Fiona involved, as the studio isn't interested without her, so he attempts to reconnect and convince her to rejoin the band.
Fiona, of course, shuts him down immediately, but also finds herself enjoying the time she's spending with Sam as a person, outside of the Hollywood bubble. It's also clear that Sam is enjoying spending time with Fiona, but we of course know that Sam does have some ulterior motives. Fiona knows this too, and is obviously skeptical, though she also is having trouble denying her feelings.
The story is very sweet, very full of heart and humor, and also a little heavy at times, which is just the way I like my contemporary stories, frankly. I loved Fiona's relationships with her sister and the woman next door, who is almost like a grandmother to them. I loved that Fiona was kind of forced to deal with a really rough time in her life that she kept trying to bury- because let's be real, that never works. I also like that Sam had to take a good look at his own life, and what he wanted from it.
While there was a lot of character growth, the ending did feel a bit rushed, which is my only qualm with the story. Because it involves such serious topics being worked out, I had kind of hoped for a bit more, but I also think that one of the biggest points was that Fiona needed to get to the place where she could talk about it- and that what happened as a result wasn't as necessary to the story as Fiona beginning to heal.
Bottom Line: I really fell in love with this heartfelt, charming story about what it takes to pick up the pieces and figure out who you want to be.

---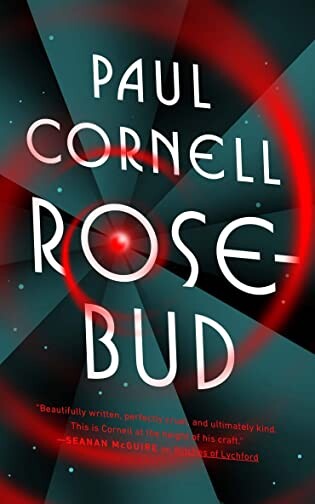 Rosebud by Paul Cornell
Published by Tordotcom on April 26, 2022
Pages: 112
Format:eARC
Source:Copy provided by publisher for review, via Netgalley



"An elegant, elegiac examination of identity, fictionality, God and humanity itself"—Tamsyn MuirA multilayered, locked-room science fiction novella from Paul Cornell in which five digital beings unravel their existences to discover the truth of their humanity.

"The crew of the Rosebud are, currently, and by force of law, a balloon, a goth with a swagger stick, some sort of science aristocrat possibly, a ball of hands, and a swarm of insects."

When five sentient digital beings—condemned for over three hundred years to crew the small survey ship by the all-powerful Company—encounter a mysterious black sphere, their course of action is clear: obtain the object, inform the Company, earn lots of praise.

But the ship malfunctions, and the crew has no choice but to approach the sphere and survey it themselves. They have no idea that this object—and the transcendent truth hidden within—will change the fate of all existence, the Company, and themselves.

Rosebud is such a bizarre little story! I won't lie to you, I am still not sure I completely get it? But I enjoyed the characters, and the commentary, so overall it was a win. I don't usually like not knowing what the heck is happening in a book, but I think this one was more or less supposed to make the reader feel that way, so I was able to live with it. In other words, it didn't necessarily make me feel stupid just because I didn't wholly get it, and I am a fan of that.
The five consciousnesses that compose the crew of the ship are not there of their own free will, but they are forced to work for the powerful Company for hundreds of years. And we find that they have been conscripted into this existence because of their identities. Those identities seemingly didn't jibe with whatever the Company deemed acceptable, hence this punishment. It is obviously upsetting and wildly unfair, but the author does a tremendous job of making you feel how unjust this is, which is the commentary I am here for.
I don't want to say too much, because at its core, the story is certainly a mystery. The reader is uncovering facets of the world and the crew just as the crew is. They have forgotten so much of their pasts, and as they seek answers about the unknown sphere, they also seek answers about their own lives and their own world. They do so with a lot of humor and heart.
Bottom Line: A delightfully kooky ride with a lot of serious commentary to boot.
---
Child Zero by Chris Holm
Published by Mulholland Books on May 10, 2022
Pages: 352
Format:eARC
Source:Copy provided by publisher for review, via Netgalley



From molecular biologist turned Anthony Award-winning author of THE KILLING KIND comes a fact-based thriller in the vein of Michael Crichton about our species' next great existential threat.

It began four years ago with a worldwide uptick of bacterial infections: meningitis in Frankfurt, cholera in Johannesburg, tuberculosis in New Delhi. Although the outbreaks spread aggressively and proved impervious to our drugs of last resort, public health officials initially dismissed them as unrelated.

They were wrong. Antibiotic resistance soon roiled across the globe. Diseases long thought beaten came surging back. The death toll skyrocketed. Then New York City was ravaged by the most heinous act of bioterror the world had ever seen, perpetrated by a new brand of extremist bent on pushing humanity to extinction.

Detective Jacob Gibson, who lost his wife in the 8/17 attack, is home caring for his sick daughter when his partner summons him to a sprawling shantytown in Central Park, the apparent site of a mass murder. Jake is startled to discover that, despite a life of abject squalor, the victims died in perfect health—and his only hope of finding answers is an eleven-year-old boy on the run from some very dangerous men.

I did not know fully what to expect when I started Child Zero. That is because I am garbage at reading synopses, and I can live with that. But what I ended up with was a pretty great book that rose above genre lines and gave me a little bit of all the things I love in a story. Let's talk about them! 
An apocalypse-adjacent act of bioterror. Gah, this always freaks me out, because it legit takes one rogue lunatic to end the world, yeah? In this case, the world hadn't ended, per se, but the population did take a huge nosedive and things were not going great. Resistance to antibiotics was the biggest issue, leading to illness that had been fairly benign years earlier to now be deadly. Then, when things were already at their breaking point, some terrible whackos decide to unleash illness that they know can no longer be treated into the world. And, well all know from experience how quickly pandemics travel these days. So basically, it's horrific, and it's plausible.
As such, The Powers That Be™ are now treating many citizens like trash. Because of course they are. Basically, at some point during the wave of illness from the terrorist, folks were herded like cattle into what is essentially an internment camp in the middle of Central Park. Only as we quickly learn, not all its inhabitants were ill. And one of them, Mateo, is now missing, the rest killed by an unknown entity, and a lot of people are on his tail….
Which brings us to the mystery portion of the program! Why is everyone after this young kid who has done literally nothing wrong other than exist? Why were a bunch of innocent people murdered in the wake of his disappearance? And of course, during the course of the whole thing, many more mysteries about the current state of the world are explored too.
As the chase progresses, it becomes a thriller, too! The stakes are, as you can infer, ridiculously high. The story is full of action, and I found the balance between action and character development to be perfect!
Speaking of, the characters are also really sympathetic and likable. Jake is a single dad, left widowed after his wife succumbed to the bioterror pandemic. His daughter is now ill, with what he doesn't know, but if authorities find out, they can and will take her. He enlists the help of his police partner, Amy, who is awesome, to help hide Mateo, and his ex girlfriend Hannah to take care of daughter Zoe. Mateo, of course, is incredibly sympathetic as he's clearly the most innocent party in this mess.
Basically, I could not put the book down. I loved learning about the characters and the world, and it was so high stakes and full of action that it was a breeze to read.
Bottom Line: I pre-ordered this for my dad for Father's Day, and he's really picky. So it must be awesome.

---
Siren Queen by Nghi Vo
Published by Tordotcom on May 10, 2022
Pages: 288
Format:eARC
Source:Copy provided by publisher for review, via Netgalley



From award-winning author Nghi Vo comes a dazzling new novel where immortality is just a casting call away.

It was magic. In every world, it was a kind of magic.

"No maids, no funny talking, no fainting flowers." Luli Wei is beautiful, talented, and desperate to be a star. Coming of age in pre-Code Hollywood, she knows how dangerous the movie business is and how limited the roles are for a Chinese American girl from Hungarian Hill—but she doesn't care. She'd rather play a monster than a maid.

But in Luli's world, the worst monsters in Hollywood are not the ones on screen. The studios want to own everything from her face to her name to the women she loves, and they run on a system of bargains made in blood and ancient magic, powered by the endless sacrifice of unlucky starlets like her. For those who do survive to earn their fame, success comes with a steep price. Luli is willing to do whatever it takes—even if that means becoming the monster herself.

Siren Queen offers up an enthralling exploration of an outsider achieving stardom on her own terms, in a fantastical Hollywood where the monsters are real and the magic of the silver screen illuminates every page.

I have loved Nghi Vo's Singing Hill Cycle novellas, but this was the first of her full-length novels I have read. Obviously, it won't be my last. She has such a beautiful way with words, her stories are always an absolute joy to read. In Siren Queen, we are introduced to Luli- well, not Luli yet, but you'll have to figure that out for yourself. Luli dreams- no, yearns- to be an actress, to be Old Hollywood royalty. And we know when we first meet her that Luli is nothing if not determined. She's even willing at one point to trade 20 years of her life for stardom.
I don't want to go too in depth with Luli's escapades, for they're kind of the bread and butter of the story, but suffice it to say that Luli will certainly experience all that 1930s Hollywood had to offer, for better or worse. As we obviously know, the groups of people who were treated terribly far outnumber those who were treated well (read: just the white guys), so life for a queer Chinese-American girl, even if she happens to be a star, isn't going to be without its share of awfulness.
The men in high places in this story are presented as monsters- in some cases, literally. I didn't fully grasp the magical system that was going on here, and wasn't always sure what was meant in a literal manner versus a figurative one. But it's a pretty subtle magic, so it didn't really make much of a difference how I took it (as a logic-driven thinker, I took it to be a more figurative situation, but you do you).
While Luli deals with the constant fight to keep her career/self relevant, she is also having to figure out relationships. She does find various significant friendships, as well as romantic partners, during the book. But Luli is cold, make no mistake. She clearly has a hard time keeping people in her life, which is evidenced by her distant relationship with her family. Despite that, I could not help but root for Luli throughout. Her determination, and unwillingness to be used stereotypically by Hollywood's upper echelon is admirable.
Really, my only other qualm with the story was its loose ends. Sure, certain parts were tied up, but I had a lot of questions at the end that were unanswered. Still, certainly a worthwhile read.
Bottom Line: A look into Old Hollywood via a complex character with absolutely stunning prose makes this another win for Nghi Vo.
---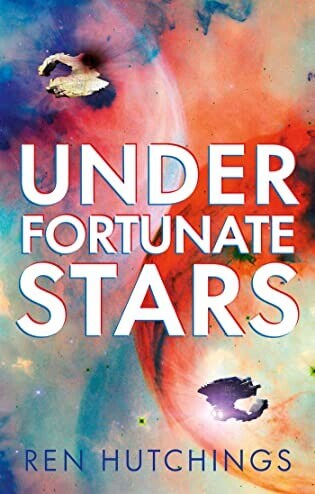 Under Fortunate Stars by Ren Hutchings
Published by Solaris on May 10, 2022
Pages: 480
Format:eARC
Source:Copy provided by publisher for review, via Netgalley



Fleeing the final days of the generations-long war with the alien Felen, smuggler Jereth Keeven's freighter the Jonah breaks down in a strange rift in deep space, with little chance of rescue—until they encounter the research vessel Gallion, which claims to be from 152 years in the future.

The Gallion's chief engineer Uma Ozakka has always been fascinated with the past, especially the tale of the Fortunate Five, who ended the war with the Felen. When the Gallion rescues a run-down junk freighter, Ozakka is shocked to recognize the Five's legendary ship—and the Five's famed leader, Eldric Leesongronski, among the crew.

But nothing else about Leesongronski and his crewmates seems to match up with the historical record. With their ships running out of power in the rift, more than the lives of both crews may be at stake.

Gah, this was so unique and wonderful! From the start, I was completely hooked based on the premise alone. The reader has no idea if both parties are being straightforward with their claims, and if so, how any of what is happening is possible. Add to it, the stakes are ridiculously high, and not just for the crews of the ships. The entire future of the universe could potentially be at stake, and no one knows what to believe.
I enjoyed all the characters, too, which of course makes the stakes higher as a reader, as well. There are some great lighter moments that help balance out the intensity of the situation, which I really appreciated. I also felt very immersed in the world, too, which was quite a feat considering how isolated our characters were for most of the story.
I don't want to tell you too much about this book, because the most fun part for me was uncovering all the twists and turns, and I don't want to ruin that for you! I will say too, this would make an amazing show, so someone should really jump on that. It was a perfect blend of action, world building, and character development, and I flew through the pages so eager to find out what fun new twist would come next.
Bottom Line: Loved it so much I went ahead and pre-ordered it. You should too.
---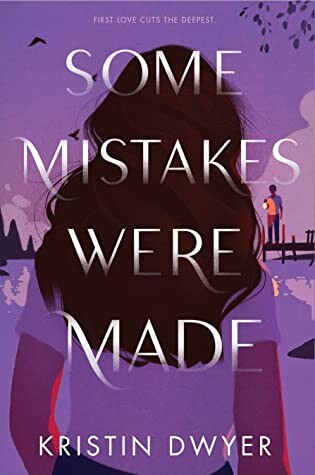 Some Mistakes Were Made by Kristin Dwyer
Published by HarperTeen on May 10, 2022
Pages: 400
Format:eARC
Source:Copy provided by publisher for review, via Netgalley



You can't always go home again.

Ellis and Easton have been inseparable since childhood. But when a rash decision throws Ellis's life—and her relationship with Easton— into chaos she's forced to move halfway across the country, far from everything she's ever known.

Now Ellis hasn't spoken to Easton in a year, and maybe it's better that way; maybe eventually the Easton shaped hole in her heart will heal. But when Easton's mother invites her home for a celebration, Ellis finds herself tangled up in the web of heartache, betrayal, and anger she left behind... and with the boy she never stopped loving.

Wow, did this book pull me in. I love when a story makes me feel, and this book did such an incredible job of making me feel every single thing the main character felt. I don't even know how to properly put into words how completely and wholly invested I was in this story, and how deeply I felt for Ellis throughout.
I think a lot of us can relate to the way Ellis felt in this story, which is likely why it was so moving. She not only lost someone she felt was her true love, but his family too. She's in a new place with new people (except for Tucker, Easton's brother, who becomes sort of a lifeline for her) and it's hard. She clearly feels so lost, and I can vividly remember feeling like this the first time I went away from home. And of course, when she comes back, everything is just… different. 
Ellis's feelings and emotions are just so real and so raw, I don't know if I can think of another book that made me feel so deeply for what a character was going through. And while her romantic feelings for Easton were certainly a huge part of the story, it was far from the only issue on Ellis's plate. She mourns just as much the loss of his family, who had taken Ellis in and treated her as one of their own. Especially important, because Ellis's own family of origin was kind of a mess. Her loss of the Albreys was extra tough for her- she had felt like they had chosen her, and loved her when no one else seemed to, and them reneging (in her eyes) that love was in effect proving what she'd thought about herself all along.
Ultimately, the story is about Ellis finding herself, while rebuilding these relationships- if they can even be rebuilt- with people who meant so much to her. But first, she has to figure out who she wants to be, and understand her place in the world, too.
Bottom Line: Following Ellis's story was an absolute pleasure, and one I could not put down. I laughed and cried with her, my heart broke and soared with hers. 
Have you read any of these books? Plan to? Let us chat about them!