These are six November books. How is it that every single one of them is great? No seriously, how? Anyway, here are six great books you should definitely read!
When We Were Them by Laura Taylor Namey
All of Us Villains by Amanda Foody & Christine Lynn Herman
Year of the Reaper by Makiia Lucier
Noor by Nnedi Okorafor
The Forgotten Memories of Vera Glass by Anna Priemaza
Our Violent Ends by Chloe Gong

---
When We Were Them by Laura Taylor Namey
Published by Atheneum Books for Young Readers on November 16, 2021
Pages: 384
Format:eARC
Source:Copy provided by publisher for review, via Netgalley


From New York Times bestselling author Laura Taylor Namey comes an exquisitely crafted, heartrending novel about friendship and the bittersweetness of growing up and growing apart.

When they were fifteen, Willa, Luz, and Britton's friendship was everything. When they were sixteen, they stood by each other no matter what. When they were seventeen, they went through the worst. And when they were eighteen, Willa ruined it all.

Now, it's the week of graduation, and Willa is left with only a memory box filled with symbols of the friendship she destroyed: A book of pranks. Corsages from a nightmarish homecoming. A greasy pizza menu. Greeting cards with words that mean the world… It's enough to make Willa wonder how anything could tear her, Luz, and Britton apart. But as Willa revisits the moments when she and her friends leaned on each other, she can't avoid the moments they leaned so hard their friendship began to crack.

As Willa tries to find a way back to Luz and Britton, she must confront the why of her betrayal, and answer a question she never saw coming: Who is she without them?

You see how gorgeous the outside of this book is? Well, you're in luck, because the inside is just as gorgeous, if not more so. I fell so in love with this book, frankly. It is a love letter to friendship, and growing up. To letting go when necessary, to become your own best version of yourself. The writing is beyond stunning, and I cannot wait to read more of the author's work.
I think this is the kind of book you needn't know much about before going in, mostly because you need to experience the story for yourself. But I am going to tell you what this book has a ton of, and therefore, why you should give it a go.
Amazingly well developed characters. Oh, how I fell in love with all of them. When we meet Willa, she's a mess, basically. And she's going to tell us all about how and why she is where she is. And intermixed with the past, we're going to see how Willa attempts to move forward, tries to grow as a human being. It's beautiful, really. We see this character for snippets in time, but we get a feel for who she is at her core. We also get to see so many of the important people in her life, and they are equally complex and messy and wonderful.
Huge focus on all kinds of relationships. Friendship is clearly the key focus of this story, but there's so much else too. Willa and her friends are trying to navigate their late teen years with their families, with each other, with romantic partners. And it's a lot! Just growing up is a lot, and figuring out how your relationships will grow and change is a lot too. They have to figure out how to become who they want to be, what they want to be, and it's beyond daunting.
Willa is a little lost. And I am so glad that the author acknowledges how completely okay that is! Willa doesn't know what she wants to be when she grows up, and that's cool, me either. The thing is, it isn't a flaw. Willa may think so, certainly at first, but it's not. And I liked that.
So. Many. Emotions. They ran the gamut, frankly. I obviously cried, but I laughed, and I had my heart warmed a lot too. Basically, the book is incredibly emotionally provocative, but without being needlessly dramatic- it's basically the perfect blend.
Bottom Line: I loved this story with my whole heart, and was so very grateful to be able to go on Willa's journey with her.
---
All of Us Villains by Amanda Foody, Christine Lynn Herman
Series: All of Us Villains #1
Published by Tor Teen on November 9, 2021
Pages: 400
Format:ARC
Source:Copy provided by publisher for review


The Blood Moon rises. The Blood Veil falls. The Tournament begins.

Every generation, at the coming of the Blood Moon, seven families in the remote city of Ilvernath each name a champion to compete in a tournament to the death.

The prize? Exclusive control over a secret wellspring of high magick, the most powerful resource in the world--one thought long depleted.

This year, thanks to a salacious tell-all book, the seven champions are thrust into worldwide spotlight, granting each of them new information, new means to win, and most importantly: a choice - accept their fate or rewrite their story.

But this is a story that must be penned in blood.

I've read an actual ton of comps for this one, mainly "The Hunger Games meets Magical <Insert Various Titles Here>", and frankly, it tracks! But that isn't a bad thing, quite the opposite. Because while it does pull themes from various other books we know and love, the story stands perfectly well all on its own.
I will say, I had a bit of a rough start with the book, mostly because there is a lot to take in- the world building is intricate, and there are quite a few characters to keep track of. But once you get into the story, that becomes easy, and very much worth it! In fact, I think it was a good choice to have so many points of view, because otherwise the reader would not get the full sense of who the characters were. They each have their own motivations (or lack thereof) for being in the tournament- as do their respective families.
Without giving too much away, I will say that the book definitely lives up to its claim of villainy, as no character can fully escape the moral ambiguity (and often treachery) that is par for the course in this event. The whole history of not just the tournament, but the families themselves is based in cruelty and selfishness. And now, on the precipice of another bloodbath, the champions must decide how to proceed. Will it be business as usual? Or will someone step up and try to do better?
The characters, for their part, are very well developed, especially given there are so many. The authors did a great job of making no one a "good guy", and in the same vein, no one truly a villain. They also did a tremendous job of creating such morally gray situations that it makes it impossible to know what will happen next, and as such, kept me guessing throughout.
The magic system I was a bit fuzzy on, and didn't quite come to terms with it even by the end. Still, it didn't really prevent me from enjoying the book, and I think there will be a lot of questions answered in the next installment, which I absolutely cannot wait to read!
Bottom Line: I love darker fare with complex characters and choices, and All of Us Villains fully delivers!
---
Year of the Reaper by Makiia Lucier
Published by Clarion Books on November 9, 2021
Pages: 336
Format:eARC
Source:Copy provided by publisher for review, via Netgalley


The past never forgets...

Before an ambush by enemy soldiers, Lord Cassia was an engineer's apprentice on a mission entrusted by the king. But when plague sweeps over the land, leaving countless dead and devastating the kingdom, even Cas' title cannot save him from a rotting prison cell and a merciless sickness.

Three years later, Cas wants only to return to his home in the mountains and forget past horrors. But home is not what he remembers. His castle has become a refuge for the royal court. And they have brought their enemies with them.

When an assassin targets those closest to the queen, Cas is drawn into a search for a killer… one that leads him to form an unexpected bond with a brilliant young historian named Lena. Cas and Lena soon realize that who is behind the attacks is far less important than why. They must look to the past, following the trail of a terrible secret—one that could threaten the kingdom's newfound peace and plunge it back into war.

When I started the book, I thought "oh I think I know A Big Thing™!" and felt so proud of myself. Reader, I did not. Well- I did, but it was hardly the Big Thing™, because the author had so, so much more in store for us! I love me a plague book, so I was eager to pick this up. I loved that it took place mostly after the plague (with some remnants here and there, which made it wholly believable), but of course (as we all well know) things don't just perk back up after illness sweeps the land.
Now, the survivors are left to clean up the mess, in every way you can imagine. I really enjoyed Cas's character, he was likable and sympathetic. He's clearly missed a lot during the past three years, and he sees that the world has moved on in his absence. Now, there is a killer afoot, and a big ol' mystery to solve- and lots of people to protect. The problem is, one can never be sure who they can trust.
I really want to keep this vague and brief, since the mysteries and secrets of the characters are, in my opinion, the best parts of the story. Frankly, the book was just downright entertaining, and I was excited to keep reading it, and deeply invested in the outcome. And, I genuinely enjoyed the characters and going on this journey with them.
Bottom Line: Great characters and a lot of exciting secrets and mysteries made this one a win!
---
Noor by Nnedi Okorafor
Published by Daw Books on November 9, 2021
Pages: 224
Format:eARC
Source:Copy provided by publisher for review, via Netgalley


From Africanfuturist luminary Okorafor comes a new science fiction novel of intense action and thoughtful rumination on biotechnology, destiny, and humanity in a near-future Nigeria.

Anwuli Okwudili prefers to be called AO. To her, these initials have always stood for Artificial Organism. AO has never really felt...natural, and that's putting it lightly. Her parents spent most of the days before she was born praying for her peaceful passing because even in-utero she was wrong. But she lived. Then came the car accident years later that disabled her even further. Yet instead of viewing her strange body the way the world views it, as freakish, unnatural, even the work of the devil, AO embraces all that she is: A woman with a ton of major and necessary body augmentations. And then one day she goes to her local market and everything goes wrong.

Once on the run, she meets a Fulani herdsman named DNA and the race against time across the deserts of Northern Nigeria begins. In a world where all things are streamed, everyone is watching the reckoning of the murderess and the terrorist and the saga of the wicked woman and mad man unfold. This fast-paced, relentless journey of tribe, destiny, body, and the wonderland of technology revels in the fact that the future sometimes isn't so predictable. Expect the unaccepted.

Despite owning several of Nnedi Okorafor's books, I somehow managed to not read one until this one. And I promise, I am putting her others at the tippy top of my list now! This story, set in the Nigerian desert, certainly wowed me. I also learned so much about Nigeria, too. Like the aejej that our main characters are running from (and have some pretty cool futuristic tech for in the story), that there really are energy producing power stations (such as our titular Noor) in Africa. I think that the author did such an amazing job weaving the futuristic technology into the current technology that was basically seamless, and very impressive.
I must first note that the atmosphere is incredibly on point. I absolutely could sense what AO was feeling as she traipsed across the desert, trying to stay alive. It was quite brutal at times, especially when running for one's life. I also quite loved AO herself, speaking of. She's strong and tough, mostly because she has to be. But she has a ton of heart. And wow, she's had a rough go of it. It's quite hard to not feel empathetic toward her, even when not all of the community agrees. DNA, who she encounters along the way, is equally great. Not going to say too much about either of their stories because they're major plot points, but suffice it to say, I was invested for sure.
There are a lot of great twists throughout, and I loved the journey (both the literal journey that AO and DNA take, as well as their personal journeys). I will say, my one qualm was that at times the pacing was a bit slow. Not so rough because it's a short book, but still worth mentioning. (Also, this doesn't factor into my rating at all, but the author used the phrase "kissed my teeth" a lot and I have no idea what that means- I tried to mimic what I thought it would be but I am kind of lost, so if you understand, send help. Incidentally, I have noticed this in other books since, and now I am obsessed. Thank you for you time.)
Bottom Line: Such an atmospheric and twisty story, with equally fabulous characters. I highly recommend!

---
The Forgotten Memories of Vera Glass by Anna Priemaza
Published by Amulet Books on November 16, 2021
Pages: 304
Format:eARC
Source:Copy provided by publisher for review, via Netgalley


A mind-bending YA novel about a world where everyone has a bit of magic in them—but some magic is being used to change the world in unspeakable ways
Vera has a nagging feeling that she's forgetting something. Not her keys or her homework—something bigger. Or someone. When she discovers her best friend Riven is experiencing the same strange feeling, they set out on a mission to uncover what's going on. Everyone in Vera's world has a special ability—a little bit of magic that helps them through the day. Perhaps someone's ability is interfering with their memory? Or is something altering their very reality? Vera and Riven intend to fix it and get back whatever or whomever they've lost. But how do you find the truth when you can't even remember what you're looking for in the first place?
The Forgotten Memories of Vera Glass is a cleverly constructed, heartbreaking, and compelling contemporary YA novel—with a slight fantasy twist—about memory, love, grief, and the invisible bonds that tie us to each other.

This story was so utterly unique and entertaining! I am not quite sure what route I expected the book to take, but it wasn't what I ended up getting- but in the best possible way. Let's talk about what I loved, and what left me wanting a bit more.
What I Loved:
I mean, the whole entire premise? What if someone you knew, someone you loved, maybe someone you shared DNA with, suddenly vanished from existence? You wouldn't remember them, so you wouldn't technically know, but maybe you'd feel like something was… amiss. There is a bit of a hole where your loved one was, only you can't quite define it, because again, they don't exist. It's so thought provoking and mysterious, I could not stop reading, frankly!
I enjoyed Vera and her friend group. They just seemed like so much fun to be around, and like genuinely good people who would be so fun to hang out with. I understood why they loved each other, and it was easy to see why someone would feel pain at their absences.
The twists were amazing and kept me guessing throughout. Honestly this is why the book was so compulsively readable; I had to know what was going on! Would these people be gone forever? Would Vera even know she's lost people?
Obviously, incredibly high stakes. This too made it so readable- the stakes were enormous! I mean, full humans could be wiped off the face of the Earth, but even worse than that, no one would remember them ever existing. Kind of terrifying, no?
What I Didn't:
The ending felt quite rushed. I mean, look, questions were answered. I just found it to be a bit of a letdown that after such an exciting book overall, the ending seemed a little easy and underwhelming for me. Not a dealbreaker at all obviously, considering I liked the book, but maybe be aware for your own expectations.
Bottom Line: So unique and entertaining, I was completely invested in the outcome of this one!
---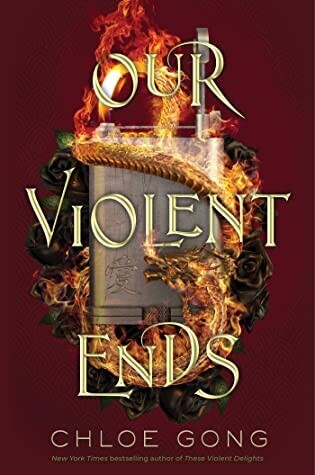 Our Violent Ends by Chloe Gong
Series: These Violent Delights #2
Published by Margaret K. McElderry Books on November 16, 2021
Pages: 512
Format:ARC
Source:Copy provided by publisher for review


The year is 1927, and Shanghai teeters on the edge of revolution.

After sacrificing her relationship with Roma to protect him from the blood feud, Juliette has been a girl on a mission. One wrong move, and her cousin will step in to usurp her place as the Scarlet Gang's heir. The only way to save the boy she loves from the wrath of the Scarlets is to have him want her dead for murdering his best friend in cold blood. If Juliette were actually guilty of the crime Roma believes she committed, his rejection might sting less.

Roma is still reeling from Marshall's death, and his cousin Benedikt will barely speak to him. Roma knows it's his fault for letting the ruthless Juliette back into his life, and he's determined to set things right—even if that means killing the girl he hates and loves with equal measure.

Then a new monstrous danger emerges in the city, and though secrets keep them apart, Juliette must secure Roma's cooperation if they are to end this threat once and for all. Shanghai is already at a boiling point: The Nationalists are marching in, whispers of civil war brew louder every day, and gangster rule faces complete annihilation. Roma and Juliette must put aside their differences to combat monsters and politics, but they aren't prepared for the biggest threat of all: protecting their hearts from each other.

Shanghai is under siege in this captivating and searingly romantic sequel to These Violent Delights, which New York Times bestselling author Natasha Ngan calls "deliciously dark."

Yeah, this is how you nail a series, friends. Everything about the These Violent Ends duology completely slayed, from start to finish. If you haven't started it yet, read my review on book one so you can. I am keeping this purposely vague because there is just so much exciting stuff happening that I have no plans to spoil anything, even for book one.
As its predecessor sets up, we follow the lives of the presumptive heirs to rival gangs, Roma and Juliette. Also as its predecessor reminds us, nothing is quite as black and white (or in this case, scarlet and white) as "us versus them".  Things in Shanghai are rough, perhaps even more so than the first installment. I think especially because now people know exactly what they are dealing with, yet they still splinter into factions of factions of factions, over and over, and fight for power and wealth and ego instead of peace.
The best part of this sequel is that we get to spend even more time with the characters we grow to love in book one, and in fact see them grow and develop even more as they attempt to navigate the rather garbage hand they've been dealt. They face even bleaker, more unbearable choices than ever before. And the stakes are immeasurably high at every turn. The author also does an incredible job of not only providing amazing twists and great pacing, but makes sure you know that nothing and no one is sacred in this book. I was flying through the pages, on the actual edge of my seat, both excited and scared for what came next. There was a perfect blend of action and slower, character driven moments.
Speaking of character-driven, the relationships (not just romantic, but familial and friendships as well) are a huge focus too. I loved seeing how the characters' relationships developed in such dangerous times, especially when one simply cannot be sure who they can trust.
Bottom Line: From start to finish, These Violent Delights and These Violent Ends provide complex characters in a very dark and well-developed world, with morally ambiguous choices, love, betrayal, and ultimately, hope.
Have you read any of these books? Plan to? Let us chat about them!