Welcome to November's
Monthly Minutes at Midnight!
 Here's the deal: I'll share the books I've obtained, posts of interest from others, giveaways I have happening, and just general random shenanigans. You know I love a shenanigan.  Also, covers all link to Goodreads, because I am awesome. As always, I link up with the Wrap Up Round Up, too! 
The Books
For Review/From Publishers:
Hugest of thanks to the publishers for these lovelies! They were both fabulous and reviews are coming soon! 
eARCs:
Huge thanks to the publishers for these lovelies! 
Purchased: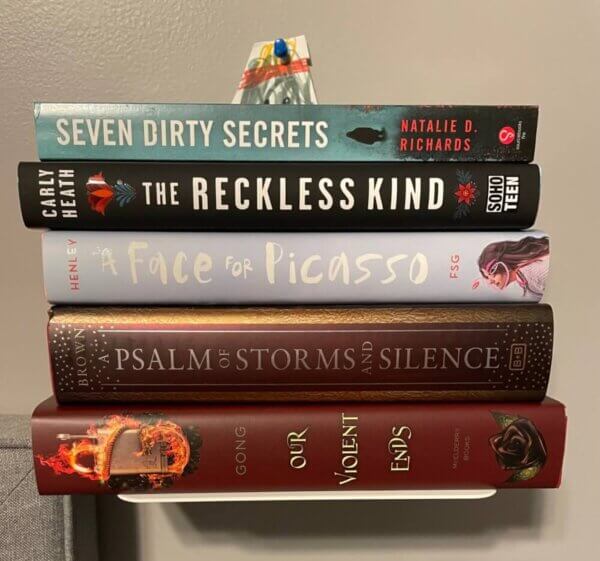 Seven Dirty Secrets ♦ The Reckless Kind ♦ A Face For Picasso ♦ A Psalm of Storms and Silence ♦ Our Violent Ends
Not too bad this month, eh?
Won/Gifted/Traded:
Thanks to Amber for The Buried, Breathless, and The Corpse Queen for my birthday! Lena got me a book too but it is at my parents' house so I will include it next month! 
---
Shenanigans Since Last Time:
I read only 12 books this month. I don't even know why, just time ugh.
A mostly good bunch- and the kicker is, some of these were books I actually bought myself, gasp! 
Giveaways: Click Here, or on Sidebar
---
Blogosphere Bulletin
Here are some of the loveliest/most entertaining/super helpful/just plain interesting posts I found this month!
Guys I am so sorry I failed at blog hopping this month, again but I did the best I could!
---
Fancy & New Since Last I Saw You!
I love looking at pretty covers! So here are some new ones that I have fallen in love with since our last update!
Pretty covers are pretty. Not a lot of new ones this month, but alas. 
---
Things we need to talk about at this juncture:
Whew boy, I think I failed worse than last month, at like, everything! Here's the thing- this month flew by. I haven't the foggiest idea how! But it just did. I didn't even take any pictures of Thanksgiving, whoops? But it was very nice to see family that I hadn't been able to see in almost two years. Also, the kids are fully vaccinated now too, so that is big cause for celebration! I assume December will be even more hectic than November so… wish me luck, and don't expect much 😂 Hope that you have a wonderful holiday if you celebrate any, and if not, just have a wonderful month- and hopefully you get to enjoy a few days off too! Here, have a picture. Fun fact: I edited our Christmas card because the kids look weird in this picture, but I looked weird in the only one they were both looking at the camera. Olé! That file was too big though, so here, have this one.
Have a great December, loves! Let me know how your month was! Looking forward to anything coming up?