Here are some fabulous books for the end of October! (To be fair, The Hush doesn't come out until November 2nd in the US, but it does come out this week in Australia, so let's just roll with it.) And, there are three full five stars among them!
Trashlands by Alison Stine
We Light Up the Sky by Lilliam Rivera
Flowers for the Sea by Zin E. Rocklyn
The Hush by Sara Foster
Bad Girls Never Say Die by Jennifer Mathieu

---
Trashlands by Alison Stine
Published by MIRA on October 26, 2021
Pages: 384
Format:eARC
Source:Copy provided by publisher for review, via Netgalley


"This thought-provoking apocalypse noir fires on all cylinders." –Publishers Weekly starred review
From the author of Road Out of Winter, winner of the 2021 Philip K. Dick Award, comes a resonant, visionary novel about the power of art and the sacrifices we are willing to make for the ones we love

A few generations from now, the coastlines of the continent have been redrawn by floods and tides. Global powers have agreed to not produce any new plastics, and what is left has become valuable: garbage is currency.

In the region-wide junkyard that Appalachia has become, Coral is a "plucker," pulling plastic from the rivers and woods. She's stuck in Trashlands, a dump named for the strip club at its edge, where the local women dance for an endless loop of strangers and the club's violent owner rules as unofficial mayor.

Amid the polluted landscape, Coral works desperately to save up enough to rescue her child from the recycling factories, where he is forced to work. In her stolen free hours, she does something that seems impossible in this place: Coral makes art.
When a reporter from a struggling city on the coast arrives in Trashlands, Coral is presented with an opportunity to change her life. But is it possible to choose a future for herself?

Told in shifting perspectives, Trashlands is a beautifully drawn and wildly imaginative tale of a parent's journey, a story of community and humanity in a changed world.

"A harrowing tale that is a natural extension of our current climate crisis.... Highly recommended." –Booklist, starred review

I was super excited for this after really enjoying the author's debut. And so my expectations were high, sure. But Trashlands? Yeah, blew my expectations right out of the water. I adored this book, so much. And now I shall tell you why.
It is so full of heart. These characters have been through it, yet they're still surviving. Some survive for themselves, some for their families, but they try so hard to make their lives mean something. Coral, the main character, is trying desperately to get to her son, who was stolen by what amounts to child traffickers.  And everyone in her life strives to help each other as best they can, even in the most dire of circumstances.
The world was kind of incredibly done. The author alludes to life outside of "Scrappalachia", but it is where the main story takes place. It truly seems plausible that at the end of the world, trash is all that remains. That people are finally forced to reuse everything, to make something new from the refuse our generations leave behind. It's bleak, for certain. The few who do have wealth treat those who don't…. well, you know, as you'd expect- horribly. The strip club in the sea of garbage is a shining example. The owner not only owns the club, he owns all the foreseeable land around it, and in essence, everyone on it. People steal, cheat, lie, and it's messy, to be sure.
The atmosphere was spot-on. I mean, it's garbage world, so you'd need it to be pretty bleak! And it was, but with definite hope, too. The homes were made of scavenged vehicles, odds and ends the occupants find along the way. The land itself was desolate, and barren, which was fitting too.
It was thought-provoking and emotional. Obviously it was thought-provoking in its relevance, but more than that, it brings up so many questions of how the reader would handle these situations, too. And you cannot help but feeling absolutely devastated for Coral, for so many reasons. Without going into too much detail (for fear of spoilers of course), Coral's story absolutely tugged at my heartstrings- and her desperation to find her son was gutting.
I loved the characters so very much. Beyond the fact that they were all survivors (of all varieties), they were all really well developed and unique. I loved that they all had personalities and goals and lives, even in such bleak times. Like yes, survival was a priority, but they all also were their own people beyond that, which I found especially lovely.
Bottom Line: Absolutely loved everything about this book, cannot wait to see what Alison Stine has for us next!
---
We Light Up the Sky by Lilliam Rivera
Published by Bloomsbury YA on October 26, 2021
Pages: 272
Format:ARC
Source:Copy provided by publisher for review


In a haunting, genre-bending YA, award-winning author Lilliam Rivera explores the social and racial ramifications of an alien invasion from the perspective of three Latinx teens.

Pedro, Luna, and Rafa may attend Fairfax High School together in Los Angeles, but they run in separate spheres. Pedro is often told that he's "too much" and seeks refuge from his home life in a local drag bar. Luna is pretending to go along with the popular crowd but is still grieving the unexpected passing of her beloved cousin Tasha. Then there's Rafa, the quiet new kid who is hiding the fact that his family is homeless.

But Pedro, Luna, and Rafa find themselves thrown together when an extraterrestrial visitor lands in their city and takes the form of Luna's cousin Tasha. As the Visitor causes destruction wherever it goes, the three teens struggle to survive and warn others of what's coming--because this Visitor is only the first of many. But who is their true enemy--this alien, or their fellow humans? Can Pedro, Luna, and Rafa find a way to save a world that has repeatedly proven it doesn't want to save them?

Pura Belpré Honor-winning author Lilliam Rivera examines the days before a War of the Worlds-inspired alien invasion in this captivating and chilling new novel.

I quite liked this one, for the most part, though I had a few issues too. So let us break it down into what worked versus what didn't!
 What I Liked:
Aliens! Oh, aliens are such fun! Not to encounter, in this case, but to read about. These aliens aren't the friendly kind who want to like, send greetings and swap banana bread recipes. No, these just want to kill all the humans.
Love the whole "humanity may be as bad as aliens" bit. Look, in virtually any disaster, humans have proven to be garbage to each other. Not all of them, of course! But enough that it creates a real problem. And I love that the book delved into this. Especially because…
COVID is a thing in this book. And the thing is, humans haven't reacted great to this have we? Which is why I love how the human response to aliens is also gross. Like, of course it is. We couldn't even agree to wear fabric to protect each other, but sure, we're going to band together and put up a united front for the aliens. In addition, Luna's beloved cousin died of COVID, and Luna is still trying to come to terms with the grief.
Even though I didn't feel super connected (see below), I really did like the characters. At first, they seem to not have a ton in common, and come from wildly different backgrounds and life situations. But what I liked about them is that they were able to band together when they needed to. And, they were all going through a lot of their own personal stuff that would have made it easy for them to be like "nah, bye", but they didn't. They fought.
What I Didn't:
I didn't feel as connected to the characters as I'd have liked.  See above!  I just think that with such a short book and three distinct points of view, it was hard to get too connected to any one of them.
The ending. Look, some people dig an open ending. I am not those people. That said, it probably did fit well with the story? I still wouldn't turn down a nice sequel.
Bottom Line: I enjoyed this story, as it was a quick paced and exciting book. I'd have liked a more solid ending, but we can't always get what we want.
---
Flowers for the Sea by Zin E. Rocklyn
Published by Tordotcom on October 19, 2021
Pages: 112
Format:eARC
Source:Copy provided by publisher for review, via Netgalley


Flowers for the Sea is a dark, dazzling debut novella that reads like Rosemary's Baby by way of Octavia E. Butler.

We are a people who do not forget.

Survivors from a flooded kingdom struggle alone on an ark. Resources are scant, and ravenous beasts circle. Their fangs are sharp.

Among the refugees is Iraxi: ostracized, despised, and a commoner who refused a prince, she's pregnant with a child that might be more than human. Her fate may be darker and more powerful than she can imagine.

Zin E. Rocklyn's extraordinary debut is a lush, gothic fantasy about the prices we pay and the vengeance we seek.

So. I am kind of at a loss about how to review this book. Because it was atmospheric, and it certainly made me feel things for the main character, which are pretty significant wins, right? But I also have… well, not a whole lot of knowledge about what exactly I read? And look- please understand, this may be a million percent on me, and not the book. I have no idea! If it seems interesting, you should absolutely go for it, because 1) It is really short, 2) The atmospheric thing I mentioned, and 3) If you understand it, then you can explain to me what the heck is happening!
At the start, I was wholly immersed. As I mentioned, the atmosphere is beyond incredible, and from the start, it is clear that this world is bleak, and you can certainly feel a tremendous amount of empathy for Iraxi. She's pregnant, and not super thrilled about it. Add to it, she's on a boat, drifting to who knows where, and it isn't exactly a luxury cruise liner- it's dire conditions, basically. And now Iraxi is not only dealing with her own despair, but the thought of having a child to care for too.
All of that was awesome, as was the writing. The author certainly has a way with words, that is clear. From the conditions of the world and the ship, to Iraxi's hopelessness, the author flat out nails it. The thing was, I just don't understand what actually happened? I know. That is vague, which is annoying. I get it! But I cannot explain it, for two reasons: First, spoilers. Second, I couldn't even try if I wanted to! So yeah, maybe it is just me, and my inability to figure out what I was reading. Or maybe not, but I think it's worth it even if you don't get it either.
Bottom Line: Worth reading for the incredibly atmospheric and emotive writing. Bonus points if you can make sense of what happened.
---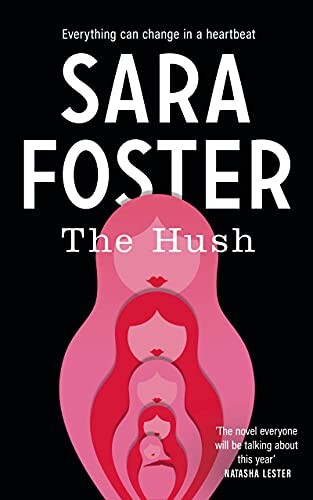 The Hush by Sara Foster
on November 2, 2021
Pages: 320
Format:eARC
Source:Copy provided by publisher for review, via Netgalley


A multigenerational, female-led thriller, and a terrifying conspiracy that goes right to the heart of the British Government.

Six months ago, in an English hospital, a healthy baby wouldn't take a breath at birth. Since then there have been more tragedies, and now the country is in turmoil. The government is clamping down on people's freedoms. The prime minister has passed new laws granting authorities sweeping powers to monitor all citizens. And young pregnant women have started going missing.

As a midwife, Emma is determined to be there for those who need her. But when her seventeen-year-old daughter Lainey finds herself in trouble, this dangerous new world becomes very real, and both women face impossible choices. The one person who might help is Emma's estranged mother Geraldine, but reaching out to her will put them all in jeopardy …

The Hush is a new breed of near-future thriller, an unflinching look at a society close to tipping point and a story for our times, highlighting the power of female friendship through a dynamic group of women determined to triumph against the odds.

The Hush was quite dark, and at times, hard to read. But it was also so, so good, and I could not put it down. The story is so incredibly powerful, but there are also a lot of exciting twists, so I am keeping this review as short as I can to avoid giving away too much. The general gist is this: Emma, a midwife at a local hospital is having to care for more and more women whose babies are born still, due to some unknown pandemic of sorts. Things are getting more desperate by the day, and she is trying to not only keep her patients safe, but her daughter too.
This book is terrifying. I mean, first off, you can absolutely understand the panic and desperation. Babies, perfectly healthy babies, seem to die at birth for no observable reason. Parents are devastated and terrified, and hospitals are basically in a full-blown emergency state. And of course, the government is just waiting to muck things up. It's desperate times, no question. Emma is trying so hard to hold it all together, but the situations she's dealing with grow more dire by the day.
The plot is exciting and thrilling, and yes, emotional, as Emma tries to save her daughter and her patients. She finds herself in deeper than she could have ever imagined, and must make some incredibly difficult decisions, and fast. The pacing was perfect, as there was a great blend of action and emotion, and I simply loved reading this book- even if the world was one I never want to find myself in!
Bottom Line: It's high-octane, high-emotion, completely immersive storytelling that I absolutely cannot recommend enough.
---
Bad Girls Never Say Die by Jennifer Mathieu
Published by Roaring Brook Press on October 19, 2021
Pages: 304
Format:eARC, Hardcover
Source:Copy provided by publisher for review, via Netgalley


From the acclaimed author of Moxie comes a gripping gender-flipped reimagining of The Outsiders that explores the deep bonds of female friendship and what it takes to be a "bad girl."

1964. Houston, Texas.

Evie Barnes is a bad girl. So are all her friends. They're the sort who wear bold makeup, laugh too loud, and run around with boys. Most of all, they protect their own against the world. So when Evie is saved from a sinister encounter by a good girl from the "right" side of the tracks, every rule she's always lived by is called into question. Now she must redefine what it means to be a bad girl and rethink everything she knew about loyalty.

In this riveting story of murder, secrets, and tragedy, Jennifer Mathieu puts a female twist on S. E. Hinton's The Outsiders. Bad Girls Never Say Die has all the drama and heartache of that teen classic, but with a feminist take just right for our times.

Here is how you know that Jennifer Mathieu is an incredible writer: I started the first chapter of this book thinking "wow I hate every single person here", and by the end of it? I was in love. The titular "bad" girls have so much heart, and are just trying to come of age in a world that doesn't want them to live outside of some ridiculous patriarchal and arbitrary rules.
It's 1964 Texas, which is comparable to… well, 2021 Texas as it turns out. Racism, sexism, and homophobia are rampant. Schools are still segregated, and pretty much everyone who isn't a straight white guy is treated as "less than". Evie sees this early in the book, when she is attacked by an acquaintance on the way to the bathroom. She realizes that it doesn't matter how forcefully she yells for him to stop, and he taunts her with that realization.
Throughout the book, the girls face these aggressions from every direction: In school, in their families, among their peers. It's beyond disheartening, and it could easily wear the girls down. But in this story, Evie and her group decide to fight back and stick together in the face of oppression. Many people tell them they can't/won't succeed without tying themselves to some man, that they must behave a certain way. Evie even has arguments with her own mother, who insists that the only way for Evie to be successful is to be saddled to some guy. But again, Evie and her friends aren't taking these messages lying down.
Without giving away too much (because the synopsis is fairly vague), there is a story about teen pregnancy. It's powerful, because so many of the societal responses to a young woman's pregnancy are exactly the same today as they were fifty-plus years ago. The girl "had gotten herself pregnant", say the masses. When in reality, that is positively absurd and not at all how biology works, I have heard that very phrase in this actual century. And now, here we are, dealing with women's rights being stripped in Texas. The timing for this release is perfect; for it illustrates how positively vile these laws are, how harmful to so, so many people. How losing control of your reproductive rights means losing control of your agency, of your entire body.
Bottom Line:  Read this book, fall in love with it, then donate to the organization of your choice (see below).
► Planned Parenthood (Also see resources to volunteer)
► Where to find abortion access in Texas
► National Abortion Federation Hotline Fund
► Bustle Article with many additional funds, as well as volunteering options
Have you read any of these books? Plan to? Let us chat about them!