Here are the rest of my September books! Another really good batch, yay!!
All These Bodies by Kendare Blake
The Splendor by Breeana Shields
For All Time by Shanna Miles
Light From Uncommon Stars by Ryka Aoki
Under the Whispering Door by T.J. Klune
---
All These Bodies by Kendare Blake
Published by Quill Tree Books on September 21, 2021
Pages: 304
Format:eARC
Source:Copy provided by publisher for review, via Netgalley



Sixteen bloodless bodies. Two teenagers. One impossible explanation.

Summer 1958—a string of murders plagues the Midwest. The victims are found in their cars and in their homes—even in their beds—their bodies drained, but with no blood anywhere.

September 19- the Carlson family is slaughtered in their Minnesota farmhouse, and the case gets its first lead: 15-year-old Marie Catherine Hale is found at the scene. She is covered in blood from head to toe, and at first she's mistaken for a survivor. But not a drop of the blood is hers.

Michael Jensen, son of the local sheriff, yearns to become a journalist and escape his small-town. He never imagined that the biggest story in the country would fall into his lap, or that he would be pulled into the investigation, when Marie decides that he is the only one she will confess to.

As Marie recounts her version of the story, it falls to Michael to find the truth: What really happened the night that the Carlsons were killed? And how did one girl wind up in the middle of all these bodies?

This is a bit hard to rate because on one hand, I loved reading it. Couldn't put it down, frankly. But the ending left me a bit underwhelmed, you see. So that is where I am at: does the awesomeness of the rest of the book make up for it? Mostly, I have decided that it does. That the ending was at least decent enough that I didn't get too frustrated. And, like I said, most of the book was excellent.
We have here a bit of a serial killer mystery, set in 1958 Minnesota (which was a thing I hadn't realized I needed, but turns out I did). The only witness-turned-suspect is a Marie, fifteen year old girl who no one can quite get to open up. Enter Michael, the only person Marie is willing to speak to. I loved that the author fully acknowledges how unorthodox this is, how the actual professionals certainly take issue. Otherwise, it would have been unbelievable, but as it turns out, they're desperate, and as long as they have recordings, they grudgingly acquiesce.
We see from the start that the court of public opinion has already deemed Marie guilty, even though it's beyond clear that she in no way acted alone. Michael has faith in Marie, but the chain of events she unravels him challenges that faith. The story absolutely sucked me in, just as it did Michael. There are so many questions about the killings, from motive, to accomplices, and that is just the tip of the iceberg.
It's hard to not feel a bit sympathetic for Marie, even though we know that at the very least, she is somehow involved in this whole mess. She's so young, and she has obviously been manipulated in some way or another. To what extent, you must read to find out, but the fact that so many people are calling for her execution makes me feel very yucky about all of humanity. This instance, among others in the book, make it a really thought provoking novel, which for me, is quite rare in the horror/thriller genre.
Bottom Line: I was so desperate to learn all the things, to dissect this case piece by piece. Some answers I got, some I didn't, but I certainly enjoyed the ride!
(P.S.- The author's note tells you which real-life murder spree this was inspired by, but I am not telling you because I am evil and you should read it for yourself.)
(P.P.S.- There is a very minor character named John Murphy, but I won't pretend I didn't get giddy excited.)

---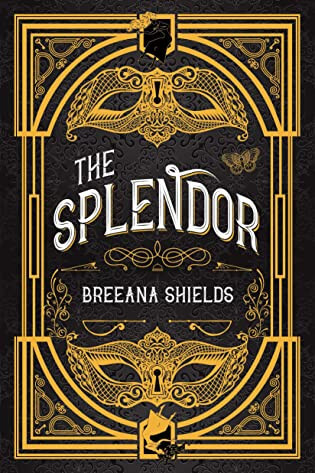 The Splendor by Breeana Shields
Published by Page Street Kids on September 7, 2021
Pages: 330
Format:ARC
Source:Copy provided by publisher for review



The Splendor isn't just a glamorous hotel, it's a magical experience that gives its guests the fantasy fulfillment of their dreams. But The Splendor didn't make Juliette's dreams come true. It ruined her life.

After a weeklong stay, Juliette's sister, Clare, returns from the hotel changed. Her connection to Juliette―the special bond they once shared―has vanished. In a moment of hurt and frustration, Juliette steals their meager savings and visits The Splendor herself.

When she arrives, she's taken in by the lush and sumptuous hotel. But as she delves more deeply into the mystery of the place, and how they make their illusions work, she grows more and more uneasy. The Splendor has a seedy underbelly, but every time she gets close to discovering something real, she seems to hit a wall.

Meanwhile, Juliette meets Henri, an illusionist who lives and works at the hotel. Henri's job is to provide Juliette with the same Signature Experience he gives all the guests―one tailored fantasy that will make her stay unforgettable. As he gets to know her, he realizes that not only is he ill-equipped to make her dreams come true, he's the cause of her heartache.

The Splendor has such a cool premise, and happily, was executed well to boot. It did not end up as I expected at all, but I was fine with how it did turn out, so yay!
Juliette goes to The Splendor hotel, basically to see if she can figure out what the heck happened to her sister while she was there. They used to be thick as thieves, and now Clare pretends Juliette doesn't exist. So… why? Upon entering, Juliette finds opulence beyond belief, and she's catered to beyond her wildest dreams. But she's not here for that, she wants answers. Only, no one at the hotel seems particularly forthcoming.
Enter Henri, an illusionist who is being raised by the hotel's owners. He probably has some answers for Juliette, but he is not exactly volunteering. They take a bit of a liking to each other, but they're both hiding a lot, so you know how well that will work. Without giving too much away, there is far more (or less) than meets the eye at The Splendor.
I quite enjoyed the story, it moved quickly, and I loved uncovering the secrets behind the hotel, the illusionists, and what exactly happened to Clare. Juliette was sympathetic, as Clare is really the only family she has, and she is so alone. She's also quite smart, and willing to do whatever it takes to get what she came here for. Overall, it was a win for me, despite a few minor questionable choices that I cannot explain for spoiler reasons, but I promise, they are not at all dealbreakers.
Bottom Line: A really unique story with a ton of twists and revelations.
---
For All Time by Shanna Miles
on September 28, 2021
Pages: 368
Format:eARC
Source:Copy provided by publisher for review, via Netgalley



"An unforgettable and artfully crafted romance right down to the very last page." —Julie Murphy, #1 New York Times bestselling author of Dumplin'

"A romance for the ages. Fresh voices and original predicaments make this one perfect little novel." —Stacey Lee, award-winning author of The Downstairs Girl

The Sun Is Also a Star meets Outlander in this vivid, utterly romantic debut novel about two teens who relive their tragic love story over and over until they uncover what they must do to change their fate.

Tamar is a musician, a warrior, a survivor. Fayard? He's a pioneer, a hustler, a hopeless romantic.

Together, Tamar and Fayard have lived a thousand lives, seen the world build itself up from nothing only to tear itself down again in civil war. They've even watched humanity take to the stars. But in each life one thing remains the same: their love and their fight to be together. One love story after another. Their only concern is they never get to see how their story ends. Until now.

When they finally discover what it will take to break the cycle, will they be able to make the sacrifice?

For All Time was a wonderful story of love and loss and finding oneself. I quite enjoyed this one, though one thing kind of hampered my enjoyment a bit. So let's get to it!
What I Liked:
I always love a romp through time! Time travel is so cool, yeah? This isn't time travel in its most technical sense though, I suppose it is more like past lives being showcased? Either way, it is time travel for the reader, since we are catching it all at once, so I like that! We get to see time period from hundreds of years ago, up until the future, and all over the world at that.
Adored the characters! Oh, how my heart broke for them, especially Tamar, in every time. I mean, obviously, history (and the modern era, frankly), has not treated either women or Black folks very well, and Tamar fits both categories. So to see her suffer is rough, and to see her heart break is too. Fayard is also great, and it is clear that he and Tamar love each other very much, in all the timelines. The characters' families and friends changed in each life, so we didn't get too attached to any of those guys.
It is certainly an emotionally provocative story. Obviously, as I mentioned, there is a lot of hurt that these two characters go through in their lives. It can be quite heartbreaking at times, especially as they lose each other over and over again, all while facing all the other hardships life has to offer. But it is also quite heartwarming, in the sense that they keep finding each other, no matter when or where they are.
I think the overall message is a strong one. I can't tell you what that is, for spoiler reasons, but I was here for it.
What I Didn't:
I won't pretend I wasn't a little lost at times. Part of this may have had to do with the eARC formatting, which is unfortunate, but especially in the beginning, I felt quite confused by the time/place and POV switches that I got a little overwhelmed. And the ending kind of confused me a bit, too? Like it was a complete ending, in the sense that it answers your questions, but I wasn't quite able to wrap my head around the answers entirely.
Bottom Line: A really lovely story that left me feeling a ton of emotions, but also a little confused at times.
---
Light From Uncommon Stars by Ryka Aoki
Published by Tor Books on September 28, 2021
Pages: 384
Format:eARC
Source:Copy provided by publisher for review, via Netgalley



Good Omens meets The Long Way to a Small, Angry Planet in this defiantly joyful adventure set in California's San Gabriel Valley, with cursed violins, Faustian bargains, and queer alien courtship over fresh-made donuts.

Shizuka Satomi made a deal with the devil: to escape damnation, she must entice seven other violin prodigies to trade their souls for success. She has already delivered six.

When Katrina Nguyen, a young transgender runaway, catches Shizuka's ear with her wild talent, Shizuka can almost feel the curse lifting. She's found her final candidate.

But in a donut shop off a bustling highway in the San Gabriel Valley, Shizuka meets Lan Tran, retired starship captain, interstellar refugee, and mother of four. Shizuka doesn't have time for crushes or coffee dates, what with her very soul on the line, but Lan's kind smile and eyes like stars might just redefine a soul's worth. And maybe something as small as a warm donut is powerful enough to break a curse as vast as the California coastline.

As the lives of these three women become entangled by chance and fate, a story of magic, identity, curses, and hope begins, and a family worth crossing the universe for is found.

I truly think one of the biggest compliments I can give to a book is when it is music heavy and yet I am not bored. So, there it is. This book is very musically oriented, and I still really enjoyed it! I mean, I won't pretend that I have gained some sort of great love of violins here or anything, but I appreciated the passion for music that the book showcased. And that's the thing: the author does an incredible job of making it about the love of music, and not just the technical aspects.
Anyway, that aside, this is pitched as "Good Omens meets The Long Way to a Small, Angry Planet", and I definitely get the Long Way comp. There are some incredibly lovable aliens in this book, which kind of made my day. (Incidentally, I know nothing about Good Omens, but I googled it, and it tracks.) But let's chat about the human characters first. Look, I was sure I was going to hate Shizuka, because who the heck sells their soul (and then the souls of others) to demons, right? Well, she's more complex than that. Every character is incredibly complex, really. The star character here, is by far, Katrina. Watching her grow and find herself is everything. (You will also get stabby angry at every single person she has encountered in her life, but that is for you to figure out while reading.)
This book tackles a lot of issues, but in a really great way. Not only does it delve deeply into Katrina's experiences as a trans woman (and her family's abysmal reaction to her), but we see into her life as a sex worker, and we see how living in a diaspora has affected all the characters, in so many ways. Then, enter the non-humans. They sell donuts, which is fun. And they have issues that ring all too familiar to the human reader, frankly. It goes to show that our experiences, while obviously varied by a myriad of things, shares some commonality at their core.
This is a slower paced book, and at times, perhaps a bit longer than necessary. But the story was lovely, and I was incredibly invested in the characters, so I wasn't too bothered by it. And, the plot is certainly full of questions I was eager to find the answers to. Will Shizuka sell Katrina's soul? Will the donut shop successfully hide the aliens? Will Shizuka let herself fall in love? Will Katrina be able to find her voice, even as the world tries to silence her?
Bottom Line: It's a gorgeous novel with brilliantly developed characters that mustn't be missed despite a slower pace.
---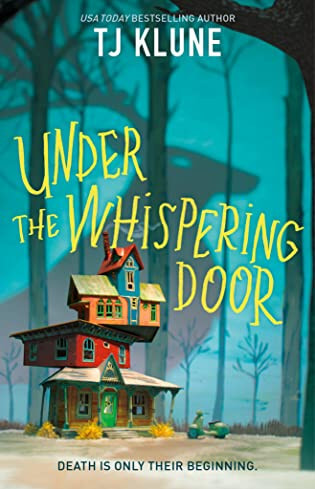 Under the Whispering Door by T.J. Klune
Published by Tor Books on September 21, 2021
Pages: 373
Format:eARC
Source:Copy provided by publisher for review, via Netgalley



When a reaper comes to collect Wallace Price from his own funeral, Wallace suspects he really might be dead.

Instead of leading him directly to the afterlife, the reaper takes him to a small village. On the outskirts, off the path through the woods, tucked between mountains, is a particular tea shop, run by a man named Hugo. Hugo is the tea shop's owner to locals and the ferryman to souls who need to cross over.

But Wallace isn't ready to abandon the life he barely lived. With Hugo's help he finally starts to learn about all the things he missed in life.

When the Manager, a curious and powerful being, arrives at the tea shop and gives Wallace one week to cross over, Wallace sets about living a lifetime in seven days.

Under the Whispering Door is a contemporary fantasy about a ghost who refuses to cross over and the ferryman he falls in love with.

This book is brilliant, full stop. The writing, the characters, the story… it's incredibly moving and enthralling. It's my first T.J. Klune book, but I promise that it will not be my last. Under the Whispering Door flawlessly blends every possible emotion into an incredibly moving story. I cried, I laughed, I swooned, I reflected on life and being human.
And funny enough, I have never gone from flat out abhorring a character to, well, not, in a matter of a few hundred pages. When we first encounter Wallace, and find that he has died, I literally wrote in my Kindle "good tbh, hate him". But the story doesn't end there, friends. Wallace has some amends to make, and since he can no longer make them in the living world, he's going to do them elsewhere.
When he finds himself in Hugo's teashop/dead people waiting room, he's not exactly game for whatever is happening. But the characters at Hugo's are kind of the best. The funniest, the sweetest, the strongest. Flawed, of course, as we all are, but still fabulous. And Wallace begins to understand that he too can be flawed but still better.
I'm not saying another word about this gorgeous story, because you just have to read it for yourself, to feel it for yourself. I am so glad that I took a chance on it, and I hope that you do too.
Bottom Line: I have my "book everyone gets as holiday gifts" for the year. Spoiler, it's this one.
Have you read any of these books? Plan to? Let us chat about them!