These are the rest of my August review books, and they are another fabulous batch!
Bad Witch Burning by Jessica Lewis
Vampires, Hearts, & Other Dead Things by Margie Fuston
In the Watchful City by S. Qiouyi Lu
The Woods Are Always Watching by Stephanie Perkins
The Last Words We Said by Leah Scheier
Twenty-Five to Life by R.R.W. Greene

---
Bad Witch Burning by Jessica Lewis
Published by Delacorte on August 24, 2021
Pages: 352
Format:eARC
Source:Copy provided by publisher for review, via Netgalley



For fans of Us and The Chilling Adventures of Sabrina comes a witchy story full of black girl magic as one girl's dark ability to summon the dead offers her a chance at a new life, while revealing to her an even darker future.

Katrell doesn't mind talking to the dead; she just wishes it made more money. Clients pay her to talk to their deceased loved ones, but it isn't enough to support her unemployed mother and Mom's deadbeat boyfriend-of-the-week. Things get worse, when a ghost warns her to stop the summonings or she'll "burn everything down." Katrell is willing to call them on their bluff, though. She has no choice. What do ghosts know about eating peanut butter for dinner?

However, when her next summoning accidentally raises someone from the dead, Katrell realizes that a live body is worth a lot more than a dead apparition. And, warning or not, she has no intention of letting this lucrative new business go.

But magic doesn't come for free, and soon dark forces are closing in on Katrell. The further she goes, the more she risks the lives of not only herself, but those she loves. Katrell faces a choice: resign herself to poverty, or confront the darkness before it's too late.

Bad Witch Burning made me feel all kinds of stuff, which is a big part of why I loved it. I mean the story itself is awesome, don't get me wrong. The fact that Katrell is suddenly bringing back folks from the dead? Obviously, I am in! And it is a great story in itself, even before we add in the emotions. But the emotions are what put this book over the top for me, making it go from a good book to a freaking fantastic one.
From the start, I was mad for Katrell. She has gone through more awfulness in her young lifetime than anyone should have to encounter ever. Her mom's boyfriend du jour is quite possibly one of the most awful creatures I have read about, and the fact that mom actively chooses the boyfriend's side over Katrell's over and over is gutting. Katrell has always had the ability to communicate with the deceased, via letter, and can even make a few bucks to support herself (and her mom and her mom's array of deadbeat paramours, unfortunately). One has even warned her that she needs to be careful, but some bad stuff goes down (thanks a lot Gerald) and she finds herself able to resurrect the dead, the warnings go to the back of her mind.
Katrell begins to think that the resurrections may be a way out for her. A way out from the pain, and poverty, and neglect. And this kills me, because you know just by the warnings that she's headed down a slippery slope, but you also a million percent understand why she's doing it. So obviously, a lot of the story is figuring out the mystery behind the dead, and what it will mean to Katrell.
So there is mystery and suspense and a ton of heartbreak, but there is also so, so much hope. Katrell has been through a lot, but she is such an incredible young woman. She's not perfect, not by any means, but she is lovable. And I think that is the journey she needs to undertake. She has an amazing best friend Will, and a counselor who she kind of won the counselor lottery with, Mike. And they see the Katrell that her mother turns away from, in a way that the reader hopes Katrell will see herself. And I don't want to say too much, but I promise that this book will satisfy you wholly.
Bottom Line: It is a great paranormal mystery, sure, but Bad Witch Burning is so much more. It's beautiful and heart-wrenching and hopeful.
---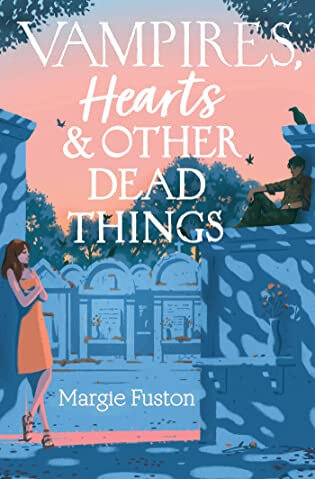 Vampires, Hearts, & Other Dead Things by Margie Fuston
Published by Margaret K. McElderry Books on August 24, 2021
Pages: 352
Format:eARC
Source:Copy provided by publisher for review, via Netgalley



In this heart-wrenching debut YA novel that's The Coldest Girl in Coldtown meets They Both Die at the End, a teen girl takes a trip to New Orleans with her estranged best friend to find a vampire to save her dying father.

Victoria and her dad have shared a love of the undead since the first vampire revealed his existence on live TV. Public fear soon drove the vampires back into hiding, yet Victoria and her father still dream about finding a vampire together. But when her dad is diagnosed with terminal cancer, it's clear that's not going to happen. Instead, Victoria vows to find a vampire herself—so that she can become one and then save her father.

Armed with research, speculations, and desperation—and helped by her estranged best friend, Henry—Victoria travels to New Orleans in search of a miracle. There she meets Nicholas, a mysterious young man who might give her what she desires. But first, he needs Victoria to prove she loves life enough to live forever.

She agrees to complete a series of challenges, from scarfing sugar-drenched beignets to singing with a jazz band, all to show she has what it takes to be immortal. But truly living while her father is dying feels like a betrayal. Victoria must figure out how to experience joy and grief at once, trusting all the while that Nicholas will hold up his end of the bargain…because the alternative is too impossible to imagine.

Ah, welcome to another edition of "Shannon didn't read the synopsis and had no idea this was about X" review! I know what you are thinking! "Ma'am, perhaps you should stop doing that?" But okay, what fun would that be? Here, I thought this was to be some kind of fun romp about some girl who wished vampires were real. Whoops, it isn't, in any way! But the good news is, it is so much better than whatever my ridiculous self expected!
Vampires, Hearts, & Other Dead Things is such an incredibly heartfelt book, and frankly a love story about a young woman's beautiful relationship with her dying father. Victoria and her dad have always had a strong bond in general, but extra especially about vampiric lore. They love the movies, the shows, the books, and became extra fascinated when people claiming to be true vampires came forward. But when her dad's cancer is diagnosed as terminal, Victoria simply cannot come to terms with it, as you can imagine.
Her dad, wanting only the very best for his daughter, insists that she go on a trip they had planned to New Orleans. She doesn't want to, obviously, but then she has an idea: she can find an actual vampire and thereby remedy her dad's death sentence. She agrees to go with next-door neighbor and former longtime friend/now ex-friend/always crush Henry, but only so that she can track down a vampire to, you know, do his or her vampire duties.
It's gutting, honestly. You don't even have the chance to find it a little strange that Victoria believes she can find an actual vampire, because she's just so incredibly sympathetic. She feels completely let down by conventional medicine, so she's willing to try anything, and the author does an amazing job making us understand Victoria so well. I understood why she was pouring her whole heart into this (likely fruitless) search- because she couldn't do anything else. She felt beyond helpless, and needed to focus on something, anything other than her father's likely impending death.
And the trip to New Orleans does help, not always in the way she expects. She and Henry will obviously have time to discuss what went wrong with their friendship. She is able to explore this beautiful city (and I loved the way the author describes it- nails it, more accurately), and we get the true pleasure of seeing Victoria live a little.
Through the entire story, I rooted for Victoria. Not necessarily that she'd find a vampire, just that she would find peace somehow. I adored Henry from the start, and I loved the characters they encountered along their way in New Orleans, I equally loved Victoria's family. And certainly, I loved how Victoria had to sort of find herself again during the process, and begin to really delve deeper into all her relationships- with her family, with Henry, and most of all, with herself.
Bottom Line: Such a gorgeous and heartfelt story, told in a wonderfully unique way.
---
In the Watchful City by S. Qiouyi Lu
Published by Tor.com on August 31, 2021
Pages: 192
Format:eARC
Source:Copy provided by publisher for review, via Netgalley



In the Watchful City explores borders, power, diaspora, and transformation in an Asian-inspired mosaic novella that melds the futurism of Lavie Tidhar's Central Station with the magical wonder of Catherynne M. Valente's Palimpsest.

The city of Ora uses a complex living network called the Gleaming to surveil its inhabitants and maintain harmony. Anima is one of the cloistered extrasensory humans tasked with watching over Ora's citizens. Although ær world is restricted to what æ can see and experience through the Gleaming, Anima takes pride and comfort in keeping Ora safe from all harm.

All that changes when a mysterious visitor enters the city carrying a cabinet of curiosities from around the world, with a story attached to each item. As Anima's world expands beyond the borders of Ora to places—and possibilities—æ never before imagined to exist, æ finds ærself asking a question that throws into doubt ær entire purpose: What good is a city if it can't protect its people?

I don't generally like to compare books, but In the Watchful City's setup reminded me a bit of The Singing Hills Cycle by Nghi Vo. Mostly, in the way that several stories were told within the main story, which I found wonderful. And I adored the concept behind the stories, which was that each object that the visitor possessed contained a story from its former owner.
The city itself is pretty interesting, though I won't pretend to have been completely able to wrap my head around its concept- that, however, could certainly be on me. Anima works as a guard of sorts, ensuring the safety for all citizens within. So when the visitor enters, it's ær job to vet them, basically. I loved the way each story was told, and how much of an impact they clearly had on Anima. Basically, we get to read several stories about life, while watching Anima apply these stories to ær life. It's pretty great, really, to not only experience the stories as a reader, but through the eyes of someone else, too.
Bottom Line: The novella (both the main story of Anima, and the stories the visitor tells) is rich in both diversity and heart, and this is certainly one not to miss.
---
The Woods Are Always Watching by Stephanie Perkins
Published by Dutton Books for Young Readers on August 31, 2021
Pages: 304
Format:eARC
Source:Copy provided by publisher for review, via Netgalley



New from bestselling author Stephanie Perkins, and the perfect companion to her New York Times bestseller There's Someone Inside Your House, soon to be a Netflix feature.

Bears aren't the only predators in these woods.

Best friends Neena and Josie spent high school as outsiders, but at least they had each other. Now, with college and a two-thousand-mile separation looming on the horizon, they have one last chance to be together—a three-day hike deep into the woods of the Pisgah National Forest.

Simmering tensions lead to a detour off the trail and straight into a waking nightmare … and then into something far worse. Something that will test them in horrifying ways.

Stephanie Perkins, the bestselling author of There's Someone Inside Your House, returns with a heart-stopping, gut-wrenching novel about friendship, survival, and navigating unmarked paths even as evil watches from the shadows.

The Woods Are Always Watching was a fast paced and exciting book, with a few minor issues. Let's break it down!
What I Liked:
I do love me a survival story, and this certainly was one! And it definitely delivered on the tension and the "will they make it out?" aspect, so that was great. The stakes were certainly sufficiently high, and I was invested in the outcome.
I can appreciate two people who basically hate camping. Look, this was just honest. I haven't the foggiest idea why these two young ladies thought that camping, which neither of them professes to enjoy, needed to be their big hurrah before parting ways, but I think it was a pretty good way to show their sheer lack of woodsy know-how. Next time, I think they should try a day at the beach? An amusement park, mayhaps? And hey, the book has the added bonus of being a cautionary tale: maybe if you don't know about camping and don't particularly enjoy the outdoors, skip it, under risk of death.
It's a very readable book in general. It's fast paced (except for a little in the beginning, which I will get to) and full of adventure and excitement. I raced through it, needing to know what would happen to the girls, so that is a huge plus.
While I didn't always love how it was handled, I loved that friendship was a huge focus. This is a romance-free book, focused solely on the characters and their situation at hand. I liked that we meet the girls as they are about to move on from high school, and that they are at a crossroads, basically. The story also delved into the girls' family lives as well, which I liked.
What I Didn't:
I really, really needed an epilogue. The ending was just way too abrupt for my liking, especially after such a high stakes story. This is definitely my biggest qualm with this book, frankly. View Spoiler »I think extra especially since the book focuses so much on the personal lives of Josie and Neena, it seems strange that we don't get much of a resolution. « Hide Spoiler
While I do understand what the author was trying to illustrate through the girls' arguments, did the fighting have to make up so much of the story? Look, I appreciate that friendships can be rocky, especially when facing such huge life changes, as Josie and Neena are! Hell, I'd be shocked if they didn't fight! They're obviously going through a lot, and it does make sense. It just got to be a lot, especially in the first half of the book. Like are the woods the problem, or is it just you two? Luckily it does pick up, but also I don't know that we get a lot in the way of a satisfying resolution to many of the issues.
Bottom Line: It's certainly fast paced and exciting after the first half, though I did wish for a bit more from the ending.
---
The Last Words We Said by Leah Scheier
Published by Simon Pulse on August 31, 2021
Pages: 320
Format:eARC
Source:Copy provided by publisher for review, via Netgalley



Nine months ago, Danny disappeared and everything changed for his friends. Rae's pouring herself into rage-baking. Deenie's deepening her commitment to Orthodox Judaism. And Ellie—Danny's best friend and girlfriend—is the only one who doesn't believe he's dead.

Because she still sees him.

Moving back and forth between past and present, the story of Ellie and Danny unspools, from their serendipitous meeting to Danny and Ellie falling for each other. In the past, they were the perfect couple—until it all went wrong. In the present, Ellie's looking for answers. Her friends are worried about her mental health, but Ellie's certain that the tragedy that's rocked their modern Orthodox community isn't as simple as they all believe. She's determined to uncover the truth about what happened to the love of her life. But to do that, she'll have to be more honest with herself.

And now, another book that will pull at your feelings! In The Last Words We Said, we follow Ellie, who is still reeling from her best friend and boyfriend Danny's disappearance. Their other friends and families are fairly convinced that Danny is gone, but Ellie has yet to give up hope, and still even sees and talks to Danny. She knows her friends, parents, and therapist would like her to move on, and she often placates them with false promises she knows they want to hear, but deep down, she's not ready to let go.
It makes sense, of course, that the three friends who remain are dealing with Danny's disappearance in vastly different ways. Deenie is throwing herself as far into their Orthodox Judaism faith as she possibly can, while Rae is fleeing from their religion more than ever. I loved the deep insight into the modern Orthodox community, I felt like I learned so much while reading this story. Even more, I loved how much it played into each characters' grief process, as religion (or lack of, even) plays a huge part in feelings on loss in general.
This book not only explores grief and loss within the current events surrounding Danny, but in general. It also delves deep into the group's friendships, both pre- and post-Danny. In addition, there is a huge element of family and community involvement, which was a great addition to the story. I think my one qualm was that I didn't feel wholly connected to Ellie herself outside of her relationships with everyone else, but otherwise this was a strong and highly emotional story.
Bottom Line: A beautiful story about grief and loss, friendship and love, this one will certainly pull at your heartstrings.
---
Twenty-Five to Life by R.W.W. Greene
Published by Angry Robot on August 24, 2021
Pages: 400
Format:eARC
Source:Copy provided by publisher for review, via Netgalley



Life goes on for the billions left behind after the humanity-saving colony mission to Proxima Centauri leaves Earth orbit ... but what's the point?

Julie Riley is two years too young to get out from under her mother's thumb, and what does it matter? She's over-educated, under-employed, and kept mostly numb by her pharma emplant. Her best friend, who she's mostly been interacting with via virtual reality for the past decade, is part of the colony mission to Proxima Centauri. Plus, the world is coming to an end. So, there's that.

When Julie's mother decides it's time to let go of the family home in a failing suburb and move to the city to be closer to work and her new beau, Julie decides to take matters into her own hands. She runs, illegally, hoping to find and hide with the Volksgeist, a loose-knit culture of tramps, hoboes, senior citizens, artists, and never-do-wells who have elected to ride out the end of the world in their campers and converted vans, constantly on the move over the back roads of America.

I know that this is my type of book, no question there. But I had no idea how hard I would fall for it, either! I loved this story, in that special way that leaves you satisfied at the end, but also a little sad because you just don't want it to end. It's a "oh crap, the apocalypse is nigh" sort of situation, with our main character Julie watching her best friend set off for planets unknown, leaving Julie behind stuck on a dying Earth. When Julie's mom announces that she's selling their home, basically sentencing Julie to live her days in a cube existing on virtual reality. This doesn't sound like a real way to live to Julie, so she gets out of there, stat.
Only problem? At twenty-three, she's still considered a minor in the eyes of the law. She has few resources, and knows no one, but has heard of a group of nomadic folks who refuse the VR life, too, and hopes to connect with them. And when she does, the real magic begins. Oh, and I should mention, people aren't exactly allowed to roam freely around the country. The government put the kibosh to that, so they have to keep moving. And while there is a lot of travel (in the form of road trips, which I adore) in the book, it's definitely more of a focus on Julie, the characters she encounters, and the world in general. And yes, there are all kinds of threats along the way, no question! It isn't a slow book by any means, but it is a very thoughtful and heartfelt one, and it gives us such an incredible insight into Julie and the world around her.
Bottom Line: I loved every single minute of this thoughtful and eerily plausible adventure.
Have you read any of these books? Plan to? Let us chat about them!