Welcome to July's
Monthly Minutes at Midnight!
 Here's the deal: I'll share the books I've obtained, posts of interest from others, giveaways I have happening, and just general random shenanigans. You know I love a shenanigan.  Also, covers all link to Goodreads, because I am awesome. As always, I link up with the Wrap Up Round Up, too! 
The Books
For Review/From Publishers: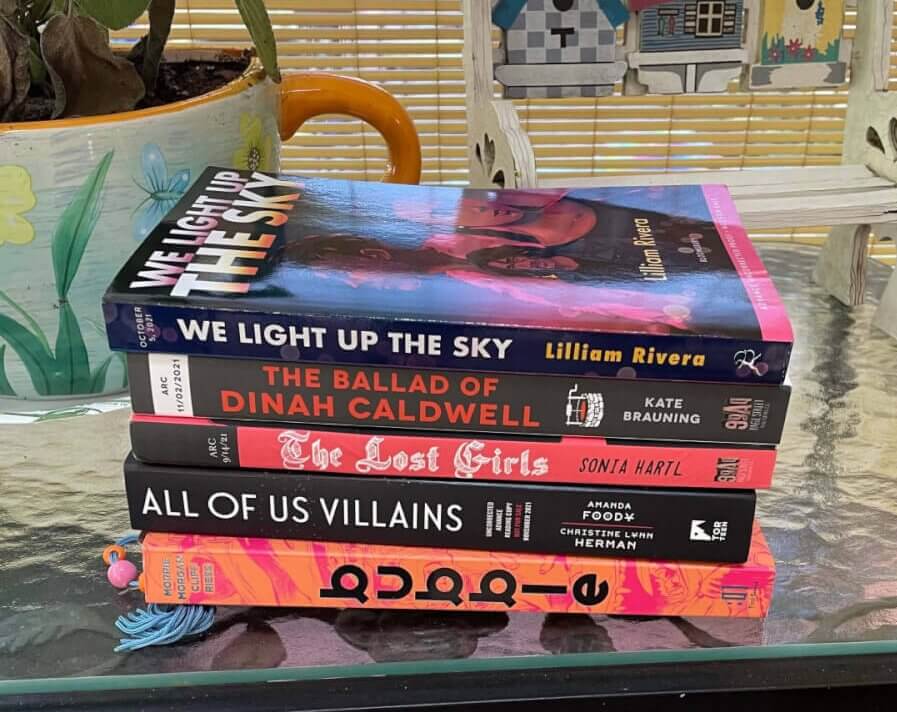 We Light Up the Sky by Lilliam Rivera
The Ballad of Dinah Caldwell by Kate Brauning
All of Us Villains by Amanda Foody & Christine Lynn Herman
Bubble by Jordan Morris, Sarah Morgan, Tony Cliff, & Natalie Riess
Hugest of thanks to the publishers for these lovelies! 
eARCs:
Huge thanks to the publishers for these lovelies! (SO many most-anticipated books here! And also, maybe I have a problem? No no I definitely have a problem ?) 
Purchased: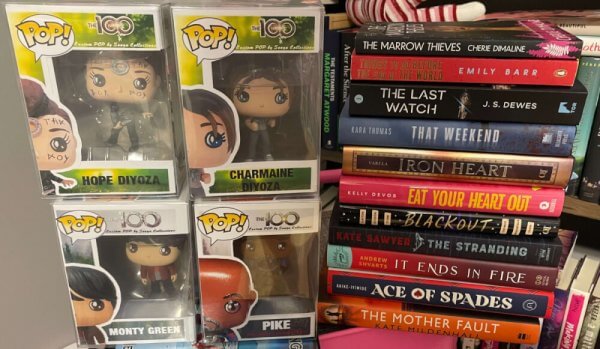 The Marrow Thieves by Cherie Dimaline ♦ Things to Do Before the End of the World by Emily Barr ♦ The Last Watch by J.S. Dewes ♦ That Weekend by Kara Thomas ♦ Iron Heart by Nina Varela ♦ Eat Your Heart Out by Kelly deVos ♦ Blackout by Dhonielle Clayton, Tiffany Jackson, Nic Stone, Nicola Yoon, Ashley Woodfolk, and Angie Thomas ♦ The Stranding by Kate Sawyer ♦ It Ends In Fire by Andrew Shvarts ♦ Ace of Spades by Faridah Àbíké-Íyímídé ♦ The Mother Fault by Kate Mildenhall ♦ Monty Green, Charmaine & Hope Diyoza, and Charles Pike Funko by Sonya Collections
Look, mayhaps I went a wee bit overboard this month, but several of them were orders from last month that were late! 
Aaannnd maybe a few Kindle deals…. 
Won/Gifted/Traded:
It is a hardcover but I forgot to take a picture and it is already on my shelves, so… ?
Huge thanks to the Book Bratz!! 
---
Shenanigans Since Last Time:
I read 15 books this month. Not too shabby!
A few very pleasant surprises here! And barely any bummers!
Giveaways: Click Here, or on Sidebar
---
Blogosphere Bulletin
Here are some of the loveliest/most entertaining/super helpful/just plain interesting posts I found this month!
---
Fancy & New Since Last I Saw You!
I love looking at pretty covers! So here are some new ones that I have fallen in love with since our last update!
Pretty covers are pretty. 
---
Things we need to talk about at this juncture:
The Olympics are happening, and I made a tag for that! I know the Olympics are… messy this year, at best. But certainly I think it is okay to celebrate the athletes (and even though it is messy, and frankly, unsafe, there is a part of me that is glad for them? Like- imagine working your whole life and having it cancelled, you know? Most don't get second chances, so.) 
Idk what happened this month either, really. I feel like a lot did, but nothing particularly entertaining to read about? I promise, if I ever do any fun crap, I will let you guys know posthaste. As it stands, I will spare you the mundane annoyances of life, and just give you some kids having fun pictures!

Have a great August, loves! Let me know how your month was!