Here are the rest of my June review books! And these are all awesome books, I am happy to report!
Star Eater by Kerstin Hall
Violet Ghosts by Leah Thomas
The World Gives Way by Marissa Levien
Blood Like Magic by Liselle Sambury
---
Star Eater by Kerstin Hall
Published by Tordotcom on June 22, 2021
Pages: 448
Format:eARC
Source:Copy provided by publisher for review, via Netgalley



From Nommo Award finalist Kerstin Hall comes "a layered and incisive examination of power."—Rory Power, New York Times bestselling author of Wilder Girls

"Stunning, bloody, and everything I adore in fantasy."—Emily Duncan, New York Times bestselling author of Wicked Saints

All martyrdoms are difficult.

Elfreda Raughn will avoid pregnancy if it kills her, and one way or another, it will kill her. Though she's able to stomach her gruesome day-to-day duties, the reality of preserving the Sisterhood of Aytrium's magical bloodline horrifies her. She wants out, whatever the cost.

So when a shadowy cabal approaches Elfreda with an offer of escape, she leaps at the opportunity. As their spy, she gains access to the highest reaches of the Sisterhood, and enters a glittering world of opulent parties, subtle deceptions, and unexpected bloodshed.

A phantasmagorical indictment of hereditary power, Star Eater takes readers deep into a perilous and uncanny world where even the most powerful women are forced to choose what sacrifices they will make, so that they might have any choice at all.

First, let me say that Star Eater is quite the dark book. I mean, cannibal quasi-nuns and zombie men will have that effect, but just to be clear: it can get brutal in here. That said, I kind of loved it? My only qualm is one I'll get out of the way quickly: I was a little confused at first and wasn't sure I'd be able to wrap my head around the world. But, it became a non-issue fairly quickly, so if you're feeling a little lost at first, I'd give it a second.
When it picked up for me, it really picked up. I cared for Elfreda from the start, because it was clear that she was going through it. Her whole sisterhood order is kind of in shambles at the moment, and she's really not keen on having to be forced to attempt a pregnancy with a random criminal/inadvertently turn him into a zombie on the regular. And who could blame her? So when she gets an offer to be a spy, and not have to endure what amounts to sexual assault (for both her and the criminal, frankly), she doesn't turn it down.
This leads her down a very interesting path, and for me, is when the book hits its stride. The people she encounters along the way, both longtime friend and new entity alike, were quite dynamic characters who I also felt fully invested in. And as the story progressed, the reader gets all kinds of insight on the sisterhood, its customs, and the world at large.
And in truth, while the book was quite dark at times, it was also really hopeful and uplifting at others, which is a dynamic I am here for. There was an underlying sense of hope, and camaraderie, and genuine love weaved throughout an otherwise brutal world, and that made the book so very enjoyable.
Bottom Line: I'd be very down for a sequel, as this world and characters are so memorable and unique that I felt sad to leave it!

---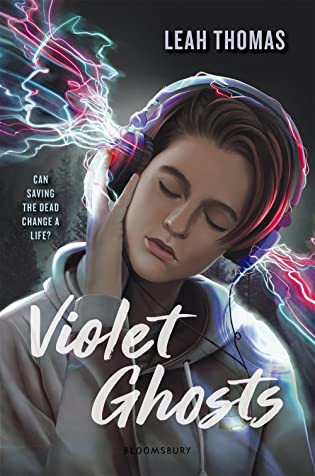 Violet Ghosts by Leah Thomas
Published by Bloomsbury YA on June 22, 2021
Pages: 336
Format:ARC, eARC
Source:Copy provided by publisher for review, via Netgalley



Acclaimed author Leah Thomas tells the story of a teen determined to right the wrongs of female ghosts haunted in the afterlife.

Dani's best friend, Sarah, is a ghost. But maybe that's normal when you've spent your childhood running from an abusive parent.

Dani and Sarah might be more than friends, though Dani dares not say so. Dani is afraid that if he tells Sarah he's trans, she won't bother haunting him anymore. Sarah's got good reason to distrust boys, having been strangled by one.After Sarah and Dani come across another ghost haunted by her own brutal murder, they set out to bring peace and safety to spirits like her.

But when an old rival reenters Dani's life, their unexpected friendship gives Dani a strange new feeling of belonging. As Dani starts to find his place in the living world, he'll need to let go of his ghosts.

With her signature lyricism, Leah Thomas has woven a poignant supernatural story for the #MeToo age.

It's me again, messing up a title! I thought, literally until I started reading the book, that it was called Violent Ghosts, instead of Violet. And look, that makes a difference! Was Sarah sad and looking at Lisa Frank stickers under Dani's bed, or was she stabbing folks with a machete? See the difference? I digress.
In this book, we meet Dani, who's having a rough time of things. As the new kid, school/social life has been a struggle, of course, and friends are nowhere in sight. Except, however, Sarah, who lives under the bed. Sarah died decades ago, but she's hanging around because her murder remains unsolved. Sarah becomes a bit of a crutch for Dani, who relies on their relationship in lieu of having friendships with, well, living kids.
As the story goes on, it's clear that Sarah and Dani aren't really good for each other, but neither is willing or able to let the other go. More ghosts join the band, and frankly I think Patricia was one of my favorite characters. I also adored Dani's former (alive) enemy Seiji, and found his story to be one of the biggest highlights of the book. Dani has to come to terms with his own past trauma, and some of the things he had done to Seiji because of said trauma. And, Dani is terrified for Sarah to find out that he is a trans male. Which kind of says a lot about Sarah, frankly.
So, there's quite a bit going on here, between the trauma and abuse that both the living and the dead have experienced (and in some cases, continue to experience). Added to the mix is Dani trying to balance the world of the living with the world of the dead, all while being worried what his best (ghost) friend will think of him when she knows his truth. While I enjoyed the story for the most part, I will say that it took a lot of suspension of disbelief for me, which is something I am maybe not the best at.
Bottom Line: Deals with a lot of heavy issues in a very unique way, and if you can suspend some disbelief (or believe in ghosts I guess) and handle the content, then it's definitely worth it!
---
The World Gives Way by Marissa Levien
Published by Redhook on June 15, 2021
Pages: 416
Format:eARC
Source:Copy provided by publisher for review, via Netgalley



In fifty years, Myrra will be free.

Until then, she's a contract worker. Ever since she was five, her life and labor have belonged to the highest bidder on her contract—butchers, laundries, and now the powerful, secretive Carlyles.

But when one night finds the Carlyles dead, Myrra is suddenly free a lot sooner than she anticipated—and at a cost she never could have imagined. Burdened with the Carlyles' orphaned daughter and the terrible secret they died to escape, she runs. With time running out, Myrra must come face to face with the truth about her world—and embrace what's left before it's too late.

A sweeping novel with a darkly glimmering heart, The World Gives Way is an unforgettable portrait of a world in freefall, and the fierce drive to live even at the end of it all.

In a near-future world on the brink of collapse, a young woman born into servitude must seize her own freedom in this glittering debut with a brilliant twist—perfect for fans of Station Eleven, Karen Thompson Walker, and Naomi Alderman.

This book has such a unique premise, and certainly delivered! The world is going to end, only it isn't the world we think of. It's essentially a very large spaceship that has basically become its own society, complete with various cities and landscapes and cultures. But it's on its way out, which Myrra, an indentured worker, finds out the night her employers kill themselves, leaving Myrra behind with their baby and an existential crisis.
Myrra had been facing fifty years of servitude, but is suddenly free- only if she can outrun the law, which will certainly be on her tail. Even more so as she is accompanied by the infant of a very wealthy and influential family. Tobias, meanwhile, is trying to make his mark in law enforcement, since many of his colleagues assume nepotism got him the job. When he's put on the case, his cleverness will stop at nothing to catch Myrra.
As Myrra runs, we get to see much of the world that has been built on this ship. And, we see how reluctant people are, no matter the evidence glaring at them, to accept catastrophic outcomes. It's so very relevant and thought provoking that no matter what Myrra told people, and no matter the events that corroborated her story, people believed what they wanted to believe.
This book is part survival story, as Myrra tries to find a safe place for herself and Charlotte. It's certainly part sci-fi, as the spaceship they live on is potentially to be stranded and unfixable in outer space. It's certainly part apocalyptic, as Myrra has inside information about the end of days. And it's incredibly emotional and character driven, with so much heart. And it begs the question, what would you do if your world was imminently ending? How would any human being react?
Bottom Line: Beautifully written and exquisitely emotional, The World Gives Way is a unique, genre-bending novel that I won't soon forget.

---
Blood Like Magic by Liselle Sambury
Series: Blood Like Magic #1
Published by Margaret K. McElderry on June 15, 2021
Pages: 496
Format:eARC
Source:Copy provided by publisher for review, via Netgalley



A rich, dark urban fantasy debut following a teen witch who is given a horrifying task: sacrificing her first love to save her family's magic. The problem is, she's never been in love—she'll have to find the perfect guy before she can kill him.

After years of waiting for her Calling—a trial every witch must pass in order to come into their powers—the one thing Voya Thomas didn't expect was to fail. When Voya's ancestor gives her an unprecedented second chance to complete her Calling, she agrees—and then is horrified when her task is to kill her first love. And this time, failure means every Thomas witch will be stripped of their magic.

Voya is determined to save her family's magic no matter the cost. The problem is, Voya has never been in love, so for her to succeed, she'll first have to find the perfect guy—and fast. Fortunately, a genetic matchmaking program has just hit the market. Her plan is to join the program, fall in love, and complete her task before the deadline. What she doesn't count on is being paired with the infuriating Luc—how can she fall in love with a guy who seemingly wants nothing to do with her?

With mounting pressure from her family, Voya is caught between her morality and her duty to her bloodline. If she wants to save their heritage and Luc, she'll have to find something her ancestor wants more than blood. And in witchcraft, blood is everything.

Via the author: "Content warnings: whipping scene within the context of slavery, gun/police violence, discussion of and character with an eating disorder, blood/gore/violence, death, substance abuse/addiction, mentions of child neglect"
So, I loved this book! A small issue: it did start off a bit slow for me. And I was worried. BUT. I promise it doesn't stay slow for long, and I am so, so glad I stuck with it! I am going to try to break down all the things I loved about this wonderful debut!
Voya! Just… everything about Voya. She's so completely real, full of flaws but also full of heart. She is so worried about her Calling, so worried that she will let her family down. And then when the Calling turns out to be worse than she could ever imagine… well, the girl is going through a lot here. My heart broke for her, because she didn't deserve these burdens, but she bore them anyway, and all out of love.
The family dynamics were incredible. Voya comes from a large extended family who also cohabitates in the ancestral home. Every family member is so incredibly well developed, which made them all likable characters in their own right. Even when maybe I was mad at them for the way they were treating Voya, I still loved them deep down. I also loved how central family in general was to the story. Not just for Voya, but for all the characters, both those who were a part of her family, and those who weren't. Even those without family realized its significance, and the loss of not having a close familial unit.
The way relationships in general were handled. You know how most of us seem to have a "place" in our family or friend groups? Whether you're the smart one, the flaky one, the funny one… you get "assigned" roles in groups, and they're kind of hard to shake, right? Well, that is exactly what is happening here. Voya has been dubbed "the woefully indecisive one", and I will say that I was initially super annoyed by how the family kept harping on it. But the truth is… families do this. And, as with Voya (at least initially), these blanket statements become prophetic. If you're told your whole life that you're trash at making decisions, when you're faced with a huge one, what is your first thought? "I can't do that, I'm indecisive", no? So I really loved how the author not only weaved this into the story, but how Voya was ultimately going to have to overcome it to fulfill her Calling. But it wouldn't be an easy ask.
The setting was so fun! I mean, I like Toronto as much as the next guy, but I also loved that it was set in the future! That was a fun extra that I wasn't expecting, but really loved. The added tiny future elements were wonderful and definitely added to the story.
Voya is an awesome cook and I was hungry. Voya especially excelled at making traditional Trinidadian dishes, and yeah, these sounded amazing and I need them in my life.
I absolutely loved her complicated relationship with Luc. Especially since she didn't have many contacts outside of the magic community, it was so fun to see her interact with him. I loved their banter, and I loved that she was going to have to figure out how to handle her blossoming feelings with her assigned task to, you know, kill the dude.
Bottom Line: I fell completely and totally in love with Voya and her family, and this magical world, and am beyond excited for the sequel!
Have you read any of these books? Plan to? Let us chat about them!