These books are all celebrating their book birthdays today, April 13! And good news, they're all pretty great!
Victories Greater than Death by Charlie Jane Anders
Near the Bone by Christina Henry
Unity by Elly Bangs
The Prison Healer by Lynette Noni

---
Victories Greater Than Death by Charlie Jane Anders
Series: Universal Expansion #1
Published by Tor Teen on April 13, 2021
Pages: 288
Format:eARC
Source:Copy provided by publisher for review, via Netgalley



A thrilling adventure set against an intergalactic war with international bestselling author Charlie Jane Anders at the helm in her YA debut—think Star Wars meets Doctor Who, and buckle your seatbelts.

Tina has always known her destiny is outside the norm—after all, she is the human clone of the most brilliant alien commander in all the galaxies (even if the rest of the world is still deciding whether aliens exist). But she is tired of waiting for her life to begin.

And then it does—and maybe Tina should have been more prepared. At least she has a crew around her that she can trust—and her best friend at her side. Now, they just have to save the world.

From internationally bestselling author Charlie Jane Anders (All the Birds in the Sky) comes a thrilling adventure set against an intergalactic war—Anders's long-awaited YA debut.

Victories Greater Than Death is an incredibly creative and thoughtful novel. It captured my attention from the start, as I immediately felt for both Tina and her mom. As we begin the story, the reader is informed that Tina is not long for this world. In fact, she was literally made for another world, from another world,  here to bide her time until her home planet comes to retrieve her. Frankly, that is a lot to dump on a young woman, but here we are. Since she's grown up on Earth, obviously humans are all she knows. Her mom is so incredibly caring and loving, and her best friend Rachel is equally awesome. I was so happy Tina had these supports her whole life, I can't imagine how she'd have made it otherwise!
But alas, the time comes, and her people come a-calling. Tina goes from typical teen to space warrior (or rather, tries to/is supposed to) in a matter of actual minutes. And that is where things really take off. Tina finds that she has some general knowledge of the universe and the various groups in it, but has no personal knowledge, like she was supposed to. So she's basically winging it. Right off the bat, Tina has to make some big moral decisions and figure out who she can trust.
The group she eventually ends up riding through the universe with includes Rachel, who kind of got brought along as an accident and decided to stay, as well as some Earthen teens, and various high ranking soldiers/experts. I adored the cast of characters! They were so wonderfully diverse, and very well developed.
Also very well developed? The world! I really enjoyed how much innovativeness and creativity the author very clearly poured into the story. It was undoubtedly unique, and I had such a fun time learning all the nuances of the universe (and especially of the villain- as bad as he was, the whole story was wildly entertaining as well).
The plot moves pretty quickly, and I enjoyed it throughout. There were a few moments that were perhaps a little… easy for Tina, which is probably the only downside for me.
Bottom Line: So wildly creative with an entertaining and lovable cast of characters, this was a definite win!
---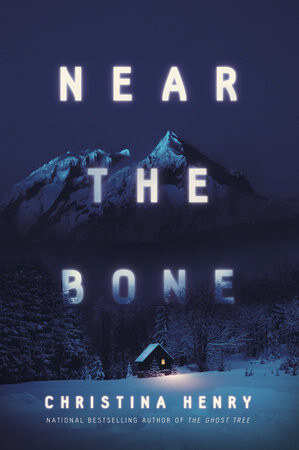 Near the Bone by Christina Henry
Published by Berkley Books on April 13, 2021
Pages: 336
Format:eARC
Source:Copy provided by publisher for review, via Netgalley



A woman trapped on a mountain attempts to survive more than one kind of monster, in a dread-inducing horror novel from the national bestselling author Christina Henry.

Mattie can't remember a time before she and William lived alone on a mountain together. She must never make him upset. But when Mattie discovers the mutilated body of a fox in the woods, she realizes that they're not alone after all.

There's something in the woods that wasn't there before, something that makes strange cries in the night, something with sharp teeth and claws.

When three strangers appear on the mountaintop looking for the creature in the woods, Mattie knows their presence will anger William. Terrible things happen when William is angry.

Wow so this was dark and messed up! I don't even know where to begin with trigger warnings, frankly. So if you can't do dark and brutal, this isn't the book for you. But if you do enjoy darker fare, it's compulsively readable and impossible to put down.
Mattie is sequestered alone in a creepy cabin in the creepy woods with William, who is legit the grossest person in the whole world. I am not exaggerating, he is a monster. Through and through. This isn't a spoiler, you'll be aware of this by like, page three. It will, however, horrify you more and more with each page.
But beyond that, Mattie and William find that perhaps the woods aren't as isolated as they'd assumed. Something… strange is afoot, and whatever it is, it's definitively not friendly. And then. Then they encounter people. Mattie hasn't seen humans in so long that it becomes quite an experience for her.
I'll say no more, for fear of spoiling, but trust that you will not be able to put this book down. I couldn't, because I needed answers to all the things. It's atmospheric and incredibly mysterious, and it blew my mind in more ways than one.
Bottom Line: If you're in the mood for a dark mystery that will leave you unsettled, this is your book!
---
Unity by Elly Bangs
Published by Tachyon Publications on April 13, 2021
Pages: 304
Format:eARC
Source:Copy provided by publisher for review, via Netgalley



Evoking the grittiness of Mad Max and the idealism of Sense8, this absorbing sci-fi debut is a dynamic vision of the fluidity of identity. With Unity, breakout author Elly Bangs has created a prescient, moving, and unforgettable adventure that expands upon human consciousness and its possibilities.

"Imagine Neuromancer and Lilith's Brood conceived a baby while listening to My Chemical Romance and then that baby was adopted by Ghost in the Shell and Blue Submarine no. 6. The baby's name is Unity."—Meredith Russo, author of If I Were Your Girl

Danae, a tech servant in the underwater enclave of Bloom City, is haunted by a grief that cannot be contained in a single body. But while in the city, her fractured self cannot be returned to the larger collective of beings to whom she once belonged.
Unable to tolerate separation any longer, Danae plans to escape the city with her lover, Naoto. Just in time to avoid disaster, they hire the enigmatic ex-mercenary Alexei to guide them.

But returning to Danae's home means fleeing across the otherworldly beauty of the postapocalyptic Southwest. Meanwhile, an old stalker has picked up her trail, and a new foe has put a bounty on her head.

Unbeknownst to any of them, Danae, Alexi, and Naoto are also in their own pursuit—of a completely new configuration of mutual understanding.

Unity is an incredibly thought provoking and morally complex story that I quite enjoyed once I got into it. I'll admit that my one qualm with the book was that I was a little lost at first. But as I got into it, I really got into it.
I am going to keep it short, because learning about the world and what was happening is truly part of the enjoyment of this book. Look, I know the comps say Mad Max and Sense8, but I don't know anything about those guys. What I do know is, in various parts of my Kindle notes, I indicated several things that reminded me of The 100. Because of course I did. But that is high praise, of course! We've got some definite Transcendence-style hijinks, which you can tell from the synopsis (though in fact, it's probably more ALIE meets Transcendence which is even more fun tbh), and I was so intrigued! I was also wildly impressed with the author's ability to write a collective mindspace where it not only makes sense, but I could completely wrap my head around what the characters were trying to say.
But that isn't the only storyline we have here, not by a long shot! And, it isn't the only one that reminded me of a The 100 situation, but spoilers, so I'll keep that one to myself. It's so very morally complex and gray, and the characters all have to make some pretty serious decisions as the story progresses. And as we get to know them and their pasts, it becomes so clear why it means so much to them.
Bottom Line: It's an intense and enthralling ride that kept me thinking long after I finished the last page.
---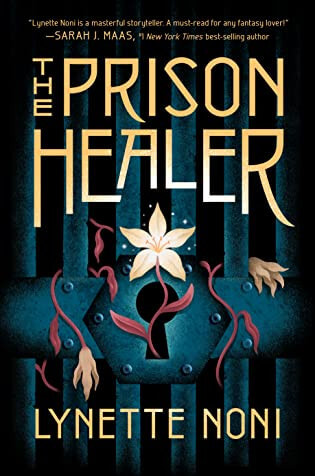 The Prison Healer by Lynette Noni
Series: The Prison Healer #1
Published by HMH Books for Young Readers on April 13, 2021
Pages: 416
Format:eARC
Source:Copy provided by publisher for review, via Netgalley



Seventeen-year-old Kiva Meridan has spent the last ten years fighting for survival in the notorious death prison, Zalindov, working as the prison healer.

When the Rebel Queen is captured, Kiva is charged with keeping the terminally ill woman alive long enough for her to undergo the Trial by Ordeal: a series of elemental challenges against the torments of air, fire, water, and earth, assigned to only the most dangerous of criminals.

Then a coded message from Kiva's family arrives, containing a single order: "Don't let her die. We are coming." Aware that the Trials will kill the sickly queen, Kiva risks her own life to volunteer in her place. If she succeeds, both she and the queen will be granted their freedom.

But no one has ever survived.

With an incurable plague sweeping Zalindov, a mysterious new inmate fighting for Kiva's heart, and a prison rebellion brewing, Kiva can't escape the terrible feeling that her trials have only just begun.

From bestselling author Lynette Noni comes a dark, thrilling YA fantasy perfect for fans of Sarah J. Maas, and Sabaa Tahir.

Yeah, so this was amazing. And that was before I knew Bob Morley will be interviewing Lynette Noni for the promo 😱! (Seriously, he is, tune in tomorrow- April 14-I know I sure will be!)
Anyway, I'll try to talk about the book since apparently this is supposed to be a book blog and not a Bob Morley fan site (though tbh, who can tell the difference anymore, it's like, half-and-half at best). Here's an embarrassing story: for a really long time, I thought the title of this book was The Poison Healer. Which, whoopsie, it is not. I was legit a few chapters in before I realized the difference, so that happened. Oh and by the by, this aforementioned prison is brutal. 
"Zalindov showed no mercy, not even to the innocent. Especially not to the innocent."
So, you see what our titular healer is dealing with. Kiva is amazing, regardless of (or perhaps because of) her circumstances. She still, somehow, holds out hope. Not just for her own life, but for all those she treats. Sure, she knows people don't last very long in Zalindov, but she'll be damned if people will die on her watch. It's incredibly endearing, and I think it's why it's so easy to cheer for her from the start.
But one day, her bravery/selflessness/impulsivity leads her to take the rebel leader's place in a punishment which is incredibly likely to mean her death. And not just her death, but the death of those she's allowed herself to love (despite her best efforts to close herself off) inside the prison walls. So needless to say, the stakes are high.  Speaking of the others inside the prison, wow did I enjoy the side characters! I worried about their fates nearly as much as Kiva's. Because the big question remained: even if Kiva can miraculously survive, what about everyone else?
The book has a perfect mix of action and character development, and I basically could not put it down. It was so fascinating (and heartbreaking) to read about how Kiva got to this point in her life, and also really uplifting and inspiring that she was able to keep hope. There is also a rampant illness felling prisoners left and right that Kiva must try to keep under control, all while keeping both herself and her loved ones alive.
So, since I want to give nothing more away, I'll leave you with this: I could not put this book down. There are so many incredible twists and turns. I fell completely in love with Kiva, as well as her fellow prisoners. I cheered for them, I cried for them, and I cannot wait to read the next installment.
Bottom Line: When I'm already pre-ordering book 2, you know it's a winner.
Have you read any of these books? Plan to? Let us chat about them!