These are all books that come out in mid-July and also, I loved them all so I consider this bunch a big old win!
The Invention of Sophie Carter by Samantha Hastings
Being Toffee by Sarah Crossan
Axiom's End by Lindsay Ellis

---
The Invention of Sophie Carter by Samantha Hastings
Published by Swoon Reads on July 14, 2020
Pages: 320
Format:ARC
Source:Copy provided by publisher for review


1851. Bounced from one begrudging relative to another their whole lives, orphaned identical twins Sophie and Mariah Carter have always relied on each other for love and support, even though the sisters couldn't be more different.

Brash Sophie wants to be an inventor, and demure Mariah wants to be an artist. Both long to visit London for the summer—Sophie to see the Queen's Great Exhibition and Mariah to study the world's finest collection of paintings. But when their cantankerous aunt answers their letter pleading for a place to stay, she insists she only has time and room to spare for one of them.

So, Mariah and Sophie hatch a clever scheme: They will travel to London together and take turns playing the part of "Sophie".

At first the plan runs like clockwork. But as the girls avoid getting caught by increasingly narrow margins and two handsome gentlemen—both of whom think they're falling in love with the real Sophie Carter—enter the equation, the sisters find they don't have the situation quite as under control as they thought.

With all sorts of delightful Parent Trap-style identical twin hijinks, The Invention of Sophie Carter is the perfect light-and-sweet palate cleanser.

Oh this is just such a lovely gem of a book, certainly cementing Samantha Hastings as an auto-buy author for me. Her previous book was such a hit for me, and this one was even more so! 
Sophie and Mariah are twin sisters who have kind of had a pretty tough go of it. They're orphans, and every family who has taken them in has eventually shipped them right back out. It's sad, really, and no fault of their own, but as such they are looking to find their place in the world. Sophie, as the title suggests, wants to invent stuff. Mariah is an artist, and hoping to find love and a family. They think London would be a great opportunity, for there is a Great Exhibition in town, as well as many more opportunities than a small town provides. Only, their crappy aunt (she is so crappy, no joke) decides that she can maybe tolerate one of them visiting, but both would… Idk, give her the vapors? She truly sucks.
But wise women do not let a crappy aunt get in the way of their dreams! They're identical, after all, and their aunt wouldn't be able to tell the difference between them with a gun to her head so… plan is in play! (Side story, I had twin friends and in high school, they would switch places all the time to take tests for each other and stuff. Zero percent of the teachers ever noticed. So this is very plausible.)
Things are actually going pretty well for the women. Mariah has found an opportunity with an artist, Sophie has a job posing for said artist, and much to Sophie's chagrin, she finds a charming young man who enjoys her company. But… we know nothing can run that smoothly!
The whole of the book is really about both women finding themselves and what they want from their lives, all while finally encountering people who see their worth for who they are. It's about women who refuse to settle for some predetermined fate, and who are willing to take risks to make their own futures. And yeah, there are some very swoony romances, and a lot of sisterly love. 
Bottom Line: This book is straight up enjoyable and charming and a feel-good story we all could use right now. Filled with delightful characters and a great nineteenth century London setting, it should definitely make it's way to your reading list!

---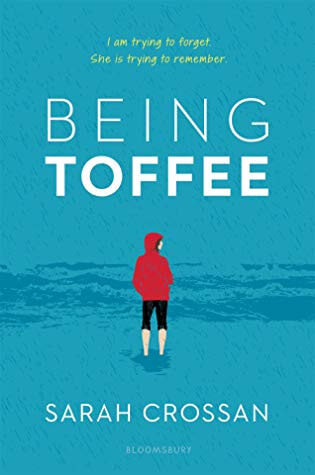 Being Toffee by Sarah Crossan
Published by Bloomsbury YA on July 14, 2020
Pages: 416
Format:ARC
Source:Copy provided by publisher for review


The astonishing new novel from the incomparable, multi-award-winning and Laureate, Sarah Crossan.

I am not who I say I am, and Marla isn't who she thinks she is.
I am a girl trying to forget. She is a woman trying to remember.

Allison has run away from home, and with nowhere to live, finds herself hiding out in the shed of what she thinks is an abandoned house. But the house isn't empty. An elderly woman named Marla, with dementia, lives there – and she mistakes Allison for an old friend from her past called Toffee.

Allison is used to hiding who she really is, and trying to be what other people want her to be. And so, Toffee is who she becomes. After all, it means she has a place to stay. There are worse places she could be.

But as their bond grows, and Allison discovers how much Marla needs a real friend, she begins to ask herself - where is home? What is a family? And most importantly, who am I, really?

I have truly never been this moved by a novel in verse before. Never, ever. Usually even if I really enjoy one, I have a slight disconnect, but not in this case. Being Toffee won me over completely. It's an incredibly intense (and I'll go ahead and put a trigger warning here for abuse before we start) story about a young woman named Allison who runs away from home to escape the abuse her father has been inflicting on her. In running though, she finds herself homeless, and a quest to find a place to be safe and sheltered becomes her primary concern.
When she thinks she finds a place to rest, it turns out it's not empty, but occupied by an elderly woman with dementia who happens to think Allison her old friend Toffee. And look, from the sound of it, I was iffy! You can't help but think "okay am I really going to feel for this girl who's messing with a dementia patient?" but I promise it isn't like that at all. It's so much more nuanced, and so full of heart and love and desperation. 
I felt so deeply for both Allison and Marla, grew to love and care for both women so much throughout the story. It's so much more than meets the eye, and the author does a phenomenal job developing the characters and the story with impeccable care. I also thought that the atmosphere and tone of the story were fabulous- it's set in a beach town, and it's definitely a well-painted picture. In addition, the author makes the emotions just ooze off the page.
The only minor qualm I had with the story was that I had wanted the ending to be a bit… more? But I also know from the authors' previous works that I think this is just how she does endings and I have to live with that! It's still worth it because the book is absolutely that good.
Bottom Line: At once a heartbreaking and heartwarming story, you simply will not be able to help falling in love with these characters and their story.

---
Axiom's End by Lindsay Ellis
Series: Noumena #1
Published by St. Martin's Press on July 21, 2020
Pages: 384
Format:ARC
Source:Copy provided by publisher for review


Truth is a human right.

It's fall 2007. A well-timed leak has revealed that the US government might have engaged in first contact. Cora Sabino is doing everything she can to avoid the whole mess, since the force driving the controversy is her whistleblower father. Even though Cora hasn't spoken to him in years, his celebrity has caught the attention of the press, the Internet, the paparazzi, and the government—and with him in hiding, that attention is on her. She neither knows nor cares whether her father's leaks are a hoax, and wants nothing to do with him—until she learns just how deeply entrenched her family is in the cover-up, and that an extraterrestrial presence has been on Earth for decades.

Realizing the extent to which both she and the public have been lied to, she sets out to gather as much information as she can, and finds that the best way for her to uncover the truth is not as a whistleblower, but as an intermediary. The alien presence has been completely uncommunicative until she convinces one of them that she can act as their interpreter, becoming the first and only human vessel of communication. Their otherworldly connection will change everything she thought she knew about being human—and could unleash a force more sinister than she ever imagined.

This book. This. Book. I am going to go ahead and get the only thing holding me back from giving it a full five stars out of the way so we can move onto the gushing: It started off slow, and I was a little unsure of it at first. But when it got going…. I was hooked, completely and totally. And now I am going to tell you why.
I mean, aliens. Aliens are so fun! Especially when you're not just navigating the aliens, but the government's response to the aliens. Gosh I long to tell you more about the aliens, but frankly, that is half the fun of the book so I am not. But I will just say that getting to know who they are and what they want is for sure worth it.
The time period is so interesting. It's set in late 2007, at the tail-end of the Bush administration. And yes, it is mentioned throughout the book so it is fully part of the plot. I loved the author's choice, because it made how it was handled feel authentic. If it was a more competent president, things may have been less messy. If it were… you know, our current abomination, we'd have all been dead in hours. So I thought it was genius, frankly. Also, the era of internet that we were in at that time worked well with the narrative, too.
The whole story is incredibly thought provoking. What constitutes intelligence? What factors make up morality? What is it about our claimed humanity that is special? So many questions that I don't have the answers to, frankly.
I fell in love with the characters. See, at first I felt a bit disconnected, and wasn't sure. But like I said before, once I was hooked, I was hooked, and so completely invested in the story, especially Cora's personal journey.
The story itself was very compelling and engaging. There's a lot going on: the obvious issues between the alien species and humans, but also inter-alien issues, and all kinds of complex human issues. Some of them are of a more global nature, like government stuff, but plenty are interpersonal relationship issues with Cora and members of her family, and even between Cora and some of the aliens.
SO happy to report that it's a series! I was so scared when it ended because while it does close the current story to an extent, there is just so much more to tell!
Bottom Line: I am completely and totally hooked on this story and this world. I will be eagerly awaiting the sequel because I have a feeling it'll be even more awesome.

Have you read any of these books? Plan to? Let us chat about them!