Hello, chums! Today I am super excited to share with you some info about a book you should definitely add to your TBR  ! Then, I am going to give you a chance to win your own copy of the book!!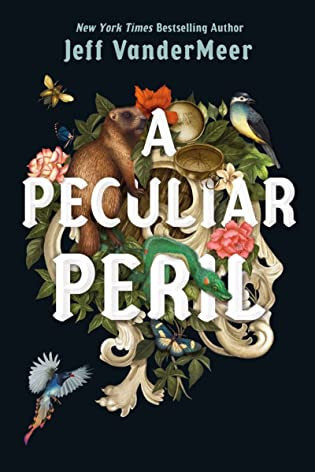 A Peculiar Peril
by Jeff VanderMeer
Published by Farrar Straus and Giroux (BYR)
on July 7, 2020
Pages: 656
Format:ARC
Source:Copy provided by publisher for review

The first book in a new YA fantasy duology from a bestselling genre-expanding master, about a teenager who embarks on a quest to protect the world from an alternate universe where magic abounds and history has been rewritten.

After Jonathan Lambshead's elusive grandfather dies, the recently orphaned teenager inherits the family mansion—and its contents. Jonathan soon discovers that the mansion's basement holds more than just oddities: three doors serve as portals, with one leading to an alt-Earth called Aurora, where magic abounds, history has been re-written, and an occult dictator called Aleister Crowley leads an army pillaging alt-Europe. Jonathan learns of his destiny as a member of The Order, a secret society devoted to keeping our world separate from Aurora, and embarks on an epic quest to protect Earth from Crowley's dark magic.

Over the course of the duology, Jonathan uncovers more of the worlds outside of our own, the magic that permeates them, his own destiny, and the secrets buried in his family history.
Winner will receive an ARC of A Peculiar Peril by Jeff VanderMeer! (US only, I'm afraid!)
So, what do you think, dears? Are you excited for this one?