Happy Book Birthday to these lovelies that all release on June 2nd!! Also I liked every one of them, what a win!
 A Song of Wraiths and Ruin by Roseanne A. Brown
Again Again by E. Lockhart
Little Creeping Things by Chelsea Ichaso
Burn by Patrick Ness

---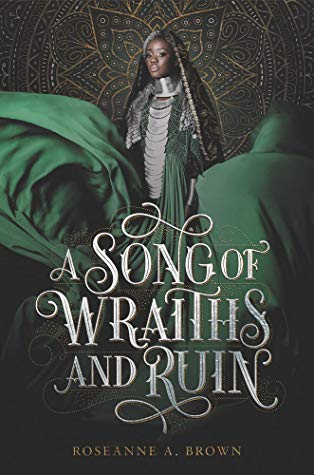 A Song of Wraiths and Ruin by Roseanne A. Brown
Series: A Song of Wraiths and Ruin #1
Published by Balzer + Bray on June 2, 2020
Pages: 480
Format:eARC
Source:Copy provided by publisher for review, via Edelweiss


The first in an fantasy duology inspired by West African folklore in which a grieving crown princess and a desperate refugee find themselves on a collision course to murder each other despite their growing attraction.

For Malik, the Solstasia festival is a chance to escape his war-stricken home and start a new life with his sisters in the prosperous desert city of Ziran. But when a vengeful spirit abducts Malik's younger sister, Nadia, as payment into the city, Malik strikes a fatal deal—kill Karina, Crown Princess of Ziran, for Nadia's freedom.

But Karina has deadly aspirations of her own. Her mother, the Sultana, has been assassinated; her court threatens mutiny; and Solstasia looms like a knife over her neck. Grief-stricken, Karina decides to resurrect her mother through ancient magic . . . requiring the beating heart of a king. And she knows just how to obtain one: by offering her hand in marriage to the victor of the Solstasia competition.

When Malik rigs his way into the contest, they are set on a course to destroy each other. But as attraction flares between them and ancient evils stir, will they be able to see their tasks to the death?

I feel like a broken record where I say over and over that fantasy is so hit or miss for me, but I feel like it is important for me to say this so that when I tell you that I adored this book, you won't take my praise lightly! So I shall now tell you all the stuff that made this such a win for me!
First of all, I had no freaking clue that it was nearly 500 pages, because it flew by! When I went to mark as "read" on Goodreads, I was shooketh, because no WAY was it that long- it flowed so perfectly!
Such a glorious family focus! Malik would do, quite literally, anything for his sisters. Their bond is really incredible. Karina's familial situation is a bit messier, but she absolutely wants to do right by hers as well. I don't want to get into it too much because we learn a ton about her family as the story progresses, but even though it's more complex, it's still moving.
The characters were great and I was rooting for them wholly. They are so incredibly sympathetic and relatable! Even though you don't necessarily want them to follow through on their assassination plans, you can totally understand why they would be considering such drastic measures. It's certainly morally gray, and very thought provoking. They also learn so much about themselves and others during the book, I loved that.
The West African folklore inspiration was amazing! It is new to me, but I am here for it. So many incredible messages, and the way the author weaves them into the entirety of the story was great too. It wasn't just a footnote, it was a huge component.
Add to it, the author did a phenomenal job of world building. I was never confused or overwhelmed, yet there was definitely enough mystery and intrigue to keep me excited. Everything about this world made me excited to learn more, and if you ask me that's kind of perfect worldbuilding.
Mental health and chronic illness are involved. Oh, there are way too few fantasies out there with good mental health rep, and I am so happy to count this among them! The author does such a great job of making it part of Malik's story, but not what defines him. Ditto Karina, and her debilitating migraines.
I am an absolute sucker for competitions. Like anyone is fighting to win anything, and you can go ahead and sign me up. The stakes in this competition are super high, because both competitors and not have a lot at stake in the outcome.
The sparks of a romance are definitely there. You can see that these two would be perfect together, tbh. If they don't kill each other first, of course. I love that Karina can just tell what a genuinely good person Malik is, and vice versa, even as their agendas don't align.
Bottom Line: I absolutely fell in love with this high stakes adventure, and I cannot wait to continue the story!

---
Again Again by E. Lockhart
Published by Delacorte Press on June 2, 2020
Pages: 304
Format:eARC
Source:Copy provided by publisher for review, via Netgalley


From the New York Times bestselling author of We Were Liars and Genuine Fraud comes a complex novel about acceptance, forgiveness, self-discovery, and possibility, as a teenage girl attempts to regain some sense of normalcy in her life after a family crisis and a broken heart.

If you could live your life again, what would you do differently?

After a near-fatal family catastrophe and an unexpected romantic upheaval, Adelaide Buchwald finds herself catapulted into a summer of wild possibility, during which she will fall in and out of love a thousand times--while finally confronting the secrets she keeps, her ideas about love, and the weird grandiosity of the human mind.

A raw, funny story that will surprise you over and over, Again Again gives us an indelible heroine grappling with the terrible and wonderful problem of loving other people.

There's always a lot of talk about whether we give authors second chances if we don't love the first book of theirs that we read. And I am always Team Second Chances. And Team Third Chances apparently, because this is my third go at an E. Lockhart book. And I am very excited to share that my stubbornness has paid off, as I really enjoyed Again Again!
What if we got do-overs when we didn't love how we handled something? Wouldn't that be fabulous? It would. We don't, but Adelaide might. Here's the thing: I have no idea which of Adelaide's attempts on living are the "real" ones. I suspect we aren't supposed to know. I won't lie, it frustrated me a bit as a very logic-driven, concrete thinker. But I can absolutely appreciate that there's something thought-provoking in the not knowing, something that challenges us to almost choose-her-adventure, if you will.
Adelaide, when we meet her, isn't particularly likable. Oh, we feel bad for her because she's just been dumped and is kind of a mess of a person, sure. She's going through a lot of family stuff (which unwinds as the story does, so I won't say much more about that), and it's certainly not easy. But sometimes, as we all do, Adelaide brings on some of her hardships. But during the course of the story, she begins to actually see that she is sometimes her own worst enemy, and somewhat of a self-fulfilling prophet.
So while none of Adelaide's do-overs may even be "real", Adelaide's ability to grow and move forward is very real. That even if she is forced to live with the very first set of events, she has learned so much from them that she will be able to have much better futures, no matter the past. And that is something we can all stand to remember.
Bottom Line: Truly lovely and thought provoking, Adelaide's growth and trajectory made her story worth reading, no matter what version of her life she ends up in.
---
Little Creeping Things by Chelsea Ichaso
Published by Sourcebooks Fire on June 2, 2020
Pages: 336
Format:eARC
Source:Copy provided by publisher for review, via Netgalley


When she was a child, Cassidy Pratt accidentally started a fire that killed her neighbor. At least, that's what she's been told. She can't remember anything from that day, and her town's bullies, particularly the cruel and beautiful Melody Davenport, have never let her live it down.

But then Melody goes missing, and Cassidy thinks she may have information. She knows she should go to the cops, but she recently joked about how much she'd like to get rid of Melody. She even planned out the perfect way to do it. And then she gets a chilling text from an unknown number: I'm so glad we're in this together.

Now it's up to Cassidy to figure out what really happened before the truth behind Melody's disappearance sets the whole town ablaze.

This was fun and quite addicting! I will say, full disclaimer, that I was pretty sure I knew what the deal was from fairly early on, and I did turn out to be right. But, that didn't stop me from compulsively reading to find out if I was! So that is to say, it certainly isn't glaringly obvious or anything, I just had a hunch. Anyway, moving along!
One of my favorite things about this one is that I actually really cared about what happened to Cassidy. She was a great main character, which is sometimes lacking in thriller/mystery types, but not in this one. Cassidy has a really rough background, stemming from a fire when she was young, and it's been haunting her for years. She is not even sure if she is a reliable narrator, which of course makes us wonder just as much.
I loved that she was so desperate to know the truth, even if it implicated her. And she wanted so badly to save Melody, even though Melody was kind of the worst. It was just all the more reason I rooted for Cassidy. I also loved how Gideon was (mostly) by her side no matter what, their friendship, and Cassidy's feelings for him, made my heart melt in the midst of a pretty precarious situation.
Bottom Line: An enjoyable and very readable mystery with a great cast of characters!
---
Burn by Patrick Ness
Published by Quill Tree Books on June 2, 2020
Pages: 384
Format:eARC
Source:Copy provided by publisher for review, via Edelweiss


On a cold Sunday evening in early 1957, Sarah Dewhurst waited with her father in the parking lot of the Chevron gas station for the dragon he'd hired to help on the farm…

Sarah Dewhurst and her father, outcasts in their little town of Frome, Washington, are forced to hire a dragon to work their farm, something only the poorest of the poor ever have to resort to.

The dragon, Kazimir, has more to him than meets the eye, though. Sarah can't help but be curious about him, an animal who supposedly doesn't have a soul, but who is seemingly intent on keeping her safe.

Because the dragon knows something she doesn't. He has arrived at the farm with a prophecy on his mind. A prophecy that involves a deadly assassin, a cult of dragon worshippers, two FBI agents in hot pursuit—and somehow, Sarah Dewhurst herself.

ME:  Eh I don't know if I like dragons, but it's Patrick Ness so let's try.
ME, AFTER: Wow so I love dragons and obviously Patrick Ness.
There is SO much that I loved about this book that I cannot even tell you for the sake of spoilers. Places I did not see things going. And like, it's seriously SO GREAT so can you just trust me? Awesome thanks. Here's what I can tell you:
Alternate 1957. I mean, some things are very similar! We're in some kind of nuclear standoff with Russia, but President Aaron Burr is on the $20. And there are, you know, dragons. Who help out on farms, because of course they do. And cults that worship dragons, and people who don't like dragons, and you know, examples that humanity will clearly never change.


"He was the thing the world had suffered from most in her four billion years of existence: a stupid man with power."

The prophecy ends up being a real trip- both literally and figuratively. Literally for Malcolm, the young cult fellow who's supposed to be taking out Sarah, at the center of the prophecy, and figuratively for Sarah, her father, and her wonderful best-friend-with-benefits, Jason. Not only are they dealing with dwindling farm production and a new dragon, they're dealing with a very heavy dose of racist bullshit from the local police (holy relevancy), but now they've somehow found themselves at the epicenter of dragon cult prophecies.
Okay I know this sounds completely bonkers, and it is, but in the best possible way. I promise it all makes sense when you read it! It isn't just weird for the sake of weirdness or anything. The world building is fabulous, and every single bit of what goes down is thought provoking and full of very timely and applicable messages.
It is also just an incredible story with twists that I didn't see coming at all. Yeah, there's nothing more to say except I never wanted to put this book down and now I love it, the end.
Bottom Line: Patrick Ness strikes again, with a unique story so wholly and completely relevant while remaining wildly entertaining.
Have you read any of these books? Plan to? Let us chat about them!