Here's more March books, albeit the remainder of my March books. I mean, good thing March was 812 years long to accommodate all the books!
The Empress of Salt and Fortune by Nghi Vo
Anthropocene Rag by Alexander C. Irvine
Providence by Max Barry

---
The Empress of Salt and Fortune by Nghi Vo
Series: The Singing Hills Cycle #1
Published by Tor.com on March 24, 2020
Pages: 128
Format:eARC
Source:Copy provided by publisher for review, via Netgalley


With the heart of an Atwood tale and the visuals of a classic Asian period drama, Nghi Vo's The Empress of Salt and Fortune is a tightly and lushly written narrative about empire, storytelling, and the anger of women.

A young royal from the far north, is sent south for a political marriage in an empire reminiscent of imperial China. Her brothers are dead, her armies and their war mammoths long defeated and caged behind their borders. Alone and sometimes reviled, she must choose her allies carefully.

Rabbit, a handmaiden, sold by her parents to the palace for the lack of five baskets of dye, befriends the emperor's lonely new wife and gets more than she bargained for.

At once feminist high fantasy and an indictment of monarchy, this evocative debut follows the rise of the empress In-yo, who has few resources and fewer friends. She's a northern daughter in a mage-made summer exile, but she will bend history to her will and bring down her enemies, piece by piece.

Praise for The Empress of Salt and Fortune

"An elegant gut-punch, a puzzle box that unwinds itself in its own way and in its own time. I cannot recommend it highly enough. Gorgeous. Cruel. Perfect. I didn't know I needed to read this until I did."--Seanan McGuire

"A tale of rebellion and fealty that feels both classic and fresh, The Empress of Salt and Fortune is elegantly told, strongly felt, and brimming with rich detail. An epic in miniature, beautifully realised."--Zen Cho

This is such a lovely gem of a book! I'll admit, I was a little unsure at the start. I felt a wee bit disconnected, and didn't know if it'd be for me. But I am so, so glad I stuck with it, because it was extremely well worth the time! The first thing that drew me in was the writing. It is truly next-level phenomenal, lyrical and lovely without being overdone.
It's both a story, and a story-within-a-story, and I found the telling of it to be such a fresh take. And while a large chunk of the events in the book took place long before, you can tell how deep an impact they still have on Rabbit, the old woman sharing her story. I loved how the tales wove together, seamlessly uniting the past and the present.
This story will absolutely make you feel things, too. The author manages in a short number of pages to pour out tons of emotion. You will care for the characters and their relationships, about the people who defined their lives. And while it can be quite dark at times, it will undoubtedly provide hope in humanity.
Bottom Line: At it's core, it's such a wonderfully feminist story, full of friendship and love, and strength. Do yourself a favor, and read this one immediately.

---
Anthropocene Rag by Alexander C. Irvine
Published by Tor.com on March 31, 2020
Pages: 256
Format:eARC
Source:Copy provided by publisher for review, via Netgalley


Anthropocene Rag is "a rare distillation of nanotech, apocalypse, and mythic Americana into a heady psychedelic brew."—Nebula and World Fantasy award-winning author Jeffrey Ford

In the future United States, our own history has faded into myth and traveling across the country means navigating wastelands and ever-changing landscapes.

The country teems with monsters and artificial intelligences try to unpack their own becoming by recreating myths and legends of their human creators. Prospector Ed, an emergent AI who wants to understand the people who made him, assembles a ragtag team to reach the mythical Monument City.

In this nanotech Western, Alex Irvine infuses American mythmaking with terrifying questions about the future and who we will become.

At the Publisher's request, this title is being sold without Digital Rights Management Software (DRM) applied.

This was… bizarre, for lack of a better word. That isn't a bad thing! It's just how it is. As a whole, there were a lot of things I enjoyed about this one, and a few things that left me wanting more (or wanting to understand more, perhaps). So let's break them down!
The Stuff I Liked:
In is unarguably unique. I mean, can I even explain this? It is quite simply like nothing else I have ever read. And for the most part, that is a good thing! I guarantee you too will find this a one of a kind.
So much cool historical stuff! Ever wanted to ride on a ship with Mark Twain, or get car advice from Henry Ford? Good news for you, then! This is just the tip of the iceberg in terms of fascinating historical markers that pop up all throughout the book. They are, in essence, to guide our characters along their journey. And they make for some interesting reading, no question.
It's a journey/adventure, and I love those! It's also a personal journey, which will be my next point, but what I am talking about here is a physical trek. I flat out adore when characters have to traverse great distances, because there's something so… survivalist about it, I suppose. And what better way to both have adventure and find out what our characters are made of! Plus, we get to see so many different locals in "Boomerica", so that's extra fun.
Yes, the characters have journeys too! They're all obviously picked to go to this mythical place for a reason, and as you can imagine, they're going to unpack their baggage along the way.
The Stuff I Didn't:
There were parts that I was just plain lost during. The Boom is… a little confusing? I mean, I started to get the general gist that things in this new world were… different, and that the Boom basically chooses what happens in life now, who lives and who dies, and I guess which historical characters will greet you in which cities. It's cool, but I do wish I knew a bit more of the inner workings. I think I was supposed to like, not know, like no one in the book does, but look, I am apparently too needy for that.
There are a lot of characters to keep straight. I even understood having several points of view, since it allowed us to see more of the country, more of the Boom, and more characters' stories. But at a certain point I started to get a bit overwhelmed, and wished the author had stuck with three or four characters' perspectives, especially in a shorter book.
I guess I just plain wanted more answers. The book ends on a rather vague note, and a lot of the questions I had about the world in general were left unanswered. To be fair, it's entirely possible that this is just a "me" problem, and that readers who aren't as ridiculous in their need for answers will be able to enjoy the ride itself without feeling frustrated.
Bottom Line: Absolutely one of the most unique stories I have ever encountered, it's wildly imaginative, yet lacks some of the clarity I had hoped for by the end.
---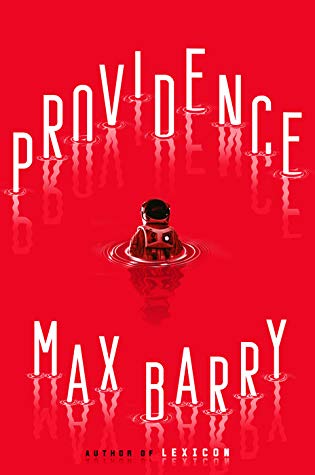 Providence by Max Barry
Published by G.P. Putnam's Sons on March 31, 2020
Pages: 320
Format:eARC
Source:Copy provided by publisher for review, via Netgalley


It was built to kill our enemies. But now it's got its own plans.

In the future, the war against aliens from the dark reaches of space has taken a critical turn. Once we approached the salamanders in peace... and they annihilated us. Now mankind has developed the ultimate killing machine, the Providence class of spaceship.

With the ships' frightening speed, frightening intelligence and frightening weaponry, it's now the salamander's turn to be annihilated... in their millions.

The mismatched quartet of Talia, Gilly, Jolene and Anders are the crew on one of these destroyers. But with the ship's computers designed to outperform human decision-making in practically all areas, they are virtual prisoners of the ship's AI. IT will take them to where the enemy are, it will dictate the strategy in any battle, it will direct the guns....

The crew's only role is to publicize their glorious war to a skeptical Earth. Social media and video clips are THEIR weapons in an endless charm offensive. THEIR chief enemies are not the space reptiles but each other, and boredom.

But then everything changes. A message comes from base: the Providence is going into the VZ, the Violet Zone, where there are no beacons and no communications with Earth. It is the heart of the enemy empire - and now the crew are left to wonder whether this is a mission of ultimate destruction or, more sinisterly, of ultimate self-destruction...

Real talk: Being stuck in space would be terrifying. And I feel like a lot of books don't talk about how mind-numbingly boring it could get being stuck with the same handful of people for what has to seem like eons. But you know the old addage, be careful what you ask for. Because sometimes being bored is far preferable to the alternative, which is an alien species, whose literal life goal is to kill you, breathing down your neck.
As if life in space with only three other people wasn't rough enough, soon the crew ends up in a zone where they're unable to send or receive communication from the rest of the universe. Yikes. I mean, we have now been stuck with the same few folks for weeks now, can you imagine if we couldn't reach out to others? The author did a great job of making that seem realistic, though at times, it was a little bit of a slog, since the characters' lives were, at certain points, actual slogs.
There is a point where things pick up a bit, but I can straight up tell you nothing about it whatsoever, which stinks, because it is my favorite part of the book. But I will say, if you're thinking "hmm this is a bit slow" as you explore the characters' personalities and situations, know that things absolutely will pick up. This does make for some uneven pacing- going between the mundanity of space life to something far less calm, but I think worth it in the end. The characters were interesting, and I found much of the book to be quite thought-provoking.
Bottom Line: A slower start leads to a wild ride and a lot of character development in a very thought-provoking setting.
Have you read any of these books? Plan to? Let us chat about them!