Here's books that came out in the middle of March, see what I did there? (Also technically Bone Crier's Moon 
came out on the 3rd, but it was supposed to come out on the 10th and I am sticking with it, thank you.)

 This was a mostly good group, yay!

Harley in the Sky by Akemi Dawn Bowman
Girls With Razor Hearts by Suzanne Young
Bone Crier's Moon by Kathryn Purdie
When You Were Everything by Ashley Woodfolk

---
Harley in the Sky by Akemi Dawn Bowman
Published by Ink Road on March 10, 2020
Pages: 384
Format:eARC
Source:Copy provided by publisher for review, via Netgalley


Harley Milano has dreamed of being a trapeze artist for as long as she can remember. With parents who run a famous circus in Las Vegas, she spends almost every night in the big top watching their lead aerialist perform, wishing with all her soul that she could be up there herself one day.

After a huge fight with her parents, who continue to insist she go to school instead, Harley leaves home, betrays her family and joins the rival traveling circus Maison du Mystère. There, she is thrust into a world that is both brutal and beautiful, where she learns the value of hard work, passion and collaboration. But at the same time, Harley must come to terms with the truth of her family and her past—and reckon with the sacrifices she made and the people she hurt in order to follow her dreams.

I have to admit, I was on the fence about this one. While I really enjoyed the author's debut, I couldn't help but wonder if a book about a circus was really for me. Well, if you're feeling the same way, let me go ahead and stop you right there. This book is absolutely, unequivocally for you. And now, I shall explain why.
Harley is beyond relatable. And I think there are components of her that nearly everyone will be able to see themselves in. If nothing else, we at least all have (or will) come of age and need to figure out what we really want to do with our lives. I mean, I'm 37 and still have no idea, so frankly I was impressed that Harley knew what her dreams were. But she had a lot to overcome to get to her dreams, and part of it is finding out what your dreams will cost you. More on that later. But Harley exhibits such tremendous growth and self-actualization during the course at the story, which makes it not only relatable, but inspiring.
Family dynamics play a huge role in Harley's story. There are two things you need to know here. One, Harley's parents are fabulous and love her immensely. Two, they think they know what is best for her, and they don't think it's the circus. Harley also loves them a great deal, and has to come to terms with her dreams clashing with theirs for her. This too I found so incredibly relatable. Harley knows that her parents love her, and she doesn't want to disappoint them, and she also understands how much she relies on them. And they're all going to have to come to terms with the ever-changing dynamics of their relationship.
Also a huge focus on friendship. Harley has one really close best friend who she kind of doesn't always treat fabulously in her quest for circus stardom. And they too will have to navigate this new type of friendship where they won't always be in the same town- which is another huge, huge part of growing up that, frankly, sucks.
The circus camaraderie was everything! Look, I don't know a ton about circuses, but the cool nomadic lifestyle and the way they (well, mostly) treat each other as family was so great to see! Plus it was just fun to see the intricacies of their daily lives as a travelling circus!
A delightful romance! I absolutely will not ruin this for you, so I will just say that I enjoyed it, and thought it was a very sweet one that didn't take away from the focus of the book. Win.
Big focus on mental health, as well as a highlight on cultural responses to mental illness. This is something that the author also explored in her first book, and I was so pleased to see it again in this one! Obviously, many people still consider mental illness to have a stigma surrounding it, and even Harley had to come to terms with it internally. But there's also discussion of the cultural impact on seeking treatment, which I thought was fabulous.
Bottom Line: I fell in love with this book, and that's really all you need to know. Read it.
---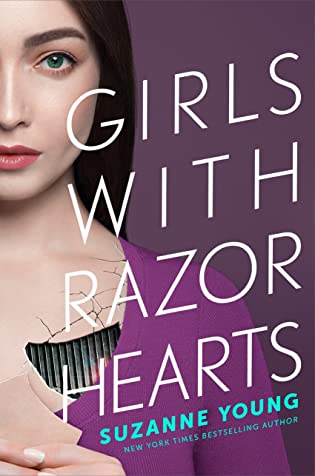 Girls with Razor Hearts by Suzanne Young
Series: Girls with Sharp Sticks #2
Published by Simon Pulse on March 17, 2020
Pages: 400
Format:eARC
Source:Copy provided by publisher for review, via Netgalley


It's time to fight back in this second novel in a thrilling, subversive near future series from New York Times bestselling author Suzanne Young about a girls-only private high school that is far more than it appears to be.

Make me a girl with a razor heart…

It's been weeks since Mena and the other girls of Innovations Academy escaped their elite boarding school. Although traumatized by the violence and experimentations that occurred there, Mena quickly discovers that the outside world can be just as unwelcoming and cruel. With no one else to turn to, the girls only have each other—and the revenge-fueled desire to shut down the corporation that imprisoned them.

The girls enroll in Stoneridge Prep, a private school with suspect connections to Innovations, to identify the son of an investor and take down the corporation from the inside. But with pressure from Leandra, who revealed herself to be a double-agent, and Winston Weeks, an academy investor gone rogue, Mena wonders if she and her friends are simply trading one form of control for another. Not to mention the woman who is quite literally invading Mena's thoughts—a woman with extreme ideas that both frighten and intrigue Mena.

And as the girls fight for freedom from their past—and freedom for the girls still at Innovations—they must also face new questions about their existence…and what it means to be girls with razor hearts.

I really loved Girls With Sharp Sticks, and was super excited to dive into the sequel. And while it did feel like a sequel in some ways, it was still definitely good, and provided a very clear and firm message. It is extremely feminist, and absolutely calls out the patriarchy over and over again. The thing is, it didn't paint all men with the same brush, which I was glad about. It wasn't man-bashing, it was bad-man-bashing. Which I am 100% here for.
In this book, the girls had to flee town and Mena ends up at a crappy private school with a bunch of privileged asshats. And I am certain that these places exist. Athletes get privileges that no one else gets, jerks with rich dads get to basically run amok. And the author addresses how as bad as it is for women in general, women of color deal with even more awfulness.
While the good portion of this book is devoted to stopping some awful men (both those who created them and those in charge at the school), there is still time for a lot of great interaction among the girls. And yes, Jackson is a thing, but I won't tell you in what capacity.
There are some good twists and plot movement, but it did seem a bit less intense than the first. It's not an altogether bad thing, just a thing worth mentioning. Still, a solid book, and I absolutely can't wait to find out what's next for Mena and the rest of the girls!
Bottom Line: A solid sequel that will infuriate you with its authentic take on the excessive privilege of rich white men.
---
Bone Crier's Moon by Kathryn Purdie
Series: Bone Grace #1
Published by Katherine Tegen Books on March 3, 2020
Pages: 480
Format:eARC
Source:Copy provided by publisher for review, via Edelweiss


Bone ​Criers have a sacred duty. They alone can keep the dead from preying on the living. But their power to ferry the spirits of the dead into goddess Elara's Night Heavens or Tyrus's Underworld comes from sacrifice. The gods demand a promise of dedication. And that promise comes at the cost of the Bone Criers' one true love.

Ailesse has been prepared since birth to become the matriarch of the Bone Criers, a mysterious famille of women who use strengths drawn from animal bones to ferry dead souls. But first she must complete her rite of passage and kill the boy she's also destined to love.

Bastien's father was slain by a Bone Crier and he's been seeking revenge ever since. Yet when he finally captures one, his vengeance will have to wait. Ailesse's ritual has begun and now their fates are entwined—in life and in death.

Sabine has never had the stomach for the Bone Criers' work. But when her best friend Ailesse is taken captive, Sabine will do whatever it takes to save her, even if it means defying their traditions—and their matriarch—to break the bond between Ailesse and Bastien. Before they all die.

Oh, such sadness, this book and I didn't get along as well as I'd hoped. Or at all really, if I am being honest. The premise sounded so very good, and I was thrilled to get started, but things fizzled out pretty quickly for me.
What I Liked:
The atmosphere was on point. I definitely felt the vibe that the author was trying to capture. The woods were eerie and held all kinds of secrets. The underground caves had a hopeless, desolate sort of feel. That part definitely worked.
The women in the book were so strong, and in charge. Like, these women were tough chicas. They cowered to no man. And they'd do pretty much anything to protect their fellow woman, which is cool. Especially in the friendship between Ailesse and Sabine, there was such a brilliant loyalty.
What I Didnt:
Holy insta-love. Oh gosh I hate insta-love, and I simply felt nothing about this romance, outside of annoyance. Especially because it seemed to me like Bastien was meant to care about his best friend, but then suddenly was swooning all over Ailesse. And look, maybe if there was chemistry, I could have gotten on board. But I didn't feel it, and I kept getting annoyed by it frankly. And then some other dude gets thrown into the mix and I just couldn't handle it anymore.
There were a lot of things that didn't make sense that moved the plot forward. For example, someone would do something incredibly stupid, which allowed someone else to move locations. This is hard to explain without spoilers but it was still frustrating, so there's that.
"This book is like 80% chasing and running".  This is the note I left on my Kindle when I was frustrated beyond belief. I also left gems like "I know zero things about these people", and "am i seriously reading an entire book about bones and a flute?".  What I am saying here is, I was pretty bored. I felt like really not a ton happened, and when it did, I was past the point of caring. This brings me to my next point….
I knew nothing about these characters. I mean, they all had their basic goals, which was fine. But beyond those, I knew absolutely zero about what kind of person they were. Bastien was hellbent on revenge, Ailesse needs to kill him to complete her ritual, and Sabine wants to save Ailesse. But what else of them? Your guess is as good as mine.
I also was so unsure of the world. Like beyond this coven (Idk if that's the right word but let's go with it) and the small area that Basien and his buds inhabit, what the heck is out there!? There are some French undertones (such as calling their mate "amouré", which I kept reading as "armoire", my bad). But other than that, your guess is as good as mine. There was some royalty, but they were kind of in the background. And then the dead folks who needed to be ferried over to the other side. And if that confuses you, well, me too.
Bottom Line: Cool premise that left me wanting more. Plenty of people have liked it though, so maybe check out their reviews!

---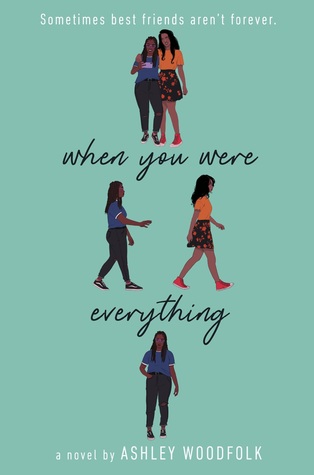 When You Were Everything by Ashley Woodfolk
Published by Delacorte Press on March 10, 2020
Pages: 400
Format:eARC
Source:Copy provided by publisher for review, via Netgalley


You can't rewrite the past, but you can always choose to start again.

It's been twenty-seven days since Cleo and Layla's friendship imploded.

Nearly a month since Cleo realized they'll never be besties again.

Now, Cleo wants to erase every memory, good or bad, that tethers her to her ex–best friend. But pretending Layla doesn't exist isn't as easy as Cleo hoped, especially after she's assigned to be Layla's tutor. Despite budding new friendships with other classmates—and a raging crush on a gorgeous boy named Dom—Cleo's turbulent past with Layla comes back to haunt them both.

Alternating between time lines of Then and Now, When You Were Everything blends past and present into an emotional story about the beauty of self-forgiveness, the promise of new beginnings, and the courage it takes to remain open to love.

What happens when a friendship you thought you'd have forever breaks up? That is what When You Were Everything explores in brutal honesty and fabulous realism. And it's something that I imagine everyone can relate to. The loss of someone important to you, the grief of moving on without them. Cleo never thought she'd have to move on from Layla. Layla had been like a sister to Cleo ever since Cleo lost her beloved grandmother.
The author tells the story through dual timelines. We're with Cleo in the present, as she tries to rebuild her life without Layla, and we get glimpses of what lead to the demise of their friendship. The whole story felt so honest. Layla started hanging out with a new group of girls who, frankly, aren't very nice. Cleo is hurt, and acts out a bit. And it all devolves from there, in ways I won't tell you because I don't want to spoil it.
But the gist is, Cleo has to find out who Cleo is. Without a person she thought would always be there for her, but on her own. She needs to figure out what sort of friend she wants to be, what sort of daughter she wants to be, and perhaps what kind of partner she wants to be. At first, Cleo tries to rewrite her memories- literally make new ones of the places and things she enjoys without Layla in them. But we know this is unsustainable, but Cleo must figure that out.
As she continues her journey, she has the love and support of her parents, and there are a lot of family elements in the book as well. She also will meet a lot of new people who could be potential friends (or maybe more!) but Cleo needs to relearn how to let people in. That is so hard, and it's a lesson we all need to hear once in a while.
Bottom Line: Cleo's story is a powerful tale of love and loss and finding oneself again. When You Were Everything is perfect for anyone who has ever experienced a loss- that is to say, every one of us.

Have you read any of these books? Plan to? Let us chat about them!