Guys March kicked my ass with reviews. So much. I blame my 2938 illnesses, moving, and just a general lack of organization and perhaps motivation. Whoopsie? You can also blame that big ol' The 100 post that I have been working on for legitimately months, why am I like this? Erm, anyway, THESE BOOKS!
Sherwood by Meagan Spooner
The Devouring Gray by Christine Lynn Herman
Girls with Sharp Sticks by Suzanne Young

---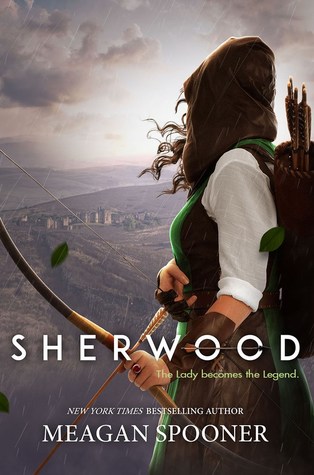 Sherwood by Meagan Spooner
Published by HarperTeen on March 19, 2019
Pages: 480
Format:eARC
Source:Copy provided by publisher for review, via Edelweiss


Robin of Locksley is dead.

Maid Marian doesn't know how she'll go on, but the people of Locksley town, persecuted by the Sheriff of Nottingham, need a protector. And the dreadful Guy of Gisborne, the Sheriff's right hand, wishes to step into Robin's shoes as Lord of Locksley and Marian's fiancé.

Who is there to stop them?

Marian never meant to tread in Robin's footsteps—never intended to stand as a beacon of hope to those awaiting his triumphant return. But with a sweep of his green cloak and the flash of her sword, Marian makes the choice to become her own hero: Robin Hood.

Guys, I did not hate this retelling! I think that is worth noting, yeah? You know how weird I am about retellings! I also have some issues with Robin Hood in general after having some… confusing dreams about the animated one as a kid. So I went into this a wee bit hesitantly? But it was pretty good, and so we shall break down what worked for me, and what didn't as much!
The Things I Liked:
I mean, it's a badass old-timey lady Robin Hood! Marian is freaking fabulous. And her transformation into Robin Hood made sense, both in terms of plot and Marian's character. She's always had a tough, stubborn streak, but she still has the hesitance that you'd expect a woman in those days to have. Plus, she's been through a huge drama, and she fears that the world she knows is going to just fall deeper into despair, so it's absolutely clear why she chooses to do something rather than sit back and watch. And you can't help but love her for it!
Oh, the friendships and loyalty! Not just Marian's with her… crap what is the word… uhhh you know, the person who bathed and dressed the aristocracy in the days of yore? Whatever, Elena is her name and I adored their incredible friendship! And Marian gains the loyalty and trust of Robin's men, and she feels the same of them, too. It's pretty fabulous, because I feel like they filled such a hole left by Robin of Locksley in her heart.
Shades of gray morality and there being no "good" choices. ::Insert Clarke Griffin GIF here:: But seriously, everyone always thinks they're on the right side, the side of good, but the truth is that maybe there is no real good versus bad. (I guess I need another The 100 GIF here too, ha.) And this book examines both sides- and why maybe the thing you think is right… isn't.
I adored Marian's relationship with her dad. They're just cute! He doesn't always understand her, but he believes in her fully, and he has her back. She, in turn, equally loves him, and I am just plain old happy they had each other!
I kind of liked the romance? Keeping stuff vague because I thought it might turn out differently so you might too, but a lot of people hated the romance but… Idk, it grew on me and I ended up being a fan.
The Things I Didn't: 
This shit did not have to be nearly 500 pages. Honestly, this is my biggest qualm. It seemed so draggy at times which took me out of a story that I was otherwise into. And it starts off slow, too, which didn't help matters. Good news is that it did get better by about 20%, but I had definitely contemplated quitting around 12%. Glad I didn't though!
It didn't feel quite as historical as I'd hoped. The actual quote from my Kindle was "Where's the historical junk?", which is probably not the uhh proper term, but since when have I used proper terms? Anyway, it could have been any generic historical, save for a few of the wars mentioned and cities/towns and such. I always want to be glad I live in the 21st century, you know? Show me someone peeing in a chamber pot and dying from a paper cut, okay?
Bottom Line: I absolutely liked this more than Hunted, which feels weird because I am not rating it much higher? Which only means one thing: I am getting much saltier and stinger as the years go by. Sorry?
---
The Devouring Gray by Christine Lynn Herman
Series: The Devouring Gray #1
Published by Disney-Hyperion on April 2, 2019
Pages: 368
Format:eARC
Source:Copy provided by publisher for review, via Netgalley


Branches and stones, daggers and bones,They locked the Beast away.

After the death of her sister, seventeen-year-old Violet Saunders finds herself dragged to Four Paths, New York. Violet may be a newcomer, but she soon learns her mother isn't: They belong to one of the revered founding families of the town, where stone bells hang above every doorway and danger lurks in the depths of the woods.

Justin Hawthorne's bloodline has protected Four Paths for generations from the Gray—a lifeless dimension that imprisons a brutal monster. After Justin fails to inherit his family's powers, his mother is determined to keep this humiliation a secret. But Justin can't let go of the future he was promised and the town he swore to protect.

Ever since Harper Carlisle lost her hand to an accident that left her stranded in the Gray for days, she has vowed revenge on the person who abandoned her: Justin Hawthorne. There are ripples of dissent in Four Paths, and Harper seizes an opportunity to take down the Hawthornes and change her destiny-to what extent, even she doesn't yet know.

The Gray is growing stronger every day, and its victims are piling up. When Violet accidentally unleashes the monster, all three must band together with the other Founders to unearth the dark truths behind their families' abilities—before the Gray devours them all.

Ah, creepy towns with hidden secrets, whee! Those are fun. Makes you happy for your own hometown, no matter how lame it may be, right? And our girl Violet is about to realize how much she took her former hometown for granted.
The Things I Liked:
The characters were pretty fabulous. Even the ones I side-eyed at the beginning (Harper a little, Justin definitely) I grew to love as the book went on. These kids have been through the damn ringer, and it shows. Even Violet, who grew up on the outside, has had too much trauma for one young life. But they're all really multifaceted, and all quite strong in their own ways.
Their relationships, both with each other and their families, were key. I mean, you can tell that there's going to be some drama in here. It's like Riverdale, in the sense that everyone seems to be permanent fixtures, everyone knows everyone's business, and everyone is hanging onto drama and grudges and unrequited love from fifth grade. And it's awesome.Plus, the families' stories are anything but tame. Their secrets have secrets, one more messed up than the next. And obviously this can mean hiding a ton of crap from the people who you're supposed to love. Oops? Sometimes these can be repaired, sometimes… well Idk there's a sequel so anything's possible.
Atmosphere? On point. It absolutely has that creepy, secluded town vibe. You know, the place that if you saw it off the highway, your ass would keep driving no matter how low your gas tank is? Yeah. The author does a great job making it seem the right amount of eerie and the right amount of contemporary.
The Things I Didn't: 
Did this need to be a duology? Idk. Obviously the jury's still out, but I felt like sometimes things were moving too slow, and I wonder if it could have been condensed more? Maybe I'm wrong, we'll see when book two comes out.  But I won't lie, it did feel longer than its supposed 368 pages (so say Goodreads and Amazon- I always double check if it seems off).
This might be nitpicky, but… how did no one from the town ever tell the outside world that it was so jacked up in there? Like- people were allowed to leave (think Archie's mom, becoming a fancy Chicago lawyer!), so you mean to tell me that no one was talking about people being brutally murdered in a small upstate New York town? Sounds fake ?‍♀️.
I am not taking this into account for rating purposes, but wow the formatting was hard to handle. Look, I get that they're unfinished and things won't be perfect, but there were no breaks whatsoever between POV changes, and in some cases no quotation marks when actual dialogue occurred and wow that is confusing. (I was told that physical ARCs do not have this same issue, so I assume that finished copies will be fine too, hence this just being a way for me to vent a little. And look, I try not to ever let it have an impact on my opinion of the book, but does it? Who knows!)
Bottom Line:It's a good story with an on-point atmosphere and characters I was invested in.  But I feel it being a duology makes the pacing/plot suffer a bit as it seems a little watered down.

---
Girls with Sharp Sticks by Suzanne Young
Series: Girls with Sharp Sticks #1
Published by Simon Pulse on March 19, 2019
Pages: 400
Format:eARC
Source:Copy provided by publisher for review, via Netgalley


The Girls of Innovations Academy are beautiful and well-behaved—it says so on their report cards. Under the watchful gaze of their Guardians, the all-girl boarding school offers an array of studies and activities, from "Growing a Beautiful and Prosperous Garden" to "Art Appreciation" and "Interior Design." The girls learn to be the best society has to offer. Absent is the difficult math coursework, or the unnecessary sciences or current events. They are obedient young ladies, free from arrogance or defiance. Until Mena starts to realize that their carefully controlled existence may not be quite as it appears.

As Mena and her friends begin to uncover the dark secrets of what's actually happening there—and who they really are—the girls of Innovations will find out what they are truly capable of. Because some of the prettiest flowers have the sharpest thorns.

I freaking adored this book, and I am having trouble fully articulating why. Like okay, I love dystopian stuff. I extra love books where girls come together to overthrow the patriarchy. And I extra extra love when those books have incredible twists that leave my jaw on the floor. This book has all those things. And I am purposely going to keep this review short, because of the aforementioned articulation struggles, but also because I think you should just experience it for yourself. Here are a few more things to get you excited to read it:
Creepy ass boarding school! Oh yes, this place is messed up! I know it, you'll know, it, everyone knows it, except for the girls who attend it and have been conditioned to think it's the best thing since sliced bread. Mena, the main character, even meets an outsider who asks the same questions I ask!


"If you don't mind me asking, what the fuck kind of school is this?"

Female friendships galore! Obviously since they're stuck at Creep College, they bond and they bond hard. I loved Mena, the main character, sure, but I absolutely loved them all.
Can I mention the twists again? Because it took the whole book in a direction I did not see coming. I mean, you know something's up but… not these particular shenanigans!
It reminds me a little of Louise O'Neill's Only Ever Yours except I didn't want to just end the world when I was done (so, a wee bit less hopeless hah). And you guys know how much I adore that book, so.
There's a SEQUEL! Need, need, infinitely need.
Bottom Line: I legit couldn't put the thing down and in the end, that's all you need to know.

Have you read any of these books? Planning on it? Let's talk about them!