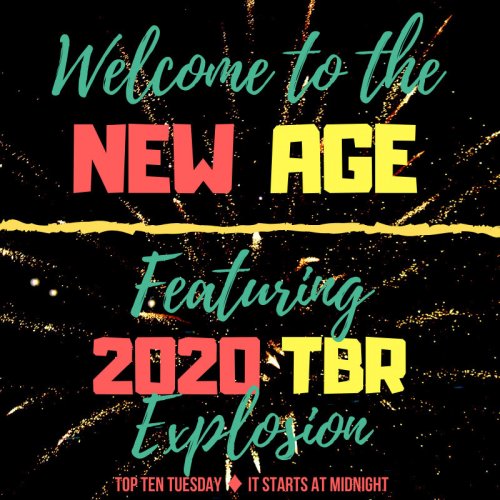 Top Ten Tuesday is a feature hosted by That Artsy Reader Girl. This week's topic is: Most Anticipated Book Releases for the First Half of 2020
First, Welcome to the New Age! 
This is the Twenties. Not your grandparents' twenties, though I am still floored that it's our twenties. I feel like there's the same amount of misogyny and racist rhetoric, but not as many flapper dresses and speakeasies and frankly, who decided we keep the worst parts of the 20s? 🤷‍♀️ (Just kidding, it's Trump supporters.)
Oh yes, welcome to The Twenties. I think it's our responsibility now that we're basically in The Future™ to be as savage as possible. And by that, I don't mean being rude or awful. I mean speaking our truths, standing up for the right side of history. Make no mistake, we are on the right side. As I thought about this new decade, I thought about that more than all else- this isn't a moral gray area like the books and shows we adore. This is crystal clear. There is a right side, and a wrong side, and as the right one, it's our responsibility to be as loud as possible. And when there is an actual duty, we must heed its call. It's been easy to watch in horror as this debauchery unfurls before us. But truly, we have one more chance to quell the storm in the "normal" fashion, so if you can vote, you must. You. Must. If you can make calls, donate, drive to polls, do so. Imagine the consequences otherwise.
In truth, I have hope. Maybe that's naive, but I still have to believe that "The arc of the moral universe is long, but it bends toward justice". Otherwise, how do we keep at it?
From a personal perspective, I plan to implement the same tactics. I have been heartily enjoying a "Whatever the Hell We Want" approach to blogging, but that should really carry over a bit. In a way that means maybe I be a bit more clear about what I am trying to say. In work, I accept things, try to be "easy to work with". I try to not cause waves with people in friendships and family relationships. And frankly, I am no longer about this. If you are shitty to me, I am done being nice. I still firmly believe in being the Good Guys, but I don't think that includes being a pushover.
And there are things I am so excited for, and so dreading, and 2020 is just going to be… something else, friends. Something. Else.
Unity Days 4! In only two weeks I am headed to Vancouver for what is straight up a dream come true, getting to go to a The 100 convention, as press. Being Presskru is beyond exciting, and I cannot wait to bring you all the scoop!

The Election.

 Okay this is a scary one, I admit it. It could go very well, or. Well. But first, it's the primaries! I am so all in for Elizabeth Warren, have been for some time, and I am so excited to be able to start doing stuff, you know?
The 100 Season 7. Okay guys this is hard to even type about. This is the final season of the show I love with my whole heart. I genuinely don't know what I will do when it ends, but send baked goods and liquor probably. So I am super excited for the new season, but. Heartbroken, too.
Who knows! Honestly, the best thing about this decade is that the possibilities are endless and unknown. It's a fresh start for me in many, many ways, and I am just kind of excited to find out what will happen!
And now… books! 
Fun fact: I copied this as a draft from

last year's post,

which was copied from the

year before that,

and

so on as one does. Look, I could pretend to be sorry, but I am not. At all.  So I am taking the easy way out, I barely changed this paragraph even!  I'll still link all the books and such, because I am awesome. If you want to see all the 2020 books I added to my TBR, here they are!
I also only used books with covers, because apparently I am superficial like that. Even two years later, when I first said that. Also, obviously some of these fit in more than one category, so I just… picked one.  Also I absolutely forgot some.
The Debuts
The Sequels
The New Series
The Standalones (includes books that might be series but I am not a psychic, so 🤷‍♀️)
The Ones I've Read (and loved!)
(This is impressive as hell, considering I am only counting 4 Stars and Above here. Get ready!) 
So let's talk about the Twenties! What are some of your goals? Books you're dying for? Thoughts on the End of Days™?