These are just like those other November books, except they're these ones!
Day Zero by Kelly deVos
Eight Will Fall by Sarah Harian
The How and the Why by Cynthia Hand

---
Day Zero by Kelly deVos
Series: Day Zero Duology #1
Published by Inkyard Press on November 12, 2019
Pages: 432
Format:eARC
Source:Copy provided by publisher for review, via Edelweiss


If you're going through hell...keep going.

Seventeen-year-old coder Jinx Marshall grew up spending weekends drilling with her paranoid dad for a doomsday she's sure will never come. She's an expert on self-heating meal rations, Krav Maga and extracting water from a barrel cactus. Now that her parents are divorced, she's ready to relax. Her big plans include making it to level 99 in her favorite MMORPG and spending the weekend with her new hunky stepbrother, Toby.

But all that disaster training comes in handy when an explosion traps her in a burning building. Stuck leading her headstrong stepsister, MacKenna, and her precocious little brother, Charles, to safety, Jinx gets them out alive only to discover the explosion is part of a pattern of violence erupting all over the country. Even worse, Jinx's dad stands accused of triggering the chaos.

In a desperate attempt to evade paramilitary forces and vigilantes, Jinx and her siblings find Toby and make a break for Mexico. With seemingly the whole world working against them, they've got to get along and search for the truth about the attacks—and about each other. But if they can survive, will there be anything left worth surviving for?

Look, I am an absolute sucker for an apocalyptic story. I am also a sucker for a road trip adventure. Throw in some very timely political shenanigans, and I am obviously going to be hooked. This was absolutely everything I wanted it to be and then some. Let us discuss why!
I love when a story like this starts out as if everything was just a normal day. Because we the reader know it's not, but those poor sweet summer characters? Not a clue that life shall henceforth implode around them. It's such sadistic fun!
The whole thing is focused on family. Jinx is our main character, and  I enjoyed her, and her strength even when she wished she didn't have to be so strong. I loved that she is trying so hard to protect herself and her family. The family is in a bit of shambles when we meet them, as they're a blended family and that can get messy. But soon we see how much they mean to each other, and how far they'll go to keep each other safe.
Humans and their political nonsense destroyed the world. A very Trumpian regime is basically ruining everything which… sound familiar? Yeah it's supposed to, I would assume. And it's scary really, as we teeter so close to the lines that the "government" in this book crosses.
Amid the tense moments, there are humorous bits of levity (and yes, hope). Gosh, it would probably be a rather depressing book otherwise, so I am so glad that these tiny moments exist! Plus, it made me chuckle and I am always here for chuckling.
It's super twisty and exciting! I could not put the thing down really. I had no idea what was coming in so many cases! The stakes are obviously incredibly high, and I was so excited to see how our characters (and you know, humanity) would fare.
Bottom Line: This is such a Shannon book tbh. I can't come up with any complaints other than a case of the sads that I have to wait for book two. 🤷‍♀️
---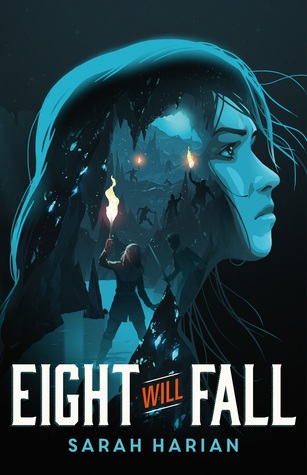 Eight Will Fall by Sarah Harian
Published by Henry Holt & Co. (BYR) on November 26, 2019
Pages: 368
Format:ARC
Source:Copy provided by publisher for review


Pitched as Six of Crows meets Suicide Squad, this dark YA fantasy follows eight criminals as they battle their way through a subterranean realm of horrors and certain death.

In a world where magic is illegal, eight criminals led by rebellious Larkin are sent on a mission to rid their realm of an ancient evil lurking beneath the surface. Descending into a world full of unspeakable horrors, Larkin and her crew must use their forbidden magic to survive.

As they fight in the shadows, Larkin finds a light in Amias, a fellow outlaw with a notorious past. Soon, Larkin and Amias realize that their destinies are intertwined. The eight of them were chosen for a reason.

But as the beasts grow in number and her band is picked off one by one, Larkin is forced to confront a terrible truth: They were never meant to return.

Lovers of dark, high-octane adventure will be enthralled by this genre-bending YA fantasy standalone, perfect for fans of Kendare Blake and Leigh Bardugo.

Oh dear, one of my most anticipated books of the year and well, it didn't go as great as I'd hoped. But there were some positives of course! So let us break it down.
What I Liked: 
The atmosphere was quite on point! So I mean, they're underground for a big ol' portion of this book. Under a city, basically. And there is a lot of bad junk lurking, waiting to wreak all sorts of havoc. And the author did a great job of making things seem exactly as bleak as you'd assume. Oh, and terrifying. It would be terrifying.
The ending was satisfying. To be fair, I probably didn't care quite as much as I normally would about an ending, but still.
What I Didn't:
There are oh, Idk, like 452 characters who I couldn't keep track of. Like I don't want that rando to die, but I am not going to be particularly affected if they do? Trying to remember Larkin, her family, the folks who go into the underground thingy with her, all the baddies in the underground… the struggle was too much.
Gosh guys I was just so bored. I mean, did one lead to the other? Was I bored because I didn't care about the characters? Didn't care about the characters cause I was bored? Who can tell. Regardless, the outcome was sadly the same. Boredom.
I didn't fully understand the world. Again, this is a bit of a chicken-or-egg situation, but between needing flashcards for the cast of characters and some kind of flowchart to figure out the world, my eyes were glazing over.
Bottom Line: I mean, the concept is cool, and the author nailed the atmosphere, but beyond that I really just couldn't bring myself to care.

---
The How and the Why by Cynthia Hand
Published by HarperTeen on November 5, 2019
Pages: 464
Format:eARC
Source:Copy provided by publisher for review, via Edelweiss


A poignant exploration of family and the ties that bind, perfect for fans of Far From the Tree, from New York Times bestselling author Cynthia Hand.

Today Melly had us writing letters to our babies…

Cassandra McMurtrey has the best parents a girl could ask for. They've given Cass a life she wouldn't trade for the world. She has everything she needs—except maybe the one thing she wants. Like, to know who she is. Where she came from. Questions her adoptive parents can't answer, no matter how much they love her.

But eighteen years ago, someone wrote Cass a series of letters. And they may just hold the answers Cass has been searching for.

Alternating between Cass's search for answers and letters from the pregnant teen who gave her up for adoption, this voice-driven narrative is the perfect read for fans of Nina LaCour and Jandy Nelson.

This book is phenomenal and will make you feel so many things that your emotions might actually explode but you'll be okay with it cause it's worth it. I mean, I almost don't want to tell you much about it because I just want you to go ahead and experience it for yourself? I'll try to give you a little idea of why you must.
FAMILY. Can I be any clearer that this novel is straight up overflowing with family? Because it is. In so many ways. Examples of awesome families (like perhaps the actual best I have ever read about?) and some that are… less so. The point is, it's brimming with love and heart, and when is that not a great thing?
So many complex relationships! Again, keeping it vague purposely, but there will be so many relationships in both times, for both women, that are just incredible. There's a focus on friendships, romances, and family dynamics that are so well-developed that you simply cannot help but care about how they play out.
The adoption stories, from both mother and child's perspectives are incredible. And yes, there will be feels, obviously. But they're multifaceted, and I will leave it at that. Honestly please just read the thing.
It's still, at its core, a coming of age story about both Cass and her mother. And while all of these huge life changes are happening in their respective lives/respective times, they're also living their daily lives, navigating growing into adulthood. And it's great to see that dichotomy in play.
Bottom Line: Gosh please just read this and experience all the lovely feels! You can  thank me later.

Have you read any of these books? Plan to? Let us chat about them! And enter for your chance to win Eight Will Fall!