Welcome to September's Monthly Minutes at Midnight!
 Here's the deal: I'll share the books I've obtained, posts of interest from others, giveaways I have happening, and just general random shenanigans. You know I love a shenanigan.  Also, covers all link to Goodreads, because I am awesome. 
The Books
For Review/From Publishers: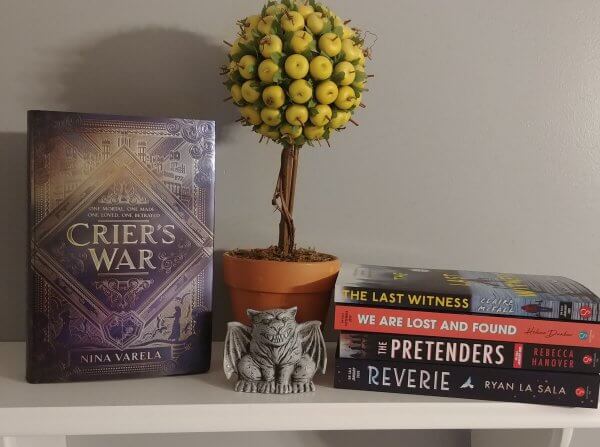 The Last Witness by Claire McFall
We Are Lost and Found by Helene Dunbar
The Pretenders by Rebecca Hanover
Huge thanks to Sourcebooks Fire and Wunderkind PR!! 
eARCs:
Huge thanks to William Morrow, Harper Teen, Gallery, and Tor Teen!!
Purchased:
Only one pre-order. Pretty good job, Past Shannon. 
Won/Gifted/Traded:
Huge thanks to Tanglewood for Surface Tension, Penguin for War Girls, Wednesday Books for Foul is Fair, and Little, Brown for Girls Like Us. Oh, and I also bought this Eliza Taylor mug to support her school Koh Tao Primary! 
---
Shenanigans Since Last Time:
I read 11 books this month. Not as many as last month, but with school starting and long work weeks… what are you gonna do?
This is one of those polarizing months: a lot of really good ones, and a few really not-so-good ones. I daresay there'll be a few two-star reviews on the horizon! And, some five-stars, yay! Also, I won't pretend that The Hunger didn't send me down a weeks-long Wikipedia rabbit hole about the Donner Party. 🤷‍♀️
Giveaways: Click Here, or on Sidebar
---
Blogosphere Bulletin
Here are some of the loveliest/most entertaining/super helpful/just plain interesting posts I found this month!
---
Fancy & New Since Last I Saw You!
I love looking at pretty covers! So here are some new ones that I have fallen in love with since our last update!
Double-dipped with Strange Exit; feel zero remorse. Also, I don't know that I have wanted to read a book as badly as Upright Women Wanted in awhile. 
---
Things we need to talk about at this juncture:
The 100 is filming its final season and no you're crying. Two Season 6 characters have been promoted to main cast: Chuku Modu as Gabriel Santiago and Shelby Flannery as Hope Diyoza. I am stoked about Chuku's promotion (because frankly, I feel like he earned it in S6), and while I am happy for Shelby on a human level, I feel the same about Shannon Kook's promotion after one episode: Feels a little unfair to Sachin, Jarod, Luisa, etc. Plus look at how great that worked out for Jordan's character 🙄 I figure we won't get much more than some casting news really, everything will probably remain pretty hush-hush. A few newbies were cast as sleeping Eligius IV folks. Picasso the dog is back. And that's about all we know. 
My kitchen is finally being redone! Remember that time my kitchen caught on fire? Well, the wheels of insurance and finding a contractor with five minutes to spare turn slowly, but finally it's going to be redone! So while the next few weeks will suck

, hopefully I'll have a shiny new kitchen to show you next month! 

#ShatteringStigmas starts on Sunday! I won't be posting every single day probably but look, life is hard and I am doing the best(ish) that I can. The guest posters also work so hard and are so brave for sharing, I really hope you're able to check it out and send them lots of love! 
The Bookish Games are back! In fact, sign-ups start today! So get yourself over there if you want to play- it's ADSOM

, which I am sure everyone and their mom is giddy about. I read it once, like 237 years ago and remember precisely nothing, so. 
Have a great October, loves!