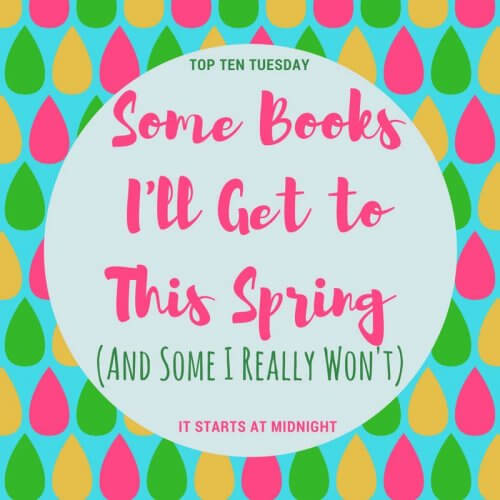 Top Ten Tuesday is a feature hosted by That Artsy Reader Girl. This week's theme is: Books On My Spring 2019 TBR
I have not done one of these since last spring, but as I wildly attempt to get my The 100 post done by the end of the month, I figured I should probably post a bookish thing, so here we are! Let us check on how I did last time! Remember, I have had an entire freaking year to read these. 
Books I will Actually Definitely Read: 12/12 Read. And I reviewed them all! What a good little blogger I am!
The Books I Might Read One or Two Of: 3/10 Read. Wowww in the course of a whole year, I was only able to read three?!!? Holy failure.
The Books I Will Actually Definitely Read.
(Because they are review books)
Totally cheating because I am halfway through The Devouring Gray, but look, I am going to read them all, right? Historically speaking, anyway.
The Books I Might Read One or Two Of
I tried to change these up a little, finally. Not like that will make me any more likely to read them. Let's not lie to ourselves, right?
Are there any books that keep reappearing on your TBR, season after season because you are rubbish at TBRs?
Which ones should I read ASAP?