Welcome to December's Monthly Minutes at Midnight! And a (super quick) recap of 2018 overall. But really quick because no one likes this year, right?
 Here's the deal: I'll share the books I've obtained, posts of interest from others, giveaways I have happening, and just general random shenanigans. You know I love a shenanigan.  Also, covers all link to Goodreads, because I am awesome. 
The Books
For Review/From Publishers:
Last of Her Name by Jessica Khoury
Huge thanks to Scholastic and HMH!! 
eARCs:
Huge thanks to Simon & Schuster, St Martin's, Harper, Tor, and Abrams for the review copies! 
Purchased:
Wow wee, do you see the self-control!?!  Alllll Kindle Deals! 
Won/Gifted/Traded:
Where to even begin!? Thanks to Sam @ We Live and Breathe Books for The Seven Torments of Amy and Craig; Kel @ Booked Til Tuesday for the gift card that purchased Radium Girls and Hamilton; My parents for The Lying Woods and Get Well Soon, my brother and his girlfriend for An Absolutely Remarkable Thing, DAW Books for Abandoned and Outpost, author Sarah Beth Durst and Adventures in YA Publishing for Fire & Heist, and Tor for Dark of the West!! (Is it just me, or did this sound like a list of Oscar Nominees? 🤔) 
---
Shenanigans Since Last Time:
I read 11 books this month. I have no idea how because at one point I was at like 4 and it was almost Christmas? Or seemed like it? Who can tell.
This was a funny month! I mostly either really liked or really didn't like the books I read. Which is fun, let's be real. Easier to write a review when you have many thoughts! Heck, I even DNFed a book for the first time in a year and a half! 
Giveaways: Click Here, or on Sidebar
---
Blogosphere Bulletin
Here are some of the loveliest/most entertaining/super helpful/just plain interesting posts I found this month! (December includes a ton of wrap ups and while they're awesome, I just couldn't include all the things because honestly I am tired.)
---
Fancy & New Since Last I Saw You!
I love looking at pretty covers! So here are some new ones that I have fallen in love with since our last update!
The cover for Here There are Monsters might be the old one, or it might be a new one, but I love it and it should be a gift to us.
---
Things we need to talk about at this juncture:
I achieved an actual Bookish Life Goal™! I was looking at the cover of a sequel this month (Abandoned) and… what do you know… that's ME hanging out with all those legit sites! 😱


Been watching Travelers, and wow this show is so fun. Like, okay, I get mad when they don't tell me anything, but then… it's so good I cannot stop. Also can we please protect David and Grace, the most precious cinnamon roles of anytime? (Though after the ending… who/when/where is anyone even!?) 
The 100, ugh, come on Jason, feed us. Hiatusing sucks. I keep meaning to get my big wrap up post done too but… I have been failing. For the like, three people who care, I promise it'll be soon(ish)! 
Bookish Games is BACK. This edition is "Bring Your Own Character", and if you think I don't have 39 different ideas, you'd be wrong. Sign ups happen on January 1st, so join me! 
Happy Holidays, friends! Hope you all had a lovely Christmas if you celebrate, and have the happiest of New Years!
---
And That's a Wrap on 2018! 
I have read 146 books this year. It's a little sad because I wanted to hit 150 but guys, it has been a year, so. I guess I can deal. A lot has happened this year, in the non-bookish realm, as well as bookish stuff! So let's do a quick recap!
Life happened! Seriously, guys. This was A. TIME. Read about it here if you so desire!
I officially got divorced, woooo!
Had seriously the best time ever with my buds at ALA in NOLA.
I started working again, which is… less woo-worthy, but here we are.
I somehow managed to do Whatever the Hell I Want in regards to blogging. And it was a fabulous life choice, one I highly recommend. Maybe I will do a post about it in the new year!

2018 Books!
Cool kids like Cait do a whole post with stats and graphics of the books they have read! So as not to disappoint, I have done a few too, just to see what my reading year was like!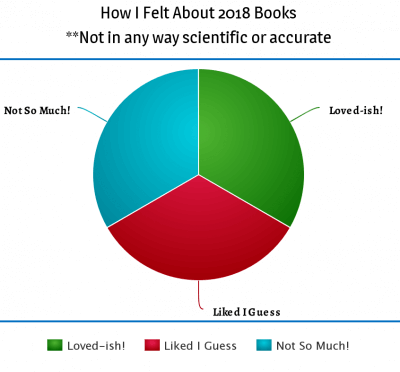 As For 2019…..
… my goals are minimal. Because do you all remember how we have spent the last few years? "OMG so glad 201x is over, next year has to be better!" Well guess what, it wasn't. And since we still have an actual pile of human feces "leading" our country, and half the population is racist, sexist, classist, homophobic pieces of garbage… look, I am keeping my expectations low.
Try to stay alive.
Blog, or like, not. Whatever. Ditto writing. And reading. (Though if I am being honest, I do want to do better about these things? But shhh, low expectations!)
VACATION. This is legit something I need from 2019.
Not live in a van down by the river. 
My Goodreads goal generator was kind to me this year! 9 books? I got this, at least!

There are like, tons of other things I'd love to see happen but… pessimism 🤷‍♀️
Raise your hand if you're sorry to see 2018 go. Anyone? Anyone at all? 
And have a great January, and don't die in 2019, loves!