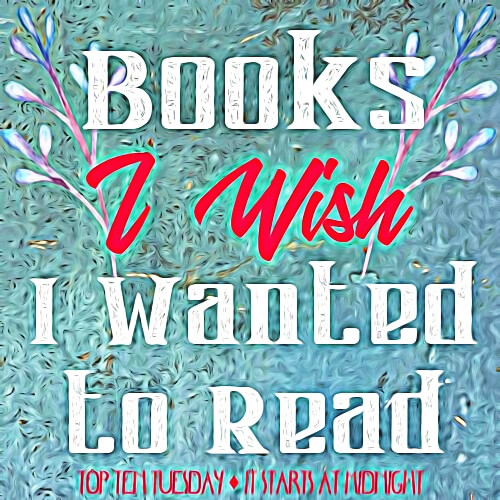 Top Ten Tuesday is a feature hosted by That Artsy Reader Girl. This week's theme is: Freebie
So, I often see all the people in love with a certain book or series or what have you. And I want to fangirl along, as you do. Only… I have zero percent interest in whatever The Thing™ is. That is sad. But there are often reasons that The Thing™ wouldn't work, right? The following is the junk I wished I wanted to read but really, really do not! 

Spinning Silver by Naomi Novik ♦ The cover alone makes me wish I cared! I mean, look at this UK beauty. Is it okay to buy it just to keep it on a shelf forever? One day if I ever come into money, I am doing just that. But since I didn't love Uprooted, and can't imagine this would be any more my jam, I'm going to have to let someone else own the pretty.
The Priory of the Orange Tree by Samantha Shannon ♦ Holy shit, did you see the size of this beast? Also don't @ me, but I don't think I love dragons that much? In theory sure, in practice, meh. And tbh I love nothing enough for 900 pages. Except maybe scripts of The 100 or something.
Miss Peregrine's Home for Peculiar Children by Ransom Riggs ♦ This is probably the one on the list I could most be persuaded to try. Because photos! But the whole paranormal/monsters thing kind of makes me feel underwhelmed? It's not really my usual sort of thing, I suppose.
Gregor the Overlander by Suzanne Collins ♦ Ugh, how badly I yearn for more Suzanne Collins in my life! And I have heard good things about Gregor! But honestly, MG is not my thing, and high fantasy is hit or miss with me, so. I think it's best that I just keep re-reading THG, basically.
The Rest of the Gone series by Michael Grant ♦ Okay, this is probably because I own them, let's be real. But it was so tough for me to get through the first book that I have eternally put off reading the rest. Yet I cannot seem to let go of them completely? (To be fair, I tried to sell them but no one bought them?) I tried a few times to read Hunger, but to no avail (also, sorry Cait).

The Night Circus by Erin Morgenstern ♦ I don't know how I feel about the circus. I think it might be a little like birds- I am not really a fan, as a rule? And then add magic and I am just… not chomping at the bit, I guess. No matter how many favorites lists I have seen it on.
Literally Any Classic by Dead People ♦ Oh, how I long to sound well-read! I hear people discussing their favorite old books and I think about how much classier I'd sound if I liked any. But I don't. I hate them all. And sure, I probably would end up liking a few! But do you know how many duds I'd have to get through to find the diamonds in the rough? Too many for my impatient ass. So I guess I will just sound like an illiterate buffoon in classy conversations. I can live with it. (Though gorgeous editions like this make me regret my decision sometimes!)
Super Hero Books ♦ These are often written by authors I adore. Like Leigh Bardugo, Marie Lu, and Jason Reynolds, but as it turns out, I give zero fucks about super heroes. So sad.
Truthwitch by Susan Dennard ♦ Everyone adores this series. And Sooz is such an awesome person! I just cannot seem to find the motivation to be into the whole witches thing. In fairness, I am super selective about witches because they're awfully hit or miss for me. But I really, really wish I wanted to read this series.
Outlander by Diana Gabaldon ♦ I do love a historical fiction novel! And apparently the romance is epic, and there's even time travel or something? I mean, admittedly, it has all the makings of awesomeness. But… look, there's like 394 books and each of them has about 2,000 pages and wow, I don't  have time for that. I thought about watching the show, but I don't have Starz so Idk I guess I am not supposed to have this story in my life. You win, universe.
So, let's talk! Are there any books that you really wish you wanted to read but just… don't? If so, I want to know them!