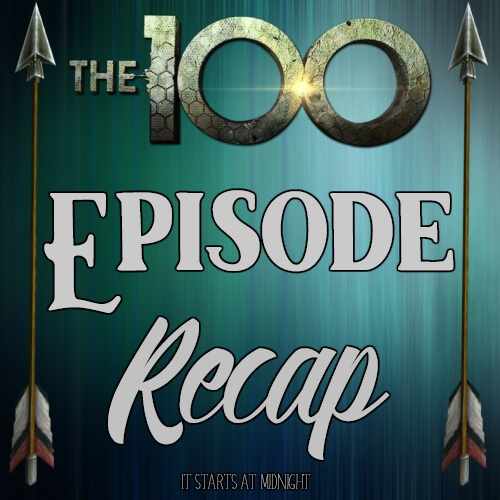 The finale is upon us! I seriously cannot understand how the season is almost over already. And it has been a hell of a season. It's funny, because apparently it has so far taken place over the course of about less than 3 weeks (not including flashbacks). It's hard to wrap one's head around missing more than six years of these characters' lives, and then being let in for mere days. My point is- I think it is incredible that this amount of turmoil has been done so well in such a short time.
And this episode? It somehow single-handedly made me change my mind about certain characters completely (#TeamEcho), have totally polarizing feelings for the same character in the course of one episode (Clarke), and start to actually really love certain storylines that I was a little on the fence about (the Flame). And it all made me scared for every last character on Earth. Literally.
 Just a reminder, spoilers galore!! Like ALL the spoilers- proceed with caution! 
McCreary's Camp of Death and Destruction
Charmaine Diyoza is one hell of a smart woman. Marcus Kane is pretty wise in his own right. What made these two think that someone nicknamed "Graveyard" would be cool with them once they gave him all their usable information is beyond me. Of course McCreary isn't going to keep around two people who were freaking defectors. One of whom he's pretty sure has a thing for his baby mama. And the other who is said baby mama, meaning former lover and current adversary. So he tells Diyoza that the only reason she's still alive is because she's pregnant… and she won't be forever, so.
Terrible way to start a co-parenting relationship, my dude.
Bafflingly, he lets Kane live and go see Abby. I honestly don't know why, other than maybe he has a tiny modicum of a soul and Abby brings it out in him? Not that it matters, but we'll get to that. The reunion is… tense, shall we say. I honestly don't even know why they're pissed anymore. Abby left Kane for pills, Kane left Abby for a badass pregnant lady, so aren't they kind of even? But Kane, he's so broken down. When the lady who just went through rapid detox and is being forced to prolong the life of serial killers can have a rosier outlook on life… it isn't going great. And it is decidedly not for Kane.
I mean, fair? It kind of has been his entire life at this point.
Anyway, they're totally going to continue their chat, just Abby has to do some Important Medical Task for a hot second. Not enough time for a creepy serial killer to come into play, no sir.
Just kidding, it's the perfect amount of time! Because the aforementioned serial killer was creeping outside their window, as creepers do. So Vinson watches Abby take the shock button with her, and saunters in to make friends with Kane. No, kidding again,  he's just going to eat him. After he taunts him for a hot second. Look, I think it's clear that Vinson has some kind of feelings for Abby. Not love, because he is clearly incapable, but attraction certainly? Whatever the closest thing a psychopathic killer can feel to love? Whatever the case, Kane is in the way. And Vinson eats him, because I guess that is his "thing"?
So Abby has to kill Vinson. I'm glad it was relatively easy for her tbh, because she does not deserve that, she's got enough to deal with. Kane basically absolves Abby for the sins she's put on her own shoulders. And I swear Kane, you had better the hell not be giving "one last speech" because no one said you were allowed to die! FFS, there is so much Kiyoza dynamic to be explored! Plus, doesn't Kabby deserve a damn HEA?!
Broken and Battered Wonkru
As Blodreina led the fiercest Wonkru warriors through what looked exactly like that place where Roan marched into during The Tinder Box but obviously wasn't because geography (but has to be the same set, right?), we knew that McCreary had plans to make this very messy indeed. So when Ethan strolls up… well is anyone shocked that he didn't make it?
FIVE ELEVEN YEARS OLD
The Jaha callback was cute though, and reminds me that he is dead which I have a habit of forgetting. Now maybe he, Ethan, and Wells can afterlive happily ever after. (As long as Five-Year-Old Dad is securely in hell, I guess, Idk.) Anyway, I guess Ethan was just there to show us that A) War is upon us, and B) McCreary has no qualms about killing kids, and C) Octavia has no qualms about throwing kids into battle, so the moral of this little story is that everyone is awful. I wonder if Kane realized now that he picked the wrong devil? ?
So, now that Wonkru's warriors are basically decimated, and O and Bellamy have flown through the air with the greatest of ease, they need a plan. A plan that doesn't end up with them shot. O's still got that reckless, invincible Blodreina thing happening, so Bellamy has to physically hold her down. Then, while the remaining Wonkru survivors literally get blown to bits all around them, they have a nice sibling argument about whose fault it is. Guess you gotta kill time somehow?
Um guys, chill, I think it's actually McCreary's fault… 
But wait! Is that Indra and Gaia? Of course they'd be the only other two people alive in the gorge! Gaia's not doing great though, as she's been shot or blown up or some such nonsense. O and Bellamy want to leave of course, so that they can remain whole and intact, but obviously Indra isn't leaving her daughter. You know, the one who literally shunned everything Indra stands for yet is somehow the least disappointing of Indra's daughters.
Gaia's ready to be done with this cruel planet, and who can even blame her? But Bellamy is having none of it. He gives her quite the delightful pep talk, and it's kind of awesome that he and the Indra family have been able to come so far. This conversation does lead to a bigger question, though: Is Wonkru coming back?
Obviously we know the answer: A hard nope. They're out of their resources, and pretty much the only person who wants to take on another round of bullets and bombs is Miller, for reasons I can't even explain. He's barely upright, yet he's fighting with Brell, trying to get her to take her people back into the line of fire. Every single Wonkru member is looking at Miller as though he's lost his damn mind, and they're not wrong.
Poor Harper, where is she? She might have grunted at some point in the background?
And you know who else knows the answer to whether Wonkru is going to come pick up our fearsome foursome in the gorge? Everyone except Octavia. Gaia knew. Indra knew. Bellamy knew. And finally, finally, Octavia gets it too.
For her to finally take that information in, it is clearly costing her the last fractured pieces of her soul. You can tell, the moment she knows that she's failed. She gave every bit of herself, but in the end, it wasn't enough. She's hated by everyone, and it didn't even save her people. When she asks Bellamy if her death is what he wants, he fucking says yes. And she's stung, but she accepts it and my heart is shattered in a million tiny pieces.
Is it raining on my face or something?
And now, after everything, she plans to use her last act to make some kind of amends- to use her life to save those she loves the most in this world, her family. Honestly, I think there's a part of her that is relieved to be able to do something to save them, and also, for this to be over. Which is more heartbreaking than I thought it would be.
Adding in a Lincoln parallel to just to really throw my emotions over the edge, I guess?
The Spacekru Factor
I never ever thought I'd say that Echo was 100% right and everyone should listen to her, but here we are. She is and they should. I get now why she's the leader, honestly. (More things I never thought I'd say, what is even happening!?) Everyone else kind of loses their shit when they find out that Diyoza and Kane betrayed them. It was like "WELP we're all going to die, better freak out, hey remember when Bellamy was alive?" but Echo is not having it.
Nothing but respect for my president.
Bellamy's missing? Then we find him. Kiyoza ruined our plans? We'll fucking make new ones, fam! And everyone just… remembers to breathe and does what she instructs them to. That is a leader. Sorry I doubted you, Echo kom Spacekru. (I assume she legally changed her last name in space, but also that she made her middle name Roan, after she learned that middle names were a thing.)
Even Monty gets in on the action from the middle of goddamn nowhere. Honestly, thank goodness he has a radio, because there would have never been a rescue attempt if he hadn't alerted them to the fact that half of Wonkru was lost in a gully. I know it's a gorge, but can we call it a gully? Gully sounds more fun.
"But life should be about more than just surviving"
Clarke and Madi probably had some typical parent-kid fights during their 6 years together before all hell broke loose. You know, "you can't take the Rover out after dark" or "stop playing with the radio, I need to call Bellamy", stuff like that. Now it's all about whose war cause is better than the other, and which terrible side is the less awful side, and who should and should not put flames in their head, and I daresay Clarke isn't handling this stage of parenthood splendidly.
I mean, Madi's not wrong.
Here she is subscribing to the Abby Griffin school of parenting, in which sending 100 kids to die sounds like a solid choice. Especially since most of them are dead, though Clarke is still alive so I guess technically her plan has worked so far. So stopping Madi from stealing the Rover and running to help Octavia isn't good enough for Clarke, she decides to fit Madi with a shock collar for good measure.
Madi is pretty cranky now that she cannot leave Clarke's sight, but who comes traipsing in to rescue her? Echo, Raven, and Shaw! It's a cute meeting for Madi, who's kind of stoked to meet some Spacekru heroes. And while Echo thinks she'll have to convince Madi to come along with her plan, Madi's like "girl, you can stop selling it, I already bought it".
But UGH Clarke will just not give it up. She alerts McCreary to the intruders, and of course he grabs his tech team Raven and Shaw, and then instructs his pals to kill Echo. Only… Clarke actually isn't totally the worst, and she'd prefer to not kill Echo, so she convinces McCreary that Echo may have information that could help them. Honestly, I think McCreary could be convinced of just about anything if someone used big enough words, but I digress.
Right, cause I'd want him in the PTA with me ?
Clarke gets all sappy when referring to Bellamy in the past tense and Echo is basically rolling her eyes like bitch, please, he's still alive. And Clarke's face when she finds out? It lights the fuck up. So I know the whole Lexa thing is a catalyst for her wake-up call, but don't doubt for a minute that Bellamy is as well. And I know people don't like that "the flame" changed Clarke's mind, but it didn't, at least not in my mind. Here's what did: Clarke. See, Lexa didn't give Clarke any information that Clarke didn't have all along. Every lesson that Madi echoed from Lexa? Those were lessons that Clarke taught Lexa– not the other way around. Lexa was just helping her find her way again. And using her most beloved human Madi to do it just cemented it. Knowing Bellamy was alive to save didn't hurt either. It was everyone, everything that makes up Clarke, that made her realize what was important.
Lessons by Clarke™
So this plan gets back on track! Granted, they're missing some of their crew, but Clarke is going to go fix the Pilot Mechanic issue. Meanwhile, Madi and Echo are going to go rescue their friends and stop this damn war. Madi finally shows that she is a young human child after all, and has a little breakdown about how she may never see Clarke again. I cannot imagine the fear she must feel. Clarke has the perfect response though:
And they're off! Right before Octavia is blown away by McCreary's weapons, Madi and the gang come racing to the rescue, guns blazing from the Rover. And while I don't always love last-minute-savior scenes, this show doesn't use them that often so I did love it.
Everyone getting into the Rover was epic. O clearly felt like she didn't deserve their rescue. Echo was relieved as hell to have saved Bellamy. Indra was still worried about Gaia. Bellamy appeared… concerned overall. And Murphy and Emori? Best damn moment of the show.
Now someone go save Marper and Smol Algae™, please and thank you.
Song of the Week:
This is called Stand By Me by Ki:Theory. Well, it's a cover, of course, but you get the idea. Anyway, the darkness of it inspired me for this episode because let's face it, this was a rough one. Plus, the theme of actually standing by those that you love is kind of great. Some of the characters did that, and some, frankly, could use the reminder. So here we are. Also I just really love it, so there's that.
Random Thoughts:
Why did Jackson just leave his current patient when Miller came in? That sounds like terrible doctoring if you ask me.
Gosh, Shaw keeps making me like him more and more. 

Even though I don't really ship him with Raven, I still like him a lot. Because he says shit like this:




If Harper lives through the finale, I am starting a petition for her to not be an actual background prop. 

Girl has been through way too much to be relegated to the back of any world. 
I feel like Vinson probably has rabies. Kane, if he

lives, should probably be tested. 
 Episode 5×13: Damocles Part 2
I. CANNOT. Someone hold me. None of our babies are safe. None. I mean look at that trailer, does anyone seem safe to you? Is safety even a thing anymore? 
We finally get to meet Lucas! Played by Shannon Kook, we've been teased about Lucas for like, at least half a year now. Probably more because my math is shit. Popular theory is, he's Eligius III. Though in my headcanon, there's a few Flokru survivors who spent Praimfaya in the Art Supply store, but I really doubt that's Lucas, since it's a role I created for myself to play.

FFS, McCreary is why we can't have nice things. The Sword of Damocles also looks like it just transformed into the Missile of Damocles, no? 
"Get in the ship"… Are they going into space again? Does Clarke get her lever back? I missed her lever-pulling shenanigans tbh. 
Okay. Who should we be most worried about now? Is there such a thing as "safe" in this world? Didn't think so. Guesses on the identity of Lucas?