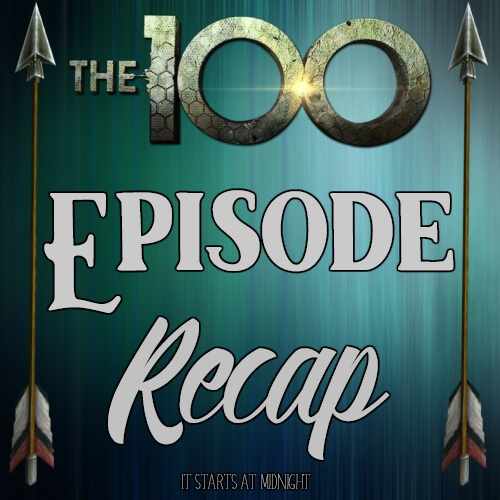 Just a reminder, spoilers galore!! Like ALL the spoilers- proceed with caution! 
Oh hi, just another episode of The 100 Season 5 that is freaking nailing it. This is a good one. A really good one. Mostly because it delivers on a lot of storyline fronts, basically neglecting no one. 
How We Get to Peace (in Shallow Valley)
This is a great title because everyone in the episode has their own ideas of how they can actually achieve peace. The first people we see who want to get to peace are Kane and Diyoza. Kane of course has had his share of making bullshitty decisions in the name of saving his people. Sacrificing the few for the needs of the many, only for the many to whittle down to the few. It's a really moving conversation that he and Diyoza have. And it seems to show his loyalty. When he speaks about the war, he uses "we", and I don't think it's just to convince Diyoza he's on her side- I feel like he genuinely is.
So while Diyoza hopes that some of her problems (namely, McCreary and Octavia) are somewhat taken care of, they head out to some field or another to contemplate the future. Well, Kane does, but to his surprise, Diyoza wants all of the same things. She just happens to be a little more realistic in their chances of achieving them. While they're dreaming of the future, Diyoza shares her pregnancy news with Kane.
Well that sounds like a real nightmare. 
Then they have a cute gushy conversation where I think they name Diyoza's baby Hope? Idk but if this isn't romance brewing, I don't know what is. I find myself almost feeling a little sad for Diyoza that she thought she could have a hot second to dream about her kid being bratty at school (that is kind of what she was dreaming of, right?) because actually all of her problems are littered around the East Coast ready to stroll back into her life. Gosh, doesn't a pregnant Colonel have enough problems to deal with?
How We Get to Peace (in Polis)
Goodness, do we ever get to peace in Polis? Does Octavia even know what the meaning of the word is anymore? Idk, but Bellarke and Indra do! And these three teaming up is the trio I never knew I always needed. Just three level headed folks who love Octavia too much to kill her, but know for damn sure she needn't be in charge anymore.
Their plan involves getting rid of Kara, and I am immediately on board. Because every plan to get rid of Kara is a plan I love. And, they're not just getting rid of Kara, but the worms too! Talk about killing two birds with one stone. Of course, this requires some shady business, as always. And Monty. They're getting the Mt Weather Genocide Band back together for a super quick reboot, I suppose, though Monty isn't really down.
Reunited and it feels like crap?
Don't you just love how they pull zero punches anymore? There's no "but it's for our people!" it's just "yep, bitch needs to go" and I love it. I mean, it is to save a large number of people, but still. Monty isn't tickled, but he agrees. Mostly I guess because he doesn't want to see everyone in Shallow Valley become worm food, which, fair.
I could watch this all day, tbh.
Only oopsie woopsie, Wonkru wasn't planning on using the worms at all! Nah, they were going to infect everyone with worm eggs! So not only was the plan for naught (except to kill Kara which is never a waste if you ask me), but Octavia knows that Kara wouldn't have gone into Worms 'R Us to begin with since the eggs were loaded up. So… she knows that it's a setup. And she wants Clarke to pay.
Raven's No Good Very Bad Day
Poor Raven. As usual, things are just not going her way. First, her bestie had her crush shock collared and tortured. As if that wasn't enough, now said bestie wants to just off the poor bastard altogether. Raven puts her foot down with a firm no, but also doesn't trust Echo (especially since the aforementioned collaring and torturing). So she runs to her beau to warn him. Shockingly, he isn't tickled to see her.
"Okay, fine, you got me, I'll listen"
But she's gotta run, because she's needed… elsewhere. And yay, it's her good pal Abby, who is trying to make a cure for Prisonkru but needs some kind of engineering! Talk about an overdue reunion, I was so happy to see these two reconnect- as was Raven. Let's face it, Abby's been like a hybrid mom-mentor-friend to Raven, and it must have been hard without her. Raven isn't tickled about making the machine, but if it will keep Abby "safe" (read: stocked with drugs, unbeknownst to Raven), she'll do it.
And because she's awesome, it works! Only… she can't wake up Abby to tell her. Why? Because Abby's all high and shit. And this makes for a very cranky Raven. She's about to destroy the machine, once she realizes that Abby's life isn't in danger.
I suppose their next reunion will be far less warm and fuzzy.
So she stomps back into the church and tells Echo that fine, she can go ahead and kill NotZeke. But as long as she promises that he won't suffer. Then, she tells him all about how her mother was an alcoholic and cries in his arms and tbh, it doesn't seem fair to do that when you're trying to kill the dude?
The Mamas Versus the Papas
Things for little Hope are off to a rocky start because her mom and (assumed) dad aren't having a great time getting along. In fact, Diyoza basically told Murphy to go ahead and kill McCreary, because she has zero fucks to give. I am paraphrasing, as you do. She figures that if McCreary dies, his people will just… accept her leadership.
And I don't know if they will, but Murphy solving one problem and Clarke taking care of the other sounds nice to me too, Diyoza. But she's also clearly not giving Murphy enough credit either. And when McCreary wakes up, he realizes that he too hadn't paid Murphy enough mind.
Never underestimate the cockroachiness of John Murphy.
But McCreary thinks he has a way to get both himself and Murphy what they want. And for McCreary, letting go of Raven as a prisoner is a no-brainer. He hasn't a need for her, but he does need back in Diyoza's camp. So Murphy goes along, and he and Emori become McCreary's "prisoners". And waltz back into camp.
Meanwhile, Diyoza is pleased as punch that Abby has solved her little medical dilemma by curing Vinson. Until she gets word that McCreary has been spotted. She tells Abby to keep a lid on the cure and hands her a bottle of pills to buy her silence. Good news for Diyoza, Abby will do literally anything for these pills so she basically has nothing to worry about there. And we see that Diyoza is totally, viciously fine with letting however many men necessary die- as long as McCreary is one of them.
I mean, same, Vinson.
"Will you still love me if I'm just a farmer?"
Can we all agree to let the record show that Monty Green will never be "just" an anything, farmer or otherwise? He can stop fighting and killing if he wants. But he'll always be much more, and we'll always love him. And so will Harper because he's her only storyline. I digress.
Monty has been having this crisis all season long: Does he even deserve to live if he's taken so many lives to get to this point? Harper is actually quite wise in this scene. When he worries that he may say no and someone he cares about will die, she doesn't dismiss it. She agrees that it's a real possibility. And if that doesn't seem like foreshadowing…
But she's right: He's always had a choice. And choices have consequences. He thinks he can live a life of peace, and farm algae, but this isn't a world where that's often possible. I have a feeling that we're going to be seeing a big looming morality crisis for Monty (and maybe Harper) when they have to make some tough decisions.
Omon gon oson
Okay we can totally stop pretending that they aren't eating their fallen Wonkru members, right? That. Is. A. Kara. Patty.
Bellamy bursts in during dinnertime, and O sends her war chiefs or whoever the hell they are to bed. I guess they have school early the next day, Idk. And she and Bellamy have a chat. Of course, she can't have thought that Bellamy would be okay with her trying to kill Clarke, right? But I guess she does, because she seems peeved that he even brought it up.
She said loooooove! And the fandom explodes!
So Bellamy opts for a different approach. He wants them to share a Kara Patty, how sweet. Trying to do some kind of childhood throwback, I guess. Reminds her how he and Aurora used to share their rations since she was living under the floor and such. But O doesn't want to take this particular stroll down memory lane. She's only in if Bellamy says the magic words: Omon gon oson. All of me for all of us. And he does because he clearly has a plan. They chow on some Kara, and Bellamy tells O how much he loves her. It's super cute until she starts to choke.
And I don't know about you, but I high key wondered why he wasn't saving his sister. Shouldn't he give the Heimlich a go or something? But then. Then he confesses: He's dosed her with some of Monty's Coma Cakes! Which, if you ask me, is better than eating Kara anyway. She looks at him, terrified and betrayed, as he lowers her gently to the ground.
I also daresay "This is how we save our people"
Song of the Week:
This is called "Killing Machine" by Tony Crown. And I mean, it's perfect for all the obvious reasons: Kara's death, Octavia wanting to basically kill without a second thought. Mostly the latter, tbh. She's willing to ruthlessly kill Clarke, knowing how many people would be devastated, including (especially?) Bellamy. Octavia is a killing machine, and would be completely fine with the decimation of everyone- and everything- in the valley. 
Random Thoughts:
Who else is loving these Kiyoza feels!? Heh, thought you'd need longer to get over Kabby? You don't, because Kiyoza just named their baby together, so. This is when some angry McCrabby sex will help them heal their wounds. Or something.
Does anyone else low key forget that Jaha is dead sometimes? I keep thinking "hmm, haven't seen him in awhile" and then I remember that he's dead. I don't know how I feel about it. 

Can Echo please save Raven from herself? 

A true test of their friendship is if Echo realizes that Raven doesn't mean that she can kill NotZeke. Because if Echo does this, and Raven realizes she allowed it to happen, I don't think she can forgive herself. Come on Echo, use that spy brain and think of another way mmmkay?
We even got random Vinson backstory, that is how awesome this episode was. I mean, I am horrified that he kept the hands and feet of his victims, but I won't pretend I am not fascinated as fuck too. 
Emori not defaulting to Murphy is so badass. Look, she could have taken him back and I'd probably not have blinked, but she didn't, because she is smart enough to know what a mistake that is. For his part, he seemed… not that upset?
Which is because hi, Murphy is in love with Raven. Murphy trusting McCreary to save Raven shows just how strong his feelings are. Murphy would never be in this deep for basically anyone else.
 Episode 5×09: Sic Semper Tyrannis
UGH last hiatus week, friends! This is my favorite episode title of the series. Fine, maybe second, after "Die All, Die Merrily", but still. 
Miller is going to be Bellarke's next foe, isn't he? The hints this week are all there: He's the new leader of Indra's unit, Bellamy takes a jab at him about the hundred, he arrests freaking Clarke for goodness sake… all these little Miller moments seem like clues that while O's in a coma, Miller will be leading Wonkru to war. And I am not okay. (Also where the hell is Jackson?!)
Speaking of, how are Bellamy and Clarke even still alive after this stunt? I know Indra won't kill them considering they're working together, but Miller? Some other guards? What's the deal?
Gaia has the flame engaged. Does this mean Madi will be in power? Clarke? They're the only two who could be. No one from Wonkru will accept either of these leaders, though. Also sidenote, how the hell did Gaia ever learn the flame's passphrase? Clarke was the only human who knew after Titus killed himself, right? Right?! 
Raven is smart trying to cause infighting. Does this mean she's given up on the Pilot Death Plot? I sure hope so- especially because Mom and Dad arguing is far more entertaining anyway.
Are you going to make it through this final hiatus? Is Monty ever going to be "just a farmer"? Was Kara definitely in that "food"? Is Miller going to be our new adversary? Let's discuss!