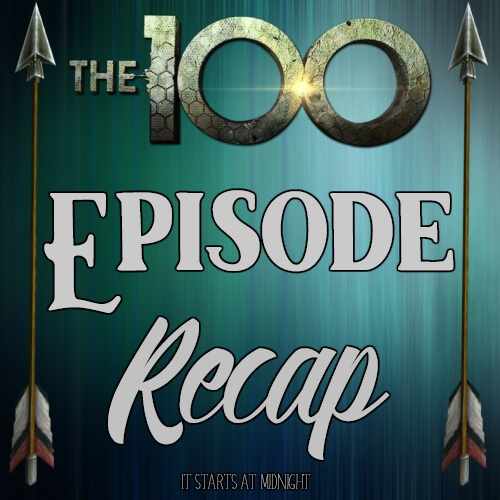 Just a reminder, spoilers galore!! Like ALL the spoilers- proceed with caution! 
HOW is this show so amazing? Have we ever had four freaking epic episodes like this in a row before? (Well- I did think the last 4 of Season 4 were pretty amazing too, so perhaps, but still.) Let's get to it! 
 Wonkru Church of Death and Awfulness
What… what the hell has happened down there!? We knew that Kane was going to be fighting in the arena, but the details were unknown. I was super proud of myself that I guessed it'd be because of Abby's addiction, but also sad that it was because of Abby's addiction. Kane basically uses the same advice he and Bellamy gave to Octavia before the Conclave to win his first battle: Basically you just have to kill the last warrior. But look, killing (likely innocent) Grounders is exhausting. Physically sure, but also mentally and Kane is So. Done.
Honestly though, wouldn't you be done too if you lived in this?
The crowd, and therefore cult leader Blodreina Octavia aren't pleased that Kane has the feels over murdering his fellow Wonkru members. No really, they're straight up pissed that he has a conscience.  So he's not safe, he has to fight again. Only he's completely out of fucks to give and also sort of out of reasons to live it seems. Sure he loves Abby, but is that justification to keep killing? Honestly the whole thing is so thought provoking in a "what would you do?" sort of way.
Can we now talk about how Indra is still in Kane's corner? Even when her beloved protege has no compassion for the man who was once her mentor, Indra still has love for her friend. I think this is important for two reasons: One, it reminds us how awesome Indra is. Two, it shows us really how much of her humanity Octavia has really lost down there. So Indra takes him to Abby, who is relieved to see he's still alive.
Indra explains the details to Abby, who immediately confesses. Indra, who wasn't born yesterday, knew this and told Kane that locking her up was smart, ha. Anyway, Kabby has a "real talk" about his decision, and it's as heartbreaking as you'd expect. I think the fact that Abby could really no longer fight to convince Kane to live speaks volumes about how bad her problem really is. She is coherent enough to understand what she is losing, but not strong enough to fight for it, and you can see it in her face. Paige positively kills this scene- actually, they all did. And sadly, we have to assume that Abby's addiction plays some role in Kane resigning himself to death too. Part of him is probably exhausted from trying to spend six years fighting this losing battle with her, and the other part probably hopes that his death will be the thing that makes her stop the pills, even though we know it doesn't work that way.
So back in the arena he goes, just in time for more creepy ass death chants and such. But when the time comes, he just stares at Octavia. Willing her, it seems, to take a hard look at what she's doing. But she doesn't see him, at least, not in the way he hopes. She sees him as simply an enemy of Wonkru, and she goes to tell him that. Even his opponent tries to convince him to fight, worried that they'll both die if Kane doesn't even try. What a commentary.
So, she's just about to kill Kane, actually stab the dude who was basically a father figure to her, in cold blood, when a cross between Indiana Jones and a Rescue Ranger comes gliding down from the ground.
Let's Make a Deal!
Good ol' Bellamy "Using His Head" Blake has secured a bit of a deal with Colonel Murder. He'll let the prisoners go and split Eden down the middle, and all Diyoza has to do is A) Not kill Clarke; and B) Dig out the bunker. Easy peasy, right? Honestly, yes, yes it is because these are miners with technology like whoa. So they agree, and Bellamy is pleased as punch. Obviously Charmaine is totally kidding about the deal, but our sweet summer child doesn't know that yet. So off he goes to see Clarke.
And yay, who hadn't been waiting a year for this happy moment!? Clarke is not even sure it's real, she is in such shock, and it's kind of the sweetest thing ever.
So fills her in on the plan, then radios Raven to fill her in on the plan. And you know, casually let them know that Clarke didn't burn to death.
Reunited and It Feels So Good
Finally, the band is back together! Okay fine, not everyone is physically in the same location, but at least they all know their buds are alive, right? Okay, first we need to rewind just a bit though, to the Bunker Reunion. This was… well, it was less happy than some of the other reunions so far. Because you remember that the bunker is actual hell where humanity and morality go to die? Yeah. So as Bellamy zips down to see his sister, he gets two things: A rare Octavia moment of normalcy, and the fucking shock of his life.
Clarke, on the other hand, didn't have time for the warm fuzzies as she looks around this hellhole. She wants to see her mom of course, but she's certainly taking notice of the horror around her. Bellamy, stepping back from his hug, starts to take it all in too. And as Diyoza and McCreary shimmy down… well they're all kind of wondering what they've gotten themselves into.
When McCreary thinks you've gone too far… you've gone too damn far. 
Most of these reunions are pretty bittersweet. Bellamy gives Miller a hug, but also a look of "what even is happening?" and it's sad. Clarke and Abby's reunion was filled with anxiety and tension, as no one was sure what to do about Kane, and Abby could barely even concentrate on Clarke. And when Prisonkru asks how many people to plan for?
Um. How?! How did almost 400 people die in there!? I know, the extra year certainly required some people to jump ship, and some certainly would have died in that time anyway, but… wow. Can you imagine how many fights there'd have to have been to get to that number? My head was spinning. And so was Bellamy's. But Octavia? She seemed wholly unfazed by the whole thing.
Topside, things get chaotic fast. Indra helps sneak Kane out, but says she can't protect him after that. Abby and Clarke get him into hiding, while Prisonkru decides it's time to abandon their rouse of peace. They won't be sharing Eden with anyone, demand the doctor, explain that there will be no deal, and then show everyone how big their weapons are 🙄
In the madness that ensues, Abby jumps out into the open and serves herself up to Prisonkru. She'll be their doctor, come willingly even, as long as Kane can come too. This is such an ultimate survivor's move. Murphy would be proud. Look, she knows that Prisonkru will take Kane on, what the hell is it to them if they get a doctor out of it? They also will probably have medicine and give zero fucks if Abby drugs herself silly, as long as she helps them.
Then some dumbass kills a Wonkru member (he was hoping to get O because she gave him a dirty look and he is a petty, insecure man) and now… war's on, friends. War. Is. On. Incidentally, Diyoza wanted to kill every last person in Polis, because of course she did. The "malfunction" was the only thing that stopped her, though nothing stopped McCreary from executing the guy who started the war. The guy he was literally referring to as "brother" mere minutes before. He and Octavia should share stories…
Back at Space Murven Headquarters….
Have I mentioned how happy I am that these two are in space together? Only 100 times? Here's another one then: I. Love. It. After some happiness that Clarke is alive, they start to discuss what is happening with the CryoKillers. Namely, Raven's panic that they will be able to escape somehow. There's also some interesting info about Eligius III, mostly that there is no info about Eligius III, which I am sure we'll find out more on later.  They have a bit of a tiff, which makes Murphy stomp off to his room Kodiak's cryo chamber, nearly scaring the hell out of Raven.
But then. They talk, like for real talk. And it is the sweetest. Murphy starts to explain to Raven that he doesn't want her to have to kill the prisoners if it comes down to it. He's there to do it for her. And my heart. My. Heart.
I'm with Murphy, it's definitely easier to kill 283 people than to admit you have feelings for someone. 
He almost said something, he did, and if you don't believe me, too bad. He wanted to say something, but he's so damn protective of his heart, so he told her another version of the truth. And then they played Apocalypse Soccer and it is my new favorite sport.
But on the ground, Diyoza had different plans. She makes NotZeke (his name is supposed to be "Miles Ezekiel Shaw" but I have been calling him Zeke for like 8 months now and it's too hard to stop, okay?) open the doors so that Raven and Murphy will die, but the CryoKillers will be safe. Smart. Only… it's Raven, guys. She's smarter than that. And since NotZeke has a bit of an infatuation with our girl, I don't feel like he's been trying too hard to kill her.
But Raven and Murphy are alive, yay! But bad news, now all the CryoKillers are waking up and wondering who the hell these two randos standing on their ship are. I would be scared silly.
They look fun. 
Random Thoughts:
Where the hell is Niylah? She wasn't by her lover Octavia's side and I am high key scared. Maybe she is the Cult Schoolmarm and she's off teaching Ethan how to properly gut his neighbor… 
Anthem Singer is alive, y'all! Guess having a good set of vocals earns a gal a bunker spot? Need someone to sing the cult hymn, right?
Even Diyoza ships Bellarke. Seriously, girl's observant. She'd not say it if it wasn't true. Fight me.
SO glad that the lobby of Indra's Polis Marriott survived Praimfaya. She worked so hard on the decor.

NotZeke seems to be the only member of Prisonkru who sees the pitfalls of killing 90% of the population. Does Charmaine not realize that there are maybe two women of childbearing age in Prisonkru? And one of them is her? Anyway, I think Shaw (I am going to try but ugh) jammed the missiles purposely because he's not dumb.
 Episode 5×05: Shifting Sands
Well this doesn't look terrifying at all. I cannot wait to know all the things. And I cannot wait to see what the heck is in dudes' stomachs. And I cannot wait to see Octavia make terrible decisions out of bloodlust. And I cannot wait to see Kabby interacting with Prisonkru. And I cannot wait to see Murven interacting with CryoPrisonkru. 
Did you love all the reunions? Is Octavia scaring the crap out of you, too? Can you ever stop calling NotZeke "Zeke"?