Welcome to March's Monthly Minutes at Midnight! 
 Here's the deal: I'll share the books I've obtained, posts of interest from others, giveaways I have happening, and just general random shenanigans. You know I love a shenanigan.  Also, covers all link to Goodreads, because I am awesome.
The Books
For Review/From Publishers: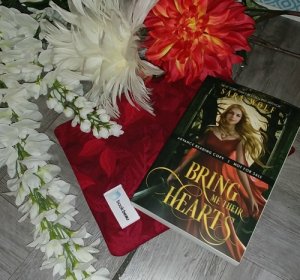 I Felt a Funeral in my Brain by Will Walton
Bright Burns the Night by Sara B. Larson
Listen to Your Heart by Kasie West
Bring Me Their Hearts by Sara Wolf
Huge thanks to Scholastic, Entangled, and Abrams!!
eARCs:
Huge thanks to Wednesday Books, Random House, and Albert Whitman!! 
Purchased:
This isn't *terrible*, right? Especially since I'd pre-ordered Obsidio like, years ago. Also State of Sorrow and Almost Love were pre-orders. The Wolves of Winter was just a good book and I regret nothing.
Gifted/Won/Traded: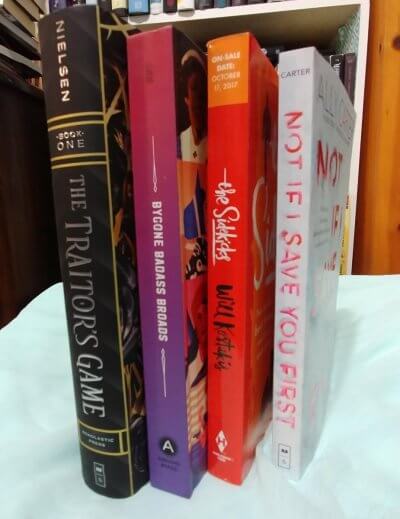 Won The Traitor's Game (Thanks to Author Jennifer Nielsen and Adventures in YA Publishing!) Thanks for the trades (Bygone Badass Broads and The Sidekicks, and my mom bought me Not if I SaveYou First at Lena's book fair hah! 
---
Shenanigans Since Last Time:
I read 12 books this month, which I guess is okay? I had hoped to read more since it was a longer month, but some of the books were quite long, so.
Overall it was a good reading month though. So I'll take it. And I will also be reviewing all of these. You know, at some point. Probably. (No really I will since most are review books.) 
Giveaways: Click Here, or on Sidebar
---
Blogosphere Bulletin
Here are some of the loveliest/most entertaining/super helpful/just plain interesting posts I found this month! 
---
Fancy & New Since Last I Saw You!
I love looking at pretty covers! So here are some new ones that I have fallen in love with since our last update!
Slow cover month. Idk what even this last book is about? 
Things we need to talk about at this juncture:
It has been Ten. Freaking. Months. since Praimfaya. But….. IT IS TRAILER TIME, Bitches!! Watch the epicness, and then try to keep your cool til the 24th. I dare you.
I think I took a bit of a hiatus there for awhile. Oops? I mean, it wasn't *technically* one (but only because I said so- it's my blog, I do what I want) but… I am not against taking more of them in the future. I mean, look, we're all still here, right? And let's be real, did you even know I was gone? I didn't even know I was gone, for goodness sake! 
Who else is SO excited that it is finally spring? I mean, it *might* actually be done snowing? And spring brings all kinds of fun shenanigans, and YAY. Do any of you have any exciting things planned for spring?
Happy April, loves!