HA, bet you thought this was going to be a The 100 post, because they looooove cullings on that show, no? Anyway. No, look, I need to do some major downsizing, basically. So I decided (with the help of my lovely assistants Rashika, Val, and Holly) that I would do a blog post, and then cross-post to Twitter and see if I can't get rid of some of these books.
"But Shannon!", you ask in horror. "Why ever would you want fewer books!?" Look, it's a real head-scratcher, I feel you. I am probably going to be moving quite soon. Well, I am definitely going to be moving, how soon is anyone's guess. And it's definitely going to be a smaller place. Which is sad because my room now is huge and awesome and full of bookish glory.
I digress. Basically, I need room. And also, money and/or books wouldn't hurt. Hence why I am selling finished copies (or trading, no worries). See, divorce may be many things, but "cheap" isn't one of them. So yeah. There will be options, and I will get to all of that. But here's some of what I have to offer- nearly 200 books worth, woo!
For ALL Trades:
Wishlist: https://www.goodreads.com/review/list/8652150-shannon-it-starts-at-midnight?shelf=wishlist
I will also consider trading multiples, depending on the books.
I do not care about format for books on wishlist, unless I have specified on Goodreads (I think there is only one of these anyway). But yeah, ARC or finished copy, I do not care.
I am also willing to look at what you have, but since I clearly have too many books, I might be picker than I'd like- just because I don't want to take on anymore stuff I won't read. I promise I am not trying to be a pain in the ass 😉
I am only trading for US only- but if you would like to pay for international shipping, have at it! I just can't incur that cost right now.
I can and will take pictures in detail at your request
Feel free to comment on this post, DM me on Twitter @ShannonMiz, or email me at itstartsatmidnightbooks@gmail.com
Also willing to discuss shipping discount for multiple book requests!
Most books are brand new, some have been read once. A small number have seen better days, but I will disclose that and provide photos.
I am updating the photos as things are claimed, hoping to make this easier for us 😀
ARCs for Trade
Ideally, I'd like to trade these for a wishlist item. But we can work something out, too!
ARCs for Shipping OR Trade
The price of shipping for ARCs is going to be $3.75. I stole this from Emma @ Miss Print, who does ARC Adoption. Emma is basically a book guru, so yeah. That covers media mail, and the cost of materials (padded, waterproof envelope, packing tape, etc).
Of course if you'd prefer to trade, you don't have to pay shipping.
Hardcovers for Sale or Trade
I am pricing these at $7.50 – including shipping. So basically, I am cheaper than Amazon. 😀
There are one or two with small remainder marks, so I will gladly let you know which. Again, I can provide pictures!
Paperbacks for Sale or Trade
Pricing these at $5.50, including shipping.
Again, a few have remainder marks, but I can let you know!
Swag for trade/shipping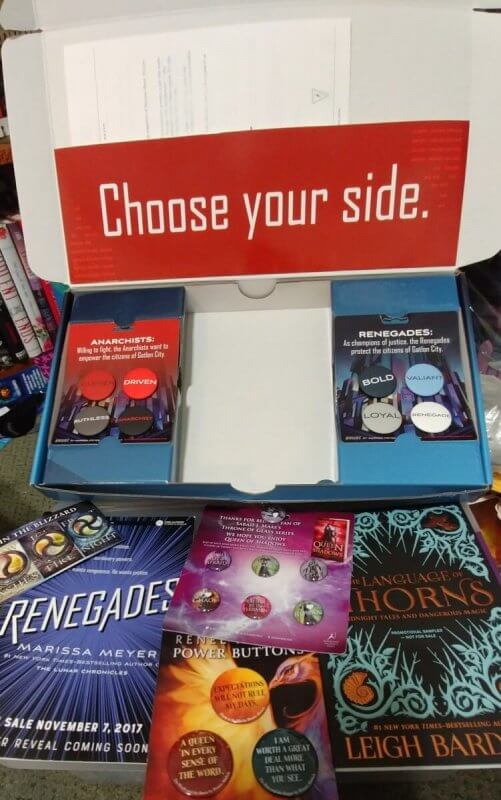 Please just take this stuff away? I have no idea how much shipping is since the pins can't be sent media mail, but I can ask!
And hey, if you don't want my books, we can still chat! Have you ever had to downsize your books?