To intro a bit, these are the new version of "Books I'm Never Reviewing". I kept feeling like the connotation was that I wasn't fond of said books, when often, quite the opposite was true. Also, the name was clunky. The bottom line is this: These are considered legitimate reviews by absolutely no one. Why? I don't feel like it, nor do I have to. But apparently, my ego dictates that I still think you care whether I liked them and/or I feel like shouting about them. And so, I shall.
I was going to do a The 100 post for today, but I haven't been feeling well and I am tired and those take wayyy too much time. More time than me shoving quick impressions of these books at you, anyway.
---
This Mortal Coil
by Emily Suvada
Series: This Mortal Coil #1
Published by Simon Pulse
on November 7th 2017
Pages: 425
Format:ARC
Source:Traded

Catarina Agatta is a hacker. She can cripple mainframes and crash through firewalls, but that's not what makes her special. In Cat's world, people are implanted with technology to recode their DNA, allowing them to change their bodies in any way they want. And Cat happens to be a gene-hacking genius.

That's no surprise, since Cat's father is Dr. Lachlan Agatta, a legendary geneticist who may be the last hope for defeating a plague that has brought humanity to the brink of extinction. But during the outbreak, Lachlan was kidnapped by a shadowy organization called Cartaxus, leaving Cat to survive the last two years on her own.

When a Cartaxus soldier, Cole, arrives with news that her father has been killed, Cat's instincts tell her it's just another Cartaxus lie. But Cole also brings a message: before Lachlan died, he managed to create a vaccine, and Cole needs Cat's help to release it and save the human race.

Now Cat must decide who she can trust: The soldier with secrets of his own? The father who made her promise to hide from Cartaxus at all costs? In a world where nature itself can be rewritten, how much can she even trust herself?

Damn, the twists in this book! I complain a lot about books not being able to shock me, so imagine my delight when this book just kept the intense, unexpected moments coming! I found the world and the characters fascinating, and the plot was on fire– full of action and adventure. I am definitely looking forward to the next book, also, I cannot say much because so much of this book is a big old spoiler. Because twists! 
But wait…. did I mention all the twists?? 🤔

---
Strange Fire by Tommy Wallach
Series: Anchor & Sophia #1
Published by Simon & Schuster Books for Young Readers on October 3rd 2017
Pages: 386
Format:ARC
Source:ALA


It only takes a spark.

They said that the first generation of man was brought low by its appetites: for knowledge, for wealth, for power. They said mankind's voracity was so great, the Lord sent his own Daughter to bring fire and devastation to the world.

The survivors were few, but over the course of centuries, they banded together to form a new civilization—the Descendancy—founded on the belief that the mistakes of the past must never be repeated.

Brothers Clive and Clover Hamill, the sons of a well-respected Descendant minister, have spent their lives spreading that gospel. But when their traveling ministry discovers a community intent on rediscovering the blasphemous technologies of the past, a chain of events will be set in motion that will pit city against city…and brother against brother.

Along with Gemma Poplin, Clive's childhood sweetheart, and Paz Dedios, a revolutionary who dreams of overthrowing the Descendancy, Clive and Clover will each play a pivotal role in determining the outcome of this holy war, and the fate of humanity itself.

This made for a very disappointed Shannon. I was super excited for it, even though I know the author can be ummm questionable, I loved Thanks for the Trouble, and sometimes it's okay to have problematic faves, yeah? Well. Sadly, this didn't live up to my high expectations. Mostly because I was bored, so very bored. I didn't connect with the characters very much. And the one exciting plot point is pretty much ruined by the synopsis? So yeah, I kept hoping I'd start to care more, but alas, I did not.

---
Insignificant Events in the Life of a Cactus
by Dusti Bowling
Published by Sterling Children's Books
on September 5th 2017
Pages: 262
Format:ARC
Source:ALA

*"Aven is a perky, hilarious, and inspiring protagonist whose attitude and humor will linger even after the last page has turned." —School Library Journal (Starred review)

Aven Green loves to tell people that she lost her arms in an alligator wrestling match, or a wildfire in Tanzania, but the truth is she was born without them. And when her parents take a job running Stagecoach Pass, a rundown western theme park in Arizona, Aven moves with them across the country knowing that she'll have to answer the question over and over again.

Her new life takes an unexpected turn when she bonds with Connor, a classmate who also feels isolated because of his own disability, and they discover a room at Stagecoach Pass that holds bigger secrets than Aven ever could have imagined. It's hard to solve a mystery, help a friend, and face your worst fears. But Aven's about to discover she can do it all . . . even without arms.

Oh, look at me, finding a Middle Grade book that I freaking adored! I probably would never have picked this up, never read it, if it wasn't for my daughter. She's six and she likes books, and this looked fun, and she was interested. And hot damn, it was good. The characters are so lovely, so imperfectly perfect, and very relatable. Disability is discussed in such a candid yet appropriate way. And the story itself… well, I laughed, I cried, I cheered. Seriously so glad that I discovered this gem, and I hope that more people pick it up, because it is so worth it. And yes, my daughter loved it too,  she still talks about months later, it in fact!
---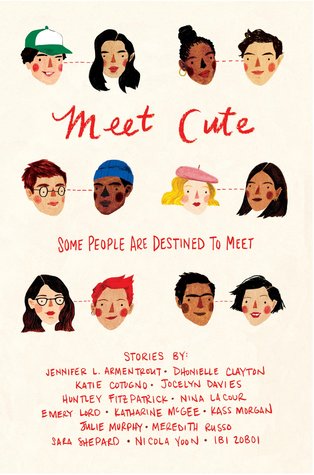 Meet Cute: Some People Are Destined to Meet
by Jennifer L. Armentrout, Sona Charaipotra, Dhonielle Clayton, Katie Cotugno, Jocelyn Davies, Nina LaCour, Emery Lord, Katharine McGee, Kass Morgan, Meredith Russo, Sara Shepard, Nicola Yoon, Ibi Zoboi, Julie Murphy
Published by HMH Books for Young Readers
on January 2nd 2018
Pages: 320
Format:ARC
Source:ALA

Whether or not you believe in fate, or luck, or love at first sight, every romance has to start somewhere. MEET CUTE is an anthology of original short stories featuring tales of "how they first met" from some of today's most popular YA authors.

Readers will experience Nina LaCour's beautifully written piece about two Bay Area girls meeting via a cranky customer service Tweet, Sara Shepard's glossy tale about a magazine intern and a young rock star, Nicola Yoon's imaginative take on break-ups and make-ups, Katie Cotugno's story of two teens hiding out from the police at a house party, and Huntley Fitzpatrick's charming love story that begins over iced teas at a diner. There's futuristic flirting from Kass Morgan and Katharine McGee, a riveting transgender heroine from Meredith Russo, a subway missed connection moment from Jocelyn Davies, and a girl determined to get out of her small town from Ibi Zoboi. Jennifer Armentrout writes a sweet story about finding love from a missing library book, Emery Lord has a heartwarming and funny tale of two girls stuck in an airport, Dhonielle Clayton takes a thoughtful, speculate approach to pre-destined love, and Julie Murphy dreams up a fun twist on reality dating show contestants.

This incredibly talented group of authors brings us a collection of stories that are at turns romantic and witty, epic and everyday, heartbreaking and real.

So, it was, in fact, cute. Most of the stories i liked, if not loved. And I hated none, so that's pretty good! There were a few that were standouts though:
Dhonielle Clayton's The Way We Love Here
Nina LaCour's Print Shop
Kass Morgan's 259 Million Miles
But most of them hovered around 3.5, hence the rating here. Cute, but I'll probably only remember a few of them. But a fun concept nonetheless.
Managed to get The 100 in here anyway, like a real warrior would. Or something.
Have you read any of these books? Agree? Disagree? Let us chat about them!