Welcome to December's Monthly Minutes at Midnight! 
 Here's the deal: I'll share the books I've obtained, posts of interest from others, giveaways I have happening, and just general random shenanigans. You know I love a shenanigan.  
The Books
For Review/From Publishers: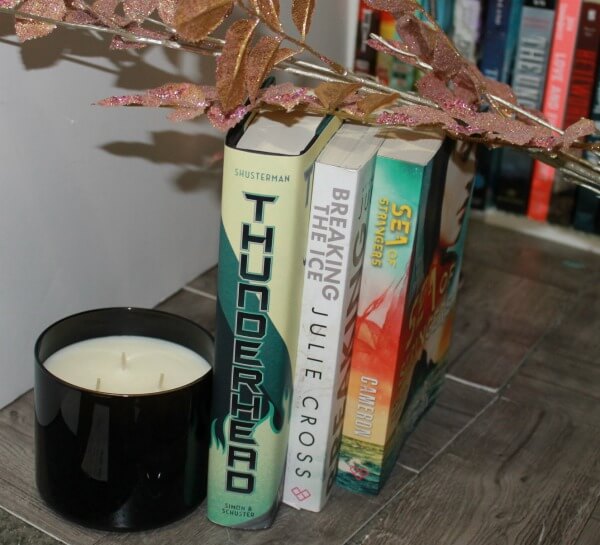 Sea of Strangers by Erica Cameron
Breaking the Ice by Julie Cross
Thunderhead by Neal Shusterman
Thanks to Entangled and Simon & Schuster and Big Honcho Media! 
eARCs:
Huge thanks to Random House & Wednesday Books!
Purchased:
I bought nothing, guys. Not a thing. This is impressive, be proud.
Gifted:
HUGEST of thanks to (top-bottom of the stack!) Holly, Rashika, my mom who has no links hah, Val, and Greg!! Seriously, don't know what I did to deserve such lovely human beings in my life- a million thank yous, for everything ♥♥♥
Won/Traded: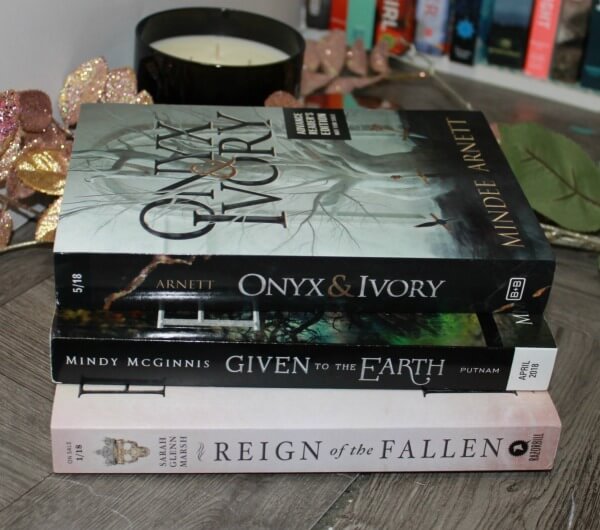 Won Onyx & Ivory from author Mindee Arnett, thanks so much! And thanks for the trades, friends!
---
Shenanigans Since Last Time:
I read 12 books. Which isn't bad, considering the holidays and such, right? (Technically, I haven't finished Meet Cute but I have more than 24 hours and less than 100 pages, so I'm pretty confident!)
There were some really good ones in this bunch! A few pleasant surprises, and then a couple minor letdowns. But overall, much more good than bad! Reviews for all of these will be coming up! (Sea of Strangers already happened!) 
Giveaways: Click Here, or on Sidebar
---
Blogosphere Bulletin
Here are some of the loveliest/most entertaining/super helpful/just plain interesting posts I found this month! 
I actually think that it being December, and not my sheer ineptitude, is the reason for a short list this month? Or maybe I am just getting really used to slacking, who can tell?
---
Fancy & New Since Last I Saw You!
I love looking at pretty covers! So here are some new ones that I have fallen in love with since our last update!
Slow cover month, but things usually are in December, that's okay! 
Things we need to talk about at this juncture:
It has been seven months since Praimfaya. No news. Just Jason feeding us screenshots from the trailer to keep us from attacking The CW, I presume. At this rate, we'll be lucky to have a premiere date before summer ? But I do have a really fun The 100 post coming up- I am in no rush, because I think it's going to be more awesome if I wait!

Well. Apparently we've nearly made it to 2018. I think no one knows anymore if this is a good thing or a bad thing? It's like we want to be optimistic, but we realistically know that this year could be even more apocalypse-y than last year, so. I was going to do one of the bookish survey thingies out there, but then I decided that I didn't want to. So I didn't. I don't have any particular goals, I plan to continue to subscribe to the "Whatever the hell we want" school of blogging, so there it is. Here, have a tiny "end of the year" post-within-a-post"!
Good Riddance, 2017! Cautious Hello, 2018!
Oh, friends. This year was all kinds of bad. I think we all know that going in, given how last year ended, but this year really brought the shit. I don't want to get everyone super depressed, but suffice it to say that not only was it a hot mess globally, but personally too. Good times. There were some bright spots, of course! Like my lovely friends, and small humans, and that sort of thing. That said, I have a few "goals" for this year:
Continue my "whatever the hell we want" school of blogging practices. That was really my only bookish goal last year, and so here it is again. I did a shockingly good job with it, so that's still the plan. Just to be chill, and do what I want.
Be able to move past this year, and all the stuff that came with it. Everything is just… it's in upheaval at the moment, basically. And one day, hopefully sooner than later, maybe it won't be. And then I can tell you alllll about it 😀
Want to see my people! Honestly, I don't think I'd have made it through this year without the support and kindness of you guys. And I have all kinds of plans, and I want them to happen, even if life is hard otherwise. Because it's necessary.
As for books, I will be letting random.org pick my Goodreads Challenge goal again. Last year, it gave me 139, which is kind of rude, and very close to the upper limit I'd set. This year, perhaps it will be nicer? I did meet my goal last year though! 
I don't think I have any actual control over this, but I want to like books more than I did last year? It was almost a year-long slump, and Idk how one gets over that, but we can cross our fingers?
Happy January, and happy 2018, loves! Anyone have any goals/hopes/plans for the New Year?