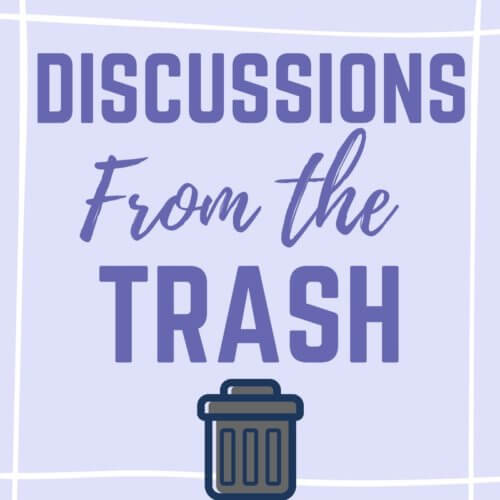 So, remember when I used to be able to write discussion posts somewhat regularly? Yeah, me too. That was fun. Now, I have trouble coming up with anything at all. Because I am a mess, creatively speaking. And motivationally speaking. And probably a lot of other ways too, if I am being honest. Anyway, over the past few weeks, I have tried in vain to come up with some kind of topics. But the hard truth is, they all sucked. Not just sucked, these sully the good name of suck. So off to the garbage they went.
But then I thought… well, since I can't come up with anything else, maybe I can just take you on a little tour of the mess inside my head. So without further ado….
The Discussion Posts that ended up in my trash folder!
Bookish Injuries
Yep. This made no sense. I thought about actual TBRs crushing you, as opposed to figuratively being crushed. And then my mind wandered to papercuts which… yeah, you can see why this ended up in the trash. Some of the points I thought up before giving up?
Stock in Band-Aids. You know, for all the papercuts. That never happen. Which totally just jinxed me and now my books will be soaked with the blood of my fingers.
Class action lawsuits against IKEA. I guess because your TBR is so huge that your bookshelf fell on you? I don't know. Also under this heading would be "tips for finding extra smarmy lawyers".
A link to find reconstructive surgeons in your town. I guess… I guess those books really fell hard. Who knows. Maybe it was the papercuts.
Pictures of gruesome book wounds. Which I don't know how I planned to find, because legit this is not a thing.
---
How to Become Part of a Fandom
This… isn't a thing. Like, I don't know how you do that. You just… like the thing a lot. And then you kind of become mildly obsessed with it, and clearly value it above all the other things you like. This would be the shortest post ever:
Step 1: Read/Watch/Listen to The Thing
Step 2: Enjoy The Thing
Step 3: Realize you love The Thing
Step 4: Make too many GIFs of The Thing, buy merchandise for The Thing, inundate people with talk of The Thing.
And that is it, you're a fan. You're welcome for this groundbreaking source of information.
---
Choosing Books from My Bookshelf
Fun fact: If I knew how to do this, I would not need a post. I have also done this topic to death, to the point where I was pretty sure I was plagiarizing myself. You get it, I am an indecisive mess. I ask you to choose my books all the time, because I am the actual worst at it. And this post was no different. It went something like this:
Here is a picture of my bookshelf! I want to read all these books. 

But I take a few that I extra want to read off the shelf, and maybe pick from those? Only… now that I have picked them, maybe I am not sure. So I put them back. 

Back to square one. How do you choose which book to read? 
See what I mean? We have definitely done this one before. Several times, if I had to guess. ?
---
OTPs
Since Valentine's Day was coming up, I thought "hmm, maybe I should do some kind of post on something… lovey". Even though I hate Valentine's Day. Because I am bitter. Anyway. So I thought, "let's feature some of my OTPs!"
Spoiler alert: I have two OTPs. That is it. I have two ships that I ship above all ships. And it should surprise exactly zero percent of people who they are.
Shocking OTP #1
Shocking OTP #2
And thanks to Rashika, for reminding me that I actually tried to do this post. And failed, clearly.
---
Bookish Quirks
This was supposed to be about things that I did in regards to books that were… weird, I guess? The thing is, I don't think any of them were abnormal to other bookpeople. Just like, non-readers, perhaps. Things like:
Having a super long TBR. Seriously, do any of us not have one of these?
Book hoarding. Again, this is all of us, right?
Not eating around the books. 
Not enjoying when others borrow books. 
Look, these are asinine because they describe like, 90% of the people I know.
See, this is a mess. Have you guys ever run out of ideas? Do you have tips? Posts that you have had to send to the garbage because they were flat out ridiculous? Do share!