Welcome to November's Monthly Minutes at Midnight! 
Here's the deal: I'll share the books I've obtained, posts of interest from others, giveaways I have happening, and just general random shenanigans. You know I love a shenanigan.  
The Books
For Review:
Thanks to Swoon Reads!! This is so cute! 
eARCs:
Via Edelweiss, thanks to HarperCollins; via Netgalley, thanks to DelRay & St. Martin's!
Purchased:
Traded/Won/Gifted: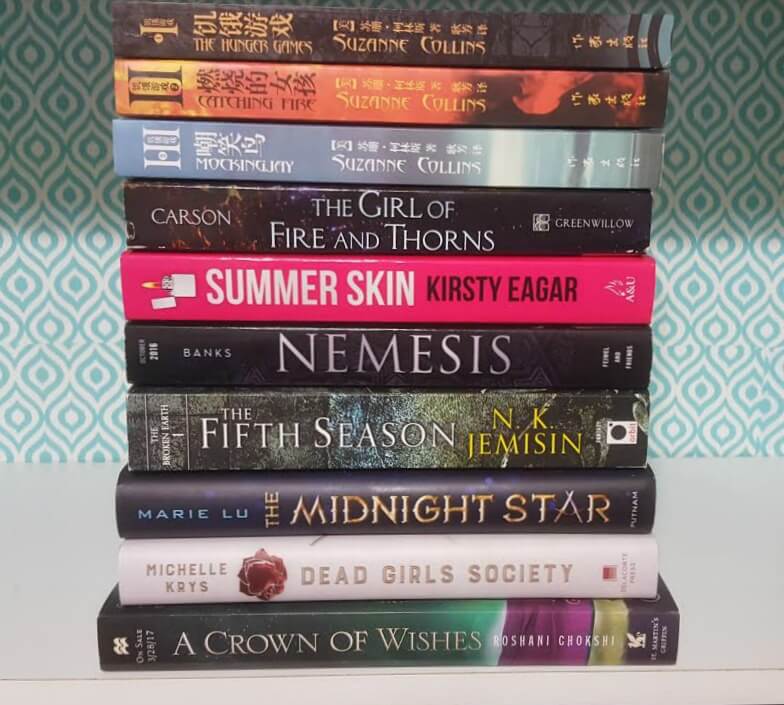 SO many people to thank! I won The Girl of Fire and Thorns from Tanya @ Girl Plus Books, Dead Girls Society from Adventures in YA Publishing, and A Crown of Wishes from St. Martin's on Goodreads. So thanks to all those people! 
Now, the rest were gifts from some of my lovely favorite people! Erica @ Novel Ink sent me Nemesis just because she is nice like that! My parents bought The Midnight Star and Fifth Season, and my lovely, lovely friends Rashika, Holly, and Val bought me the Chinese Hunger Games series for and Jeann @ Happy Indulgences sent me Summer Skin, all for my birthday and they all make my heart happy. THANK YOU, loves! ♥♥
---
Shenanigans Since Last Time:
I only read eight books. What is this sorcery? I do not approve. Probably the reasons are the same reasons I neglected my blog. Oops? I linked this month cause I felt like being nice.
 
Yeah. I guess I give the win to Crooked Kingdom. And I suppose I will be re-reading The Continent, because I read it before (and finished it during) the problematic representation discussion. I do see why people would be upset with certain things no question. I also feel like it is very fixable, so I am willing to give it another chance. Also, kudos to Harlequin for taking people's feelings into consideration and pushing back publication to fix it. I think that remedying mistakes is a good thing, so… I'll leave it at that. Also, Gemina was good, as you'd expect. Also, pleasantly surprised by Frost Like Night– easily the best book in the series.
Giveaways: Click Here, or on Sidebar
---
Blogosphere Bulletin
Here are some of the loveliest/most entertaining/super helpful/just plain interesting posts I found this month! 
---
Random Musings:
GAH this MONTH FROM HELL. I mean, I had hoped that we would have had so many different conversations this month. But alas. So here we are, not even able to be excited about 2016 finally being over. 🙁 Anyway, I am trying to… well, not normalize, obviously, but move forward. So, it is almost time for Christmas, and the children saw Santa. The small male human was not impressed. 
Fancy & New Since Last I Saw You!
I love looking at pretty covers! So here are some new ones that I have fallen in love with since our last update!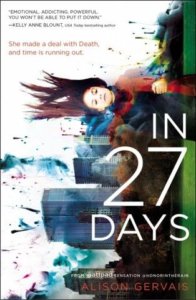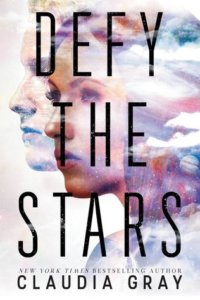 There really wasn't much to choose from (because again, this damn month) but these are just… eye-catching I suppose. 
Things we need to talk about at this juncture:
Less than two months until The 100 Season 4!! It is low key the only 2017 thing I am even looking forward to at the moment. And my trip with Val in January! 
Pretty thrilled about this. 
YAY I won. It was actually more fun for me than last year, so YAY. And I finished early, despite taking several days off post-election. 
I have been spending my time re-watching and re-reading. I've been bingeing The 100, and re-reading The Hunger Games. I want to rewatch the movies too. It's a sad November with no new THG franchise releases. 
Happy December, loves! Are you excited for 2016 to end? Anything fun happening in your lives?