Welcome to October's Monthly Minutes at Midnight! New graphic, maybe this one will last for more than a couple months? Not likely. 
Here's the deal: I'll share the books I've obtained, posts of interest from others, giveaways I have happening, and just general random shenanigans. You know I love a shenanigan.  
The Books
For Review:
HUGE thanks to Abrams!! 
eARCs:
Via Netgalley, thanks to Bloomsbury, and via Edelweiss, thanks to Sky Pony Press!
Purchased: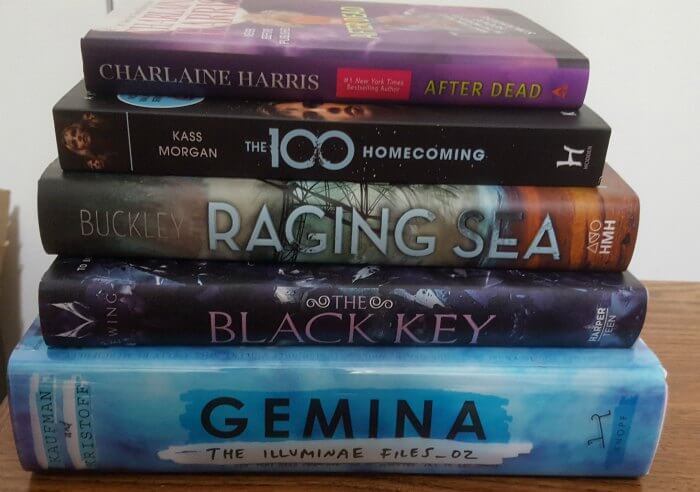 Not my highest quality picture ever, but it's okay. Books are still super pretty! 
Traded/Won/Gifted: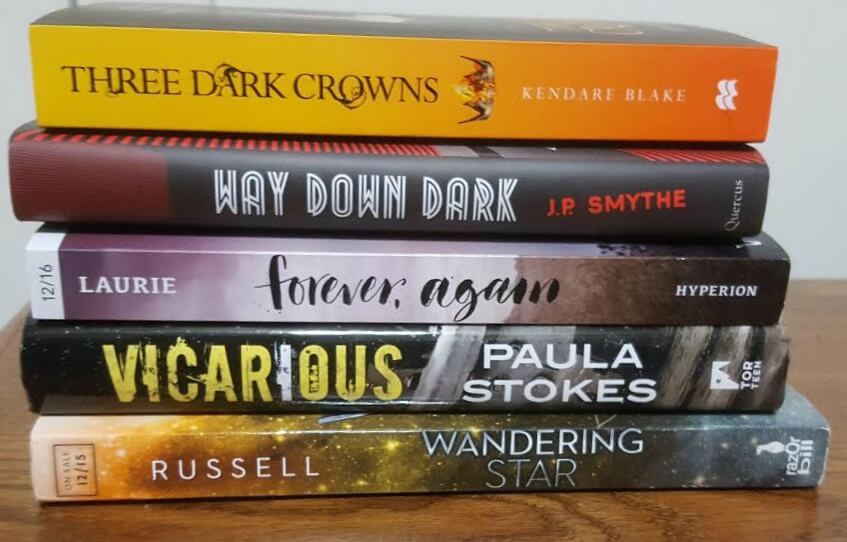 Guys, this picture makes me realize just how crooked my house really is- I cannot get straight pictures because the stupid place is not right!
Thanks to author Paula Stokes for Vicarious, and Adventures in YA Publishing & Quercus US for Way Down Dark!! And thanks to Melissa for Forever, Again! Thanks so much for the trades, people I traded with!! ♥♥♥ 
---
Shenanigans Since Last Time:
I read 12 books. Which is okay because some of them were really great books. And some of them were really long books too. So I can live with this!

Not linking because time. This is why Goodreads and Google are your friends.
I can't even pick a favorite! Okay, I can, it's Scythe. But Corruption, Flashfall, and Feed were all great too. And then Iron Cast and Life in a Fishbowl were solid too. This was seriously just a good reading month, in terms of quality!
Giveaways: Click Here, or on Sidebar
---
Blogosphere Bulletin
Here are some of the loveliest/most entertaining/super helpful/just plain interesting posts I found this month! 
---
Random Musings:
So, it was Halloween once! Here are some superheroes to save the day! Super Lena and Super Sammy, though Super Sammy would NOT stand still, so this is the best I could do. Must have been trouble afoot 😉
My favorite little superpeople.
Fancy & New Since Last I Saw You!
I love looking at pretty covers! So here are some new ones that I have fallen in love with since our last update!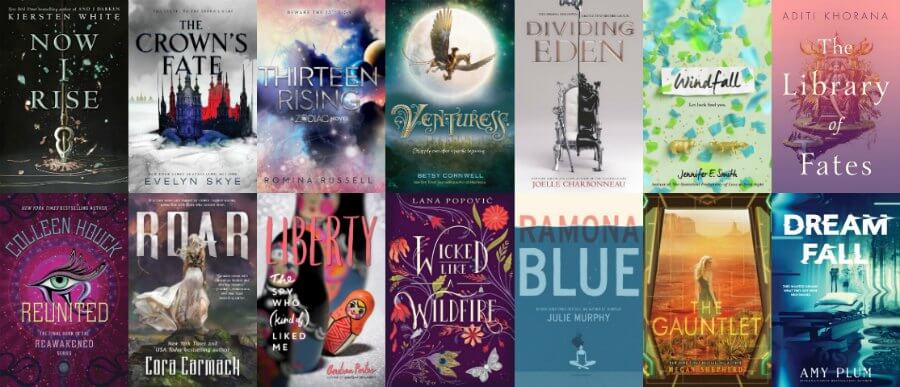 So, lots of pretty this month! I seriously had to narrow it down because there were TOO many! 
Things we need to talk about at this juncture:
It's NaNo time! I am giving this a shot but… we'll see. Want to be buddies? Find me here!  I also will be later than usual responding to stuff, but I'll get there, promise!
It is also my birthday month!

I am less excited about this than I used to be because… being old isn't as fun 😉 

If you are in the US… VOTE. Need I say more? Meanwhile, I will be stressed every second until the end of the election.

(And loooong after it goes badly, I assume.) 

I read two of the books that you chose! The Dead House, The Women in the Walls, and These Shallow Graves were in a three-way tie when I had to pick, so I read the first two! I was… moderately underwhelmed? I am beginning to think that I cannot be scared. (By books, anyway!)
Have a lovely November, and a Happy Thanksgiving if you celebrate such things! Tell me, what is new with you guys? Did you celebrate Halloween?