Vicar Raven here, the last stop on the Vicar Tribunal tour! This is a GTKY sort of blog tour, with a stop at each Vicar's blog. Wait, you ask. What in the fresh hell is a "Vicar"? Yeah, I know, we're getting to it! Remember that time I loved the Air Awakens series by Elise Kova? Well, when she introduced her BRAND NEW series, and asked me to be a part of it, of course I said I'd love to! So, before we get to the tour, let's check out the info about the book, shall we?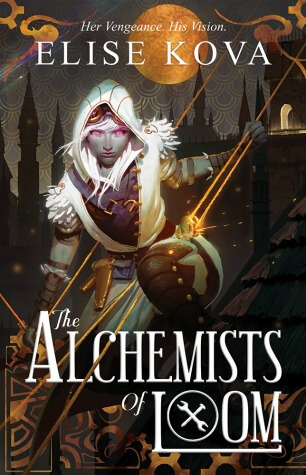 The Alchemists of Loom
by Elise Kova
Series: Loom Saga #1
Published by Keymaster Press
on January 10th 2017
Pages: 380

Her vengeance. His vision.

Ari lost everything she once loved when the Five Guilds' resistance fell to the Dragon King. Now, she uses her unparalleled gift for clockwork machinery in tandem with notoriously unscrupulous morals to contribute to a thriving underground organ market. There isn't a place on Loom that is secure from the engineer turned thief, and her magical talents are sold to the highest bidder as long as the job defies their Dragon oppressors.

Cvareh would do anything to see his sister usurp the Dragon King and sit on the throne. His family's house has endured the shame of being the lowest rung in the Dragons' society for far too long. The Alchemist Guild, down on Loom, may just hold the key to putting his kin in power, if Cvareh can get to them before the Dragon King's assassins.

When Ari stumbles upon a wounded Cvareh, she sees an opportunity to slaughter an enemy and make a profit off his corpse. But the Dragon sees an opportunity to navigate Loom with the best person to get him where he wants to go.

He offers her the one thing Ari can't refuse: A wish of her greatest desire, if she brings him to the Alchemists of Loom.
Preorder On:


AMAZON | BARNES & NOBLE | BOOK DEPOSITORY | BOOKS A MILLION | IBOOKS
---
Introducing… The Vicar Raven and a call to help!
Why did you agree to be a Vicar when the Dragon Queen approached you?
Well, see the intro, basically! Plus, it sounded like fun. I like fun.
What originally attracted you to your guild?
Literally Raven from The 100. Is that bad? I mean, it's true. Because she is badass. And so are the Ravens Guild. See how that worked out?
If you weren't the vicar of your guild, what guild would you want to be the vicar of and why?
Probably the Harvesters, because that's what the quiz told me I should be- but also because it seems to be something I might be able to handle? I mean, I can't see myself shooting stuff like a Revolver, and I am not great at making stuff, so Rivets is out. I get weird around medical stuff, so definitely can't be an Alchemist. I think I could probably be a Raven- I like to get places fast, so that works. But I could probably survive as a Harvester, is what I am saying.
Who is your favorite character from The Alchemists of Loom?
Florence. She and I… well, I think I am similar to her. Like, we're both probably stronger than we give ourselves credit for 😉
What is day-to-day life like in your guild?
I'm going to defer to Hamilton on this one:
What do you think is the greatest challenge facing your guild today?What would you like to address most from your guild in the Vicar Tribunal?
Well. Apparently, a lot of my little minions are getting lost in the Underground. And look, I don't have time to find them myself. So I'd love to grab a few new recruits to help sniff out the missing Ravens. I could cut my losses, sure, but it's a great opportunity to train some new Ravens, especially if we never find these particular Missing Ravens. Have you seen these folks?
So, how can you help? Clearly, keep an eye out when you venture Underground. You can join the Ravens on Facebook or Twitter. And join the Guild Games- really any Guild, though I obviously have a little extra love for the Ravens- right here!  If you just want to check it all out, there will be a #LoomChat on Twitter on Saturday, October 22 at 11pm EDT. Find it here! 
So, have you joined the Guild Games? Think you will? Just want to read the book? (That's okay too!) Let's chat!