Top Ten Tuesday is a feature hosted by The Broke and the Bookish. This week's theme is: All About Books You Read Because of Recommendation — Ten Books I've Read Because Of Another Blogger (Or Book Person) or Ten Books I Read On Recommendation From People Outside Of This Community or you could talk about recommendations of books you read from other sources — a magazine, a podcast, a "because you read this" algorithm.
So… peer pressure made me do it? Sounds legit, yes? Great. These are all books recommended by either one person, or quite close to everyone I know. And my reaction? Well, in lieu of me throwing word vomit at you… I shall give you my reaction in emoji form! (Where applicable, I linked to my review in the "verdict" section!)
Recommended by: Holly @ The Fox's Hideaway
Verdict: 
---
The Raven Boys by Maggie Stiefvater
Recommended by: Holly & Cait @ Paper Fury
Verdict: 
---
The Book Thief by Markus Zusak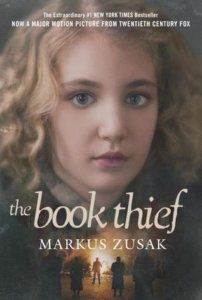 Recommended by: Val @ The Innocent Smiley and The Indecision Games
Verdict: 
 (and also, it was incredible)
---
The Kiss of Deception by Mary E. Pearson
Recommended by: Holly
Verdict: 
---
Recommended by: Jess @ Curiouser and Curiouser
Verdict: 
("Review" coming soon!)
---
Recommended by: The internet;  The Indecision Games
Verdict: 
---
The Hunger Games by Suzanne Collins
Recommended by: Friend from college. 
Verdict: Really? 
---
Dead Until Dark by Charlaine Harris
Recommended by: Mom of former client when I was bored.
Verdict: 
---
Disruption by Jessica Shirvington
Recommended by: Cait
Verdict: 
---
Throne of Glass by Sarah J Maas
Recommended by: Literally everyone ever.
Verdict: 
The series is just so… long.
---
Overall, you guys have pretty great taste! So, thanks!! 
I also like to peer pressure people! Here are books that I shove at people on the regular (links to Goodreads!):
So, which books have you peer pressured people into reading? Did they like it? And what is one book that you would have never read if others hadn't pushed it on you? Were they right?