Raise your hand if you are on Goodreads. Yeah, pretty sure you are. Raise your hand if you participate in the Goodreads Reading Challenges. I'm assuming that most of our hands are still raised, yes?
Okay, fabulous. There are a lot of reading challenges out there, but Goodreads is probably one of the few (and certainly the most notorious) to be based on sheer number of books read. There are other awesome challenges out there that get us to read outside our comfort zone, explore new authors, new genres, diverse books/authors,  finish series… all kinds of good stuff! In fact, here are a few that I either participate in, or want to participate in but never seem to follow through on. But will someday, promise. (These link to their respective sign up pages- it's never too late, y'all!)
And if you are looking for a list of like, every challenge in the history of bookish challenges, Nicole @ Feed Your Fiction Addiction has you covered! 
But that isn't what this post is about. No, those are awesome challenges, and I wanted to share some positive vibes before I get to the question at hand:
Why do we feel the need to challenge ourselves to read all the books?
Here's a little history of my Goodreads Challenges: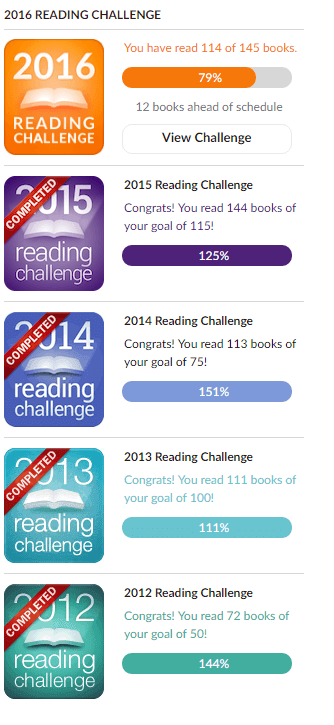 Notice a trend? Yeah, that is me making myself read more and more books every year, even though I have no more time than I did the year before. In fact, in 2012, I only had one spawn, but by the end of 2013, I had somehow doubled my spawn volume. So in 2014 when I tried to be a rational human being and lowered my goal… I still insisted on reading more than before.
And now, even at 12 books ahead, I feel like I need to be more than 12 books ahead. For REASONS. And I don't think I am alone. I know that my friends are all actively trying to beat their goals. Though, I do imagine that they may not be as broken up about it as I would be if I didn't make it.
Really, I feel like I am more concerned sometimes with the amount of reading I do rather than the quality of reading I do. Let's take a gander at why, shall we?
I do not DNF because I can't not finish a book. And while part of that we've discussed before is that I am not great at trusting myself, I will also say that part of it is because I am worried I will be wasting precious goal time.
I stay up wayyyy too late reading. Sometimes it is because the book is awesome, of course, and that is acceptable as a bookperson, yes? But sometimes it's more like "Welp, let's finish this 2-star book so I can check it off and move along".  And that is never a good reason to miss precious sleep!
I get legitimately stressed if I fall behind in my goal. I need a buffer. And then my buffer needs a buffer. It gets out of hand very quickly.
I also can be a little too competitive with my friends. It isn't a great personality trait, tbh.
This isn't to say that it is bad to challenge ourselves to read more! At its core, the Goodreads Challenge is kind of awesome. But for those of us who spend a lot of time not only reading, but then writing about books, talking about books, sharing them on social media… maybe we aren't really who the challenge benefits? Challenge or no challenge, I am going to be reading a lot, let's be real.
I don't think it is all negative either though!

(Otherwise, why would I do it, right?)

There are some really great things about it too! Like…
Reading more! That has to be a good thing, regardless, right?
Getting to be social, cheering your friends on. This is so fun. Even in my competitiveness, I get giddy excited for someone who reaches their goal on my feed! I love to see that, and to congratulate them and all that warm fuzzy stuff!
It totally can encourage people who might want to read more, but may need a bit of motivation. And then, isn't it all worth it really?
It's really freaking fun to do. I can't imagine ever not doing it, just because it is fun to see how much I read!
There are statistics and I like to look at them. Goodreads sorts them for me. Goodreads enables my laziness. Thank you, Goodreads!
So I wrote this because I quite literally need to know WHY? Why do we do the challenge? Why do you do it? Do you think it's a good way to read more, just a source of stress, or both?