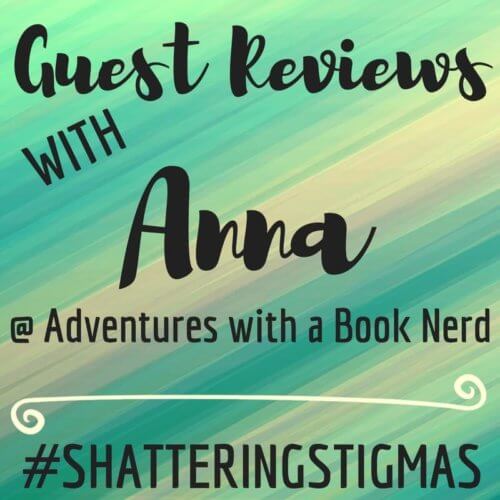 I am so excited to have Anna @ Adventures With a Book Nerd on the blog today to review some mental health books for us! She's going to be sharing her thoughts on Paperweight and Highly Illogical Behavior, so let's see what she thought of them!  
Anna's Reviews
Paperweight
by Meg Haston
Published by HarperTeen
on July 7th 2015
Pages: 304

Seventeen-year-old Stevie is trapped. In her life. And now in an eating-disorder treatment center on the dusty outskirts of the New Mexico desert.

Life in the center is regimented and intrusive, a nightmare come true. Nurses and therapists watch Stevie at mealtime, accompany her to the bathroom, and challenge her to eat the foods she's worked so hard to avoid.

Her dad has signed her up for sixty days of treatment. But what no one knows is that Stevie doesn't plan to stay that long. There are only twenty-seven days until the anniversary of her brother Josh's death—the death she caused. And if Stevie gets her way, there are only twenty-seven days until she too will end her life.
Anna's Thoughts
anorexia nervosa
(n) a lack of appetite for food (as a medical condition)
an emotional disorder characterized by an obsessive desire to lose weight by refusing to eat
bulimia nervosa
(n) instable overeating as a medical condition, in particular
an emotional disorder involving distortion of body image and an obsessive desire to lose weight, in which bouts of extreme overeating are followed by depression and self-induced vomiting, purging, or fasting
~~~~~~~~~~~~~~~~~~~~~~~~~~~~~~~~~~~~~~~~~~~~~~~~~~~~~~~~~~~~~~~~~~
"…and always to offer support. Because we're not meant to walk alone in this life. We're meant to be part of we. Something bigger, something outside of ourselves"
I don't know much about eating disorders. I have never had one, and I have never known anyone with one. So I was excited to go into this book, and I wanted to learn more about eating disorders. While I did learn a little bit, I ended up mostly feeling emotionally detached by the end of it.
In this book we follow Stevie as she is emitted into a clinic for girls with eating disorders. There she resents treatment, has to work through her past, and has to deal with her cabin mates.
In the United States over 30 million men and women are affected with an eating disorder. That's a lot of people! So I was interested going into this book, one of the reasons being that the author herself had an eating disorder. I was expecting a realistic example of an eating disorder, and it seemed to be realistic while still being respectful.
I didn't like Stevie. I'm the type of person who deals with things by holding everything in and not letting anyone see that something is wrong, so I found it kind of annoying that she kept moping and whining. I get that she didn't like her situation, but after a while it just got tiring. On the other hand, I loved Anna. I loved how down to Earth and how understanding she was. I feel like she was the perfect therapist foe Stevie, and she was my favorite character.
I only gave this book 3 stars because there was no connection for me. I like to be able to connect to the book and the characters, but there was none of that in this book. I feel like if I had known someone with an eating disorder or if I had an eating disorder then I would have been able to connect more, but I felt more like an outsider.  
So overall I liked this book! I thought that the overall book was good, but I had trouble connecting with any of the characters making the book less enjoyable for me.
---
Highly Illogical Behavior
by John Corey Whaley
Published by Dial Books
on May 10th 2016
Pages: 256

Sixteen-year-old Solomon is agoraphobic. He hasn't left the house in three years, which is fine by him.

Ambitious Lisa desperately wants to get into the second-best psychology program for college (she's being realistic). But is ambition alone enough to get her in?

Enter Lisa.

Determined to "fix" Sol, Lisa steps into his world, along with her charming boyfriend, Clark, and soon the three form an unexpected bond. But, as Lisa learns more about Sol and he and Clark grow closer and closer, the walls they've built around themselves start to collapse and their friendships threaten to do the same.

.
Anna's Thoughts
agoraphobia
(n) fear of places and situations that might cause panic, helplessness, or embarrassment
~~~~~~~~~~~~~~~~~~~~~~~~~~~~~~~~~~~~~~~~~~~~~~~
"See, Solomon's world wasn't lonely like you'd think. It wasn't dark and sad. It was small, sure, but it was comfortable. Why would it need to be anything but that?"
Let me just start by saying that this book was fantastic. Everything about this book was wonderful. From the characters, to the story, to even the cover, it is such a fantastic read.
In this book we follow Solomon, Lisa, and Clarke during the formation of their friendship. It was really cool to see their friendship form, from Lisa first talking to Solomon, and through the rough patches that they faced.
I loved Solomon in this book. He was just so cool! He liked to read, and watch Star Trek, and joke around with his family. It was so cool to see that John Corey Whaley made Solomon like the same things that so many other people like. I liked Lisa, but I didn't love her. I thought that her overall motive for everything was kind of selfish, but I understand why she wanted to do it; I ended up liking her more by the end of the book.
I ended up loving what I least expected to be in this book; I loved the humor. It was actually pretty funny, not like some books where the humor pops up out of nowhere and makes no sense. It was really well placed. You have to be careful about mixing humor in really serious parts of books, and just any book that talks about a more serious topic. This book did it wonderfully. It had me laughing, crying, and cringing at all the right moments.
So overall, this was a fantastic book. With lovable characters, funny dialog, and a heartwarming story this a book that I highly recommend.  

See welcome post for all the details; terms and conditions are in the Rafflecopter!
a Rafflecopter giveaway

Have you read these books? Thoughts? I reviewed Paperweight, but haven't read Highly Illogical Behavior yet! 
And a huge thanks to Anna for reading these books and sharing her reviews and thoughts with us!!