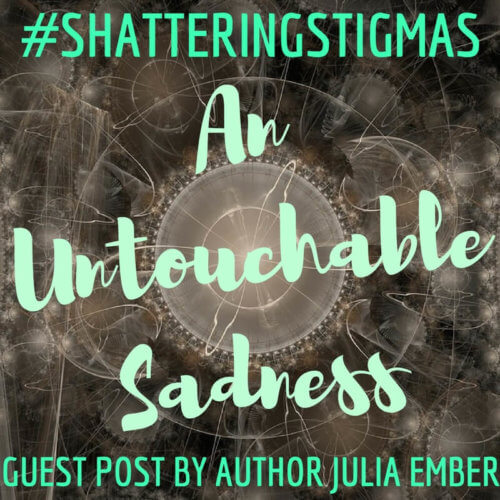 I am so very happy and honored to welcome author Julia Ember to the blog today!! Her post resonates with me so, so much. It brought me to tears, frankly, and the message she offers is one that we absolutely need to remember. I defer to her amazing words. 
---
Julia's Post
AN UNTOUCHABLE SADNESS: OVERCOMING DEPRESSION & SUCCEEDING BY FAILING.
I still remember lying next you in the dark. Your whole body was wrapped around mine. Your legs wove between my thighs and your hands rubbed my back in circles. I was curled in on myself, my fingers covering my face. My body shook and I couldn't stop the tears.
What's wrong? You would ask. I still remember the desperation in your voice and the way your warm breath caressed the back of my neck. Just tell me.
I would shake my head, and succumb to that knot of loneliness that gripped me, even though you were right there.
When you have depression, there is often nothing people can do or say to warm that ice inside you. Add OCD into the mix – a little voice that screams that you are not worth it, that the people around you resent you, that everything you fear is the truth – and you become untouchable. Nobody can sneak past your walls. Your heart is guarded.
While I've suffered on and off and to varying degrees with depression and anxiety all my life, I wouldn't have called it 'major' depression until the second year of my PhD program in Scotland. The combination of stress, expectations and a topic that no longer interested me, drove me to self-harm and near despondency. I felt alone in my job and too far away from my family. But, I couldn't fathom quitting. I'd never quit anything in my life. And quitting school seemed far too close to failure.   
After a while, days started blurring together. I no longer really cared about taking care of myself. I gained 40lbs and skirted by in the academic program. The girl I was in love with couldn't cope anymore. I think she felt like she was pouring her love and affection into an endless vacuum. She broke up with me and I didn't get out of bed for a week.
But when that week was over, I started realizing that I'd ascribed too much of my self-worth to that relationship. I didn't have anything else to focus on. I hated my PhD and felt like a failure whenever I sat down to write. To get better, I had to reinvent myself. I tackled the hurdle of quitting my PhD. First, I told my parents about the on-going self-harm. I'd been cutting my legs with sterile needles and letting blood with syringes. I still have the scars; the brands my illness left behind.
With my parents' support, I placed myself on medical leave from the PhD program and sought out other things to do. At first, I doubted myself constantly. If I didn't become an academic, what was I good for? I'd been training for it all my life, and to just walk away after putting in so much work seemed next to impossible. I'd literally bled for my degree. I placed myself on medical leave to give myself that escape back into academia, at least for a semester.
But, I never went back. It turns out that failing was actually a success. By allowing myself to 'fail,' I opened myself up to new opportunities. I found a job that I liked. I wrote a novel, then another one. I started a new relationship.
I suffered with major depression for almost two years before I made that decision to quit. I wish I could say that it's vanished. It's still there, looming like a kind of dark presence at the periphery of my thoughts, but it no longer seeps into everything. I've learned that on my bad days, to hold on to the knowledge that some day the light will come back.
But I've also learned that you can't depend on other people to carry the torch for you. No matter how badly they might want to. No matter how hard they will try. There will be people who abandon you when you think you need them the most. Their ability to help you was always going to be limited, even though easy to resent them for not being strong enough to complete an impossible task. It's up to you to feel their love in the moment, to remind yourself that you have worth and that you're not alone. There is nothing more intimate than your relationship with yourself, and nothing more devastating than self-hatred.
Tell yourself every day you are worth it all. Until that untouchable part of you finally starts to believe it. It's the only battle that matters.
Find Julia's Books:

See welcome post for all the details; terms and conditions are in the Rafflecopter!
a Rafflecopter giveaway

Do you agree that sometimes you need to quit, need to fail, in order to move forward? I do, though it took Julia's story to make me think about it this way- and for that, I am so very grateful. 
And a huge, huge thank you to Julia for sharing her story. Leave her tons of love! ♥