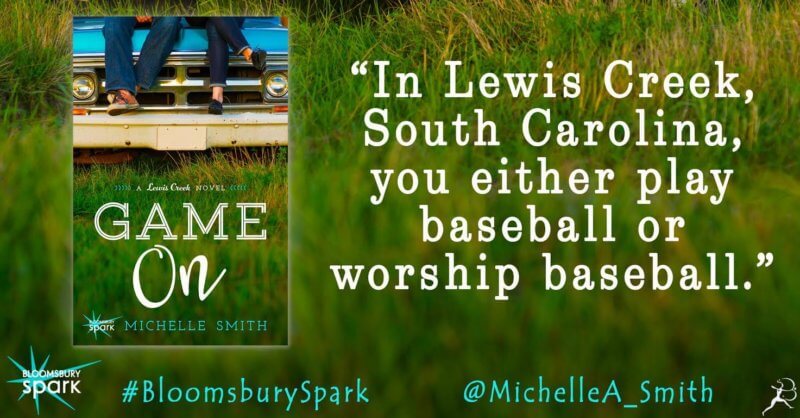 Welcome, welcome, to my stop on the blog tour for Game On by Michelle Smith! I read Play On at Holly @ The Fox's Hideaway's urgent insistence, and I was so glad I did- I fell in love! And so, when Game On was coming out, I was definitely excited- and wondering if I could love Eric's story just as much as Austin's. Well, spoiler alert: I liked it even better. How!? I don't know, magic, I guess. Michelle Smith has to have the magic writing brain, because she got me to love not one, but two stories about a baseball town! I tell you this because if you think "meh, I don't care about baseball"… neither do I! But I loooove these books. The characters are so incredibly real, and while the stories are awesome, there is a ton of substance to them too.
Anyway, I think I am getting off track! So, Bloomsbury and Michelle were so, so kind when I explained about #ShatteringStigmas (Michelle actually did a post last year that blew me away, and will be on Holly's blog on Sunday, so make sure you check her out there, too!) and let me do a tour post that works with the event. So what I am saying is, they're all the best. Now, without further ado… Michelle's post!
Four Self-Care Lessons I Learned from GAME ON
Game On was a book that challenged me to the very end. I drafted it, then rewrote it from the beginning to add Bri's point-of-view, and then revised the heck out of it some more. But writing that book taught me so, so much about myself, and for that, it'll always hold a special place in my heart.
1) If someone is dragging you down, it's okay to let them go.
I'm not saying you have to be a jerk and cut people off cold-turkey if they breathe wrong around you. What I'm saying is that, if someone is causing you more strife than peace, if someone is making you feel like you're hard to love, then maybe it's time to reconsider that person's place in your life. A large part of Game On is learning that, at the end of the day, you really and truly don't have to live your life to make other people happy. Live it to make yourself happy.
2) Embrace the quiet moments.
Sometimes life gets really, really loud, and our thoughts start screaming to be heard above the outside noise. Take five minutes, an hour, or even a few hours to just sit back. Watch a sunset, match the constellations, read a favorite book, take a walk, play with your dog…anything that helps you—and your thoughts—slow down? Embrace it.
3) Ask for help.
Friends are our friends for a reason. More often than not, they want to help us out of our funks. They want to see us happy. And if you're in a place where you feel like you need a professional, that's 100% okay—reach out. Make that phone call. It can be tough, but it's so very worth it.
4) Hold on to the ones who stay.
This is where I'm going to be straight-up with you guys—I've been through some crap in the past year. Like, crap I never would've imagined having to deal with. I've screwed up more than a few times, and I've learned from those mistakes. And life gave me a handful of friends who have stuck by me through that crap, through the ugly moments and the days when I didn't feel very loveable. If you have friends like those, if you have people who'll always tell you the truth and still let you cry on their shoulder when life spins out of control, hold on to them. Cherish them. And love the heck out of them.
About Game On
Game On
by Michelle Smith
Series: Lewis Creek #2
Published by Bloomsbury Spark
on August 16th 2016
Pages: 328
Format:eARC

As king of baseball in the small town of Lewis Creek, Eric Perry can have any girl he wants and win every game he plays. But when a fight lands him in jail, he's only got one more strike before his baseball career is over for good. His only chance for redemption? The girl next door, Bri Johnson.

Bri hasn't talked to Eric in months— for starters, she's been too busy dealing with her jerk of an ex-boyfriend, not to mention the fact that Eric's been preoccupied trying to drink every keg in the country dry. But when he needs a way to stay on the team, she proposes a plan: if he helps her out with community service, he can stay on the team. At first it's a nightmare—Eric and Bri stopped being friends years ago, surely that was for a good reason, right? But as volunteering turns to bonding over old memories of first kisses under the stars, they start to have trouble remembering what pushed them apart.

In a town as small as Lewis Creek, nothing stays secret for long and their friendship and romance might mean bad news. But in this final, tumultuous spring before graduation, Eric and Bri are about to realize that nobody's perfect alone, but they might just be perfect together.
Bloomsbury is offering an ebook of Game On to THREE lucky winners, so be sure to enter!! 
a Rafflecopter giveaway

Oh, and since this is still technically #ShatteringStigmas, feel free to enter the giveaway for that– if you got entries for Bloomsbury's giveaway, use 'em for mine, too!
Thank you so much to Michelle for sharing this with us- it is so, so important to remember to take care of ourselves, even when (actually, most especially when!) we are writing amazing books 😀 
Do you guys have any self-care tips to share??