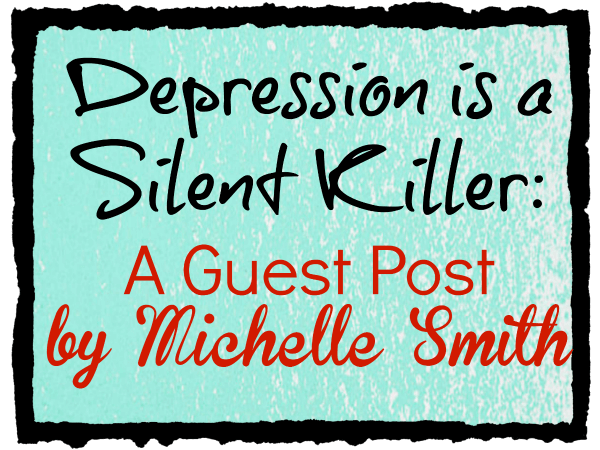 I am so incredibly honored to have author Michelle Smith here today to share her story with us. I'd known of Michelle via her books for some time (as Holly and Danielle fangirl like no other over Play On!) but it wasn't until Holly mentioned that Michelle had experienced mental health issues as well that I found her story. I realized that Michelle and I had quite a bit in common, and I don't think I have ever typed an email faster in my life! When I heard back from her, I was so excited- I knew you guys needed to hear her story too. Here it is!
---
Depression is a silent killer.
It's something I'd heard before, a tagline that was scattered across random medication commercials and the occasional mention in a health book, but the concept never really made an impact on me. I never understood how depression could creep into your life completely undetected until it was almost too late. I never understood that it didn't wait for something bad to happen, or for you to have a "reason" to be depressed.
I didn't understand that it was a silent killer until it nearly killed me.
I'm gonna take y'all back to 2010. That year brought a new baby and a move back to mine and my husband's home state of North Carolina after spending a year in Florida. Stressful, yes, but overall, it brought excitement from every direction. Our baby was happy and healthy. My husband had a great job. I had the privilege of staying at home with our son. We were surrounded by family and friends. On the outside, our lives seemed perfect. But me?
On the inside, I was screaming. And I wasn't even sure why.
I mean, I knew that I should be overwhelmed with joy, even if I was in a perpetual state of exhaustion, but the only thing overwhelming me was emptiness. Although I was surrounded by people, I felt lonelier than I'd ever been.
I cried all the time. I cried when my son cried. I cried when he laughed. When my husband was at work. When my husband was home. When everyone else was sleeping.
At my six-week postpartum checkup, my doctor told me it was simply the baby blues. That it would pass. That I was just hormonal.
(Side-note: This isn't his fault. I'm not blaming this on him. But at the same time, writing someone off as "hormonal" when they're suffering from postpartum depression could very well be the same as signing their death certificate. So perhaps we should go a little more in-depth with the postpartum checkups.)
But I digress.
Over the next two years, I spiraled further and further down the darkest tunnel I'd ever faced. I can barely tell you anything that happened in those two years because it's mostly a fog. If it wasn't captured in a picture or written somewhere, I won't remember it. For two years, I learned how to convince people that I was "fine," despite my weighing only 90 pounds. I told them I was "fine," even though I spent most of my nights crying.
I told them I was "fine," even though I was dying inside. Which is why I've come to really hate the word "fine."
It's hard to describe depression to someone who's never experienced it, but one way is this: Imagine falling into a dark twenty-foot hole, and no matter how many times you search that space, no matter how many times you feel the walls or circle the area or strain to see what's above, you can't find a way out.
You can hear people above you. You can hear their murmured laughter and chatting. You can hear them carrying on with their lives. Some of them know you're down there, but they're waiting for you to find your own way out because hey, you fell in the hole. Some of them know you're there, but have no clue how to help. Some of them don't even realize that you're trapped because even though you're screaming on the inside, you don't speak a word.
Imagine the stages of panic, of terror, of hopelessness that you'd go through.
That kind of touches the feeling of depression.
Two years is an awfully long time to be trapped in a hole. And one night, I decided I'd had enough. I was alone on the bathroom floor behind a locked door, sobbing uncontrollably with an aching heart that was just done: done with the loneliness, done with the emptiness, done with the pain that comes from both feeling too much and nothing at all for far too long.
That night, I cried. I begged. I prayed. But when you beg for help that doesn't seem to come, when you've been suffocating in silence for years, your fight…it gives out.
And that's when help came.
I was moments away from taking my own life when I heard a voice, as clear as someone sitting beside me, say, "Stop."
I've told this story a few times. Most of the time, people will smile at this point. And sometimes, people look at me like I just grew four heads. But I'll tell you this: That moment broke through the fog, and it broke through the tears, and it made me pause long enough to push myself to my feet and walk out of the room. And that's why I'm still sitting here today.
The next day, I had an appointment with the same doctor who'd once diagnosed me with the baby blues. But he was swamped and overbooked, so he sent in a midwife I'd never met. It pretty much went like this:
She asked how I was.
I told her that I was just fine.
She pulled up a chair. Told me that I wasn't. Looked me in the eye and asked me to tell her what was really going on.
This woman, this stranger, was the first person to call me on my act. She's the one who wrote a prescription and set me up with a therapist. So please, don't ever believe that one person can't make a difference. One person can literally save a life. Within days, I was on medication and sitting in a therapist's office. I haven't seen that midwife since, but I'm forever in her debt.
The thing about depression is that it isn't a one-and-done fight—it's a daily battle. And you go through seasons of different things working at different times. For a while, I was on a steady stream of meds + therapy + diet changes + regular exercise. After some time, my doctor and I agreed that I no longer needed meds. And even further down the road, I stopped going to therapy.
I…do not recommend this. Not if you haven't come to a mutual decision with your therapist and/or doctor, or if you and your therapist aren't on the same wavelength. Seriously, this is one of those "do as I say, not as I do" things. Because for a while, I was fine—thriving, even.
And then I wasn't.
You see, I got an invitation to participate in this event when I was right in the middle of another episode.
The upside (for lack of a better word) to having a depression diagnosis is that you can usually recognize your tell-tale signs. I realized I was going into another downward spiral a few weeks ago when the irritability hit. When exhaustion was constant. When I had zero interest in writing anything at all. When I wanted nothing more than to be alone. One of the many downfalls of depression is that it makes you crave solitude, when solitude is the absolute last thing you need.
So here's the thing: I'm back in therapy.
(Rolling up into therapy like "hiiiiii, thanks for existing!")
There's a possibility that I'll go back on meds. And I'm okay with that. Again, we go through different seasons, and in some seasons you'll need more help than others.
Remember the hole that I used to describe depression? It's hard to see through the fogginess, sometimes nearly impossible, but there are amazing people standing at the top who'll toss down a rope and guide you as you work your way out. Those people are out there. They are. I promise. There are doctors and therapists, family members and friends, teachers and counselors. If you truly have no one in your circle that you feel can trust, call a lifeline. If you're in a state of emergency, call 911. Go to the hospital.
Fight for yourself. Fight for your well-being. Fight for your life.
One of the big lies that depression loves telling is that you're worthless. That you don't matter. That your story doesn't matter. But there's a key word here: lies.
Depression is lying.
It's lying.
Repeat that. Keep repeating for as long as you have to.
I know what it's like to be tired.
I know what it's like to feel worn.
I know what it's like to be scared.
I know how hard it is to open up to someone, to actually reach out and say, "I need help." The thought can be downright paralyzing. People often say that asking for help is one of the bravest things you can do, and I agree wholeheartedly. But it's also a necessity for survival.
You have to realize that you're worth saving. And if you don't believe that, then believe me when I say that you are so, so worth it. Please believe me.
Your best days are not behind you. Your story is only just beginning. And life may not always be perfect, but it can be so very beautiful.
Michelle's Books:
(Pictures link to Goodreads!)
Buy Play On: Amazon | Barnes and Noble| The Book Depository| Books-A-Million
Pre-order Game On:  Amazon
Buy Kingdom Come: Amazon | Barnes and Noble | The Book Depository | Books-A-Million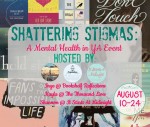 ---
I want to thank Michelle so, so much for sharing her story with us! This hits home for me in so many ways, I cannot even explain the impact Michelle's story has had on me. This is the most accurate description of the isolation and impact of depression I have ever read, and her message is so incredibly important. 
For any mamas out there: "baby blues" and "hormones" only last a few weeks- so if you are still feeling bad, please, please talk to your doctor about the possibility of PPD. No one should have to suffer in silence.
I don't think I can formulate words to ask you a question today, so let's just talk. Do you have any experience with depression, baby blues, or anything similar? Or if you don't, I will take a lighthearted story about unicorns. Or kittens, or cheesecake.