Welcome to my stop on the blog tour for the fabulously amazing The Love That Split the World by Emily Henry! 
Today, Emily is going to share with us her ten favorite things! I love lists, and I love GIFs, and so Emily basically wins! Then, I shall give you a review, which will be less of a review, and more of me screaming "I love this book" and throwing it at you.
Onto Emily's Favorite things!! 
Top 10 Favorites
Donuts/potato chips/potato chip donuts: Obviously I (hopefully) could survive without ONE of these things, but highly doubt I could survive without BOTH of them. I eat a lot of both. It actually started when I was in college. I was in a dance company (plus took dance classes), so I danced anywhere from five to ten hours a day, and one of the only things open when rehearsal ended was a nearly-24-hour donut shop. My roommate and I would go straight there and buy a dozen day-old donuts for $6 dollars and be so hungry we'd proceed to eat ALL of them. Now that I don't have that lifestyle I have to be more cautious about my donut intake, but I'm really bad at that.
Strong, beautiful, independent women who love themselves and love me. It's been incredibly life-giving for me to get to know women who work to love and like themselves and who love me deeply and unconditionally, but also challenge me. So basically, I'm saying, I need friends around me, but it's especially good for me to have woman-friends who are doing what they love and supporting one another vehemently.

My husband (he makes the coffee in the morning): I need him for so many reasons. He also did the dishes today. He also took me to a Beyoncé concert. He also is the best person I know. (And this was a way for me to sneak coffee in too.)

My husband's Batman pajama pants (guess who actually wears them)/fuzzy socks/very fuzzy blankets: Basically I need an assortment of fuzzy things I can wear/drape over myself so it's extremely easy to do this.
Beyoncé making music: It's not just about my being able to listen to it (which also matters a lot), but it would just make me sad to live in a world where she wasn't making music. She has to be! She's too talented to not.

At least one dog in my life: My family pooch passed away this summer, and it still makes me incredibly sad on occasion. She really was one of my best friends, and I miss her presence a lot. However! As much as we all miss her, there's really no shortage of dogs in our family. My in-laws have four, my parents have one, and each of my brothers have one. Between us there's a poodle, two pitbulls, a maltese mix, a bichon frise, a great dane, and a chihuahua mix.

Connie Britton's hair: Look at it.

Hermione Granger: Without her, Draco might never have been punched.

Rookie Magazine: Mostly I wish Rookie had existed when I was a teen. It's so powerful, beautiful, and diverse. I love that it gives incredible teens such an amazing platform, and I extra-love that I get to share a publisher with their yearbooks.
Lake Michigan: It's just my favorite body of water. I especially love it in winter, when huge chunks of it freeze and you can walk across it (like in the picture). You can walk to the edge and sit down and look down to the unfrozen part, and it's amazing. I feel really connected to Lake Michigan.  
---
I feel like Emily and I would get along fabulously! Coffee, food, kickass women, and Lake Michigan? Sign me up! (But I am going to swing by in the summer, if that works for you 😉 ) 
So… want to know how I feel about this loveliness? Of course you do!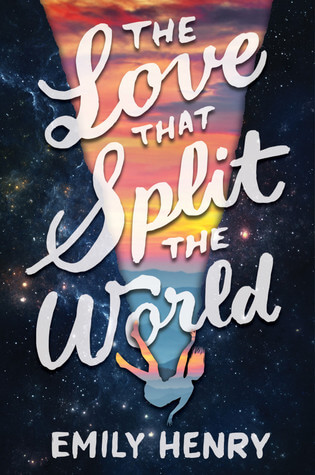 The Love That Split the World by Emily Henry
Published by Razorbill on January 26th 2016
Pages: 400


Natalie Cleary must risk her future and leap blindly into a vast unknown for the chance to build a new world with the boy she loves.

Natalie's last summer in her small Kentucky hometown is off to a magical start…until she starts seeing the "wrong things." They're just momentary glimpses at first—her front door is red instead of its usual green, there's a pre-school where the garden store should be. But then her whole town disappears for hours, fading away into rolling hills and grazing buffalo, and Nat knows something isn't right.

That's when she gets a visit from the kind but mysterious apparition she calls "Grandmother," who tells her: "You have three months to save him." The next night, under the stadium lights of the high school football field, she meets a beautiful boy named Beau, and it's as if time just stops and nothing exists. Nothing, except Natalie and Beau.

Emily Henry's stunning debut novel is Friday Night Lights meets The Time Traveler's Wife, and perfectly captures those bittersweet months after high school, when we dream not only of the future, but of all the roads and paths we've left untaken.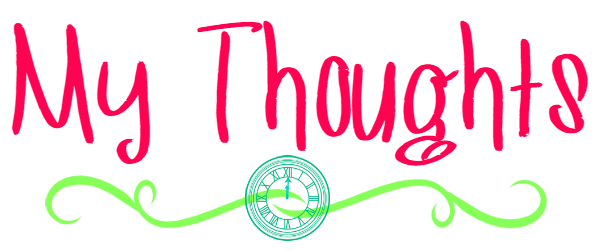 It's a good thing that I never made this graphic to say "my coherent thoughts" because we'd be out of luck. Since there really wasn't anything I didn't like (though I will say that I was iffy for the first couple chapters- so know that going in, because it gets amazing and you do not want to miss out), I am just going to tell you what I did!
The characters were amazing. They were very well fleshed out, and I loved them. Friends and family were very key, even though there's also a very ship-worthy romance. I liked that there could still be a focus on family and friends while the romance built! Plus, the characters just seemed so, so real. You could really just see why they were making certain choices, because what they were doing truly fit the personalities that had been carved out for them.
The plot is glorious! It's definitely unique, and definitely held my attention. I wasn't really sure how it would all work out, and I was really thrown by a few twists- in a very good way! I was kept guessing the whole time, and since I was so invested in the characters, the stress and emotions were high!
The feels were intense. I think that because the world building, plot, and characters were so well developed, I couldn't help but feel all the emotions during this book. There were swoons, and chuckles, and tears, and I loved it.
Bottom Line: It's glorious! I love it, and I would throw it at any and all of you so you can read it too. Oh, and it totally doesn't hurt that the cover is gorgeous too. But the insides definitely match the outsides, no question!

What say you? Does this sound like a book for you? (It is, you don't have to wonder.) Do you share any favorite things with Emily?
And a huge thanks to Emily for stopping by and sharing her fun list!! 
If you'd like to check out the rest of the tour for more of Emily's fun posts and info about The Love That Split the World, follow along!