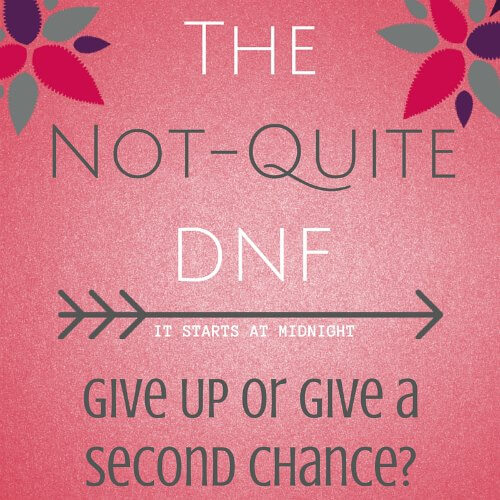 As a lot of you may know, I am a very bad DNFer. That doesn't mean I do it all the time; on the contrary, I do it almost never. Even when I should. Last year, I DNFed one book. I should have at least done it with five. Or twenty. Whatever. My point is, I don't do it a lot, okay?
But I do put down a book "until later" from time to time. I say "oh yes, I will come back to this one, now is just not the right time". And then, you know, never pick it up again. The catch? I want to! I want to see if it will work for me. Something about it seems promising enough that I would like to continue, but I don't want to waste my time either.
A conundrum, folks. And this is where you guys come in!
We're going to chat about these books. And you can vote on whether I should go ahead and finish them, or just leave them to be permanently unread. 
(Random sidenote: Oddly, almost all of these are ebooks. I wonder if that is a reason? Someone should do a study…)
How Far I Made it: 10%
Why I Stopped: Sigh, I don't even remember anymore! I think I was a little bored in the beginning. Some stuff was happening in space, and I think I didn't care. Plus, it had just been released and I was a newbie blogger with no one to help with this important decisions. Now that everyone loves it… shall I try again? 
Loading ...
How Far I Made It: I think around 15%? I don't really remember and am too lazy to look.
Why I stopped: The characters started making me mad. They seemed super young, and I wanted to hit most of them and tell them to kindly get their act together. And who knows, maybe they do! That'd be nice!
Loading ...
Book #3:Summer on the Short Bus by Bethany Crandell
How Far I Made it: Page 59 (Out of 256)
Why I Stopped: This was a hard one to put down, because I won it, and the author was so nice, and it wasn't that the writing was bad. But the main character is awful. And I know she is supposed to be! But she was making fun of kids with disabilities and such. And after spending almost four years working with (and being super protective of) a kid with autism, it was hard to read.
Then when she was making fun of kids with disfigurements and my little guy was in the midst of his major surgeries… I just wanted to punch her. I think the whole point is that she stops being a jerk, but I don't know, hence the poll. 
Loading ...
Book #4:It's a Wonderful Death by Sarah J. Schmitt
How Far I Made It: Like, 4% or something equally sad. 
Why I stopped: Literally no idea. I was in a reading slump, honestly. It was not grabbing me, not that I gave it time to. I just quit. And then told myself I wasn't quitting, but "waiting for a better time". Lies.
Loading ...
Book #5:Hunger (Gone #2) by Michael Grant
How Far I Made It: 6%
Why I Stopped: Aside from the fugliest cover in all the land? Okay, this book is long. 612 pages long. Every book in this series could split into its own six book series. It's like some kind of fungi that can make itself into a whole species of books. I digress. I didn't not like Gone, but it was also long, and a little tedious at times. 
I have heard this gets better though. And the new covers aren't as ugly, so if I keep going with the series, I won't have to see these again. After those 612 pages, I mean. 
Loading ...
Book #6:Becoming Darkness by Lindsay Francis Brambles
How Far I Made It: I am pretty sure it was 1%. It was definitely only one chapter.
Why I Stopped: I was confused, because it was Hitler, but then it was also vampires? But then the characters were chatting about the beach and stuff, and I just wouldn't do that if I happened to be involved with Hitler and vampires I guess? 
Also, it was long too. 
Loading ...
So, have you had this problem with any books lately? Where you have no idea if you do or do not wish to continue? And do you feel like it's easier to quit an ebook than a physical book like I do?
P.S.- Stay tuned for Part 2 in which I will ask about books that I wanted to read and then heard bad things about and am now afraid of!