Sometimes, I read a book, and it makes me stabby. You know, the kind of book that you simply cannot fathom how it was able to make it all the way to you without someone yelling "Stop the insanity!". Or the book that you love so much for reasons, but it's just amazing, okay?
This post is zero percent about that type of book. This is about what, to me, is the most mystifying type of book there is: The "Why don't I like you more" puzzlers. You know, the books that everyone has loved, and you feel like you should probably love too. Because there is no reason that you don't love it. I am rambling.
This thought process started over a book you might have heard of, released this year. Six of Crows? I have heard a few people here or there reading it. Kidding, of course, everyone and their mom has read and loved it.
You know, just this bad boy. The lovely quote art print is from Evie's Society6 Shop, and it's amazing.
Don't get me wrong, I liked the book. I just didn't feel any overwhelming feelings about it. Or another book that I read around the same time. And when I was writing reviews/rating stuff, I realized something: That was a really rough couple of weeks for me, personally. I was in a bad way. I was bummed out and weepy and overwhelmed. And I found myself just not that into the book. And as the reviews poured in, I started to wonder if I was black sheeping again.
But I also knew that I loved the characters, and was curious about what was going to happen, and adored the writing. So what was my problem? That is when it hit me. It wasn't the book at all. It was me. Or more accurately, my funk. Would I have enjoyed any book at that time? I thought about it and came to a conclusion: Probably not.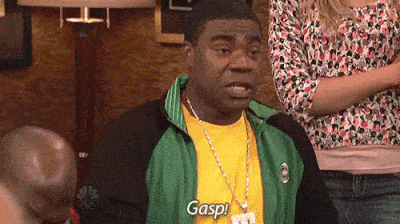 It got me thinking: could this be true of any book I have read? What if I had read The Hunger Games when I was in the worst mood ever? Or wouldn't it have mattered if it really was the best book you've ever read? Obviously, my plan is twofold:
To ask you. Tell me, has this happened to you? Is this normal? 
To re-read Six of Crows and then decide: Book, Me, or a combination of both?
So, a quiz! Even though you likely already know where you fall, I like making random quizzes with stupid gifs, mmmkay?

So, what do you think? Do you think you feel differently about books depending on the kind of mindset you're in?