Welcome to my stop on the Among the Shadows Blog Tour! This book sounds so deliciously creepy, and I adore the authors who've collaborated to put this anthology together! Today I am going to share some info about the book, an excerpt from author Geoffrey Girard, and a giveaway where you can have a chance to win your own copy!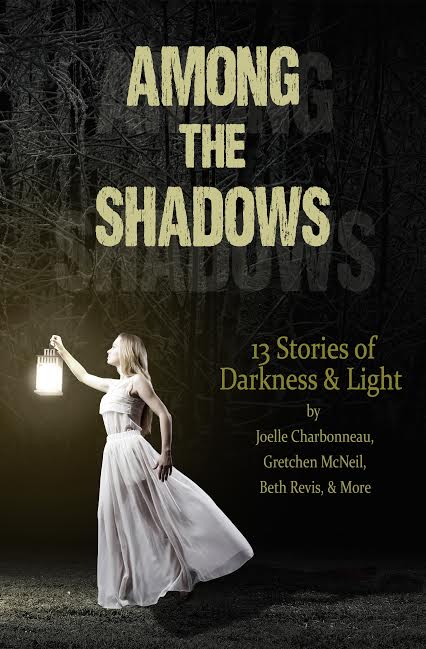 Title: AMONG THE SHADOWS
Author: Lenore Appelhans, Beth Revis, Joelle Charbonneau, Kelly Fiore, Lydia Kang, Demitria Lunetta, Geoffrey Girard, R.C. Lewis, Justina Irelenad, Mindy McGinnis, Phoebe North, Gretchen McNeil, Kate Karyus Quinn
Pub. Date: September 14, 2015
Pages: 276
Formats: Paperback, eBook
Find it: Amazon, Barnes & Noble, iBooks, Goodreads
Even the lightest hearts have shaded corners to hide the black thoughts that come at night. Experience the darker side of YA as 13 authors explore the places that others prefer to leave among the shadows.
An Excerpt- Not Fade Away by Geoffrey Girard
"Unterburnnnagown."
She tilts her head closer, like she does every time, forcing a polite smile. The other residents at this table are already cleared, waiting for someone to bring walkers or transport a wheelchair. "I'm sorry," she says. "What's that, Mr. Kurtz?"
"Therr goondaburnittudagrrownd."
"Is that right?" Beth still hasn't really heard him yet but his tone sounds like a declaration of some kind, and a reassuring "Is-That-Right" usually does the trick. It suggests she's listening, open to learning something new. Old people like that.
"All done, Mr. Kurtz?" she asks.
Mr. Kurtz looks away and waves his hand at the plate with an accompanying "Bah" straight out of Ebenezer Scrooge. She freezes. Flushes. Almost four months at Heritage Springs and it still makes her nervous when they get angry. Always a jolt. Most of the time, they don't get, well, anything. Just kinda sit there. Waiting.

1 Paperback of AMONG THE SHADOWS & Signed Swag Pack! US Only.
Follow the Tour!
9/7/2015- A Backwards Story– Excerpt- Lenore Appelhans
9/7/2015- Bookhounds ya– Excerpt- Beth Revis
9/8/2015- The Book Cellar– Excerpt- Joelle Charbonneau
9/9/2015- The Cover Contessa– Excerpt- Kelly Fiore
9/10/2015- Fiction Fare– Excerpt- Lydia Kang
9/11/2015- Ohana Reads– Excerpt- Demitria Lunetta
9/12/2015- It Starts At Midnight – Excerpt-Geoffrey Girard
9/13/2015- The Bibliophile Chronicles– Excerpt- R.C. Lewis
9/14/2015- Creatyvebooks– Excerpt- Justina Ireland
9/15/2015- Please Feed The Bookworm– Excerpt- Mindy McGinnis
9/16/2015- Seeing Double In Neverland– Excerpt- Phoebe North
9/17/2015- She Dreams in Fiction– Excerpt- Gretchen McNeil
9/18/2015- Curling Up With A Good Book- Excerpt– Kate Karyus Quinn