Hi everyone! Welcome to the last guest post (don't worry, not the last post post, you just have to listen to me again 😉 ) for #ShatteringStigmas! Today's post comes to us from the lovely Erica @ Novel Ink. Some of you may remember Erica sharing her cousin Patrick's story several weeks ago. When we talked about her sharing more of his story during this event, I cried. When I read her post, I cried even more. But it's hopeful, guys. It's hard, but it is hopeful. And it honors Patrick's life and memory in a way that nothing else could.
*Please do take note that this is a story about suicide, and therefore does contain content that may be a trigger for some. 
The first thing that I want to say before going on with my story is…never give up, never lose faith and to always have hope. My aunt whom lost her son started to give up, lose faith and didn't have much hope for her future. She lost sight of what was going on around her, she lost herself in the midst everything and felt like everything was a joke. Her son was 29 years old, his name is Patrick Joseph Jarrett, and he was one of the most amazing guys you could have ever met. We lost him to his battle with depression as he took his own life.
Today I want to talk to you about how having faith, hope and never giving up led my aunt to finding herself again and seeing Patrick in another way. When Patrick passed away his dog Zeeke was with him. They both were in his basement for two days before he was found. As the dog stuck by his side through the whole thing. They were best friends and even though Zeeke is a dog you know they feel just as much as we do. Now, Zeeke will always go to the basement and just lay down there for ages, which I assume is his way of seeing his best friend again.
My aunt kept Zeeke as she saw Patrick through him. We always felt like Patrick was always with us, but we never actually knew or not. Until one day, my grandmother wrote my aunt a haunting, but oh so beautiful letter. In this letter she spoke to my aunt (this was on the one year anniversary of his passing; July 6, 2015). My grandma said that two days earlier as there was a rainbow outside (the day of Patrick's funeral there were rainbows and now that is our symbol for him) she felt like Patrick was trying to speak to her. He came to her and told her that she was sorry for all the pain that he has caused us and especially the pain he had caused his mother and brother. He wanted to let everyone know that whenever Zeeke gives a kiss, it's him giving us a kiss. Whenever Zeeke jumps up and gives you a hug, it's him giving you a hug. Whenever Zeeke smiles (which he does, you do a little pinch of your fingers and that cute dog shows us the greatest smile), it's him smiling. Patrick told my grandma that he is living through Zeeke and he is with his mom every day and every night, watching over her.
As I wonder whether my grandma wrote this letter to give my aunt hope and faith on a horrible day or whether she actually "spoke" to Patrick. Either way, it's a wonderful thing to see. It is a glimmer of hope, it's a glimmer of faith and it shows not to give up. Just because Patrick passed away that does not mean he is gone forever. He is with us every day through his best friend.
What I want you guys to take away from this story is that even if something traumatic happens to where you don't think you'll be able to get back on your feet again there always is hope, faith and love in the things nearest and dearest to you. If you find hope in a pet, a rainbow, or even just your heart take it with every ounce of your being. Never let it go and just hold on because that is your loved one with you and they love you with all that they have.
We love you, Patrick Joseph Jarrett and a happy 30th birthday (August 24, 2015).
About & Where to Find Erica
I cannot thank Erica enough for sharing her family's story with us. It touched my heart, and I don't think I will ever forget Patrick or his family's story. As a mom, my heart goes out to Patrick's mom, and she will forever be in my thoughts and prayers.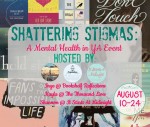 Anyone have a story to share? Some love for Erica perhaps? This also probably calls for stories about unicorns and cheesecake again, just saying.