These are all my November books, including a Blog Tour review of Good Girls Don't Die by Christina Henry! These were all solid books, so good work, November!
Good Girls Don't Die by Christina Henry
Chaos Terminal by Mur Lafferty
Mothtown by Caroline Hardaker
Calamity by Constance Fay
Last Girl Breathing by Court Stevens
Swarm by Jennifer D. Lyle
The Temple of Fortuna by Elodie Harper
---
Good Girls Don't Die by Christina Henry
Published by Berkley on November 14, 2023
Pages: 336
Format:eARC
Source:Copy provided by publisher for review, via Netgalley


A sharp-edged, supremely twisty thriller about three women who find themselves trapped inside stories they know aren't their own, from the author of Alice and Near the Bone.

Celia wakes up in a house that's supposed to be hers. There's a little girl who claims to be her daughter and a man who claims to be her husband, but Celia knows this family—and this life—is not hers…

Allie is supposed to be on a fun weekend trip—but then her friend's boyfriend unexpectedly invites the group to a remote cabin in the woods. No one else believes Allie, but she is sure that something about this trip is very, very wrong…

Maggie just wants to be home with her daughter, but she's in a dangerous situation and she doesn't know who put her there or why. She'll have to fight with everything she has to survive…

Three women. Three stories. Only one way out. This captivating novel will keep readers guessing until the very end.

Good Girls Don't Die is such a twisty and unique story, I simply could not put it down! I did not know what was happening, certainly not for a long while (and even then not really), but in the very best way, where you just need to keep reading because you must know everything. I obviously cannot tell you too much because this whole book is about finding out what the heck is happening, but let us briefly discuss!
My favorite part is that we are dropped into the story the same way as the characters- unaware, but finding everything out alongside them. It definitely adds to the intensity of the story, because every reveal is coming at the reader just as it is the character. It is told from the points of view of three different women, and each woman's story was absolutely as compelling as the others. Totally compelling, totally horrifying, compulsively readable. Add to it some completely badass feminist vibes, and you have a real winner here.
I perhaps wanted a bit more from the ending, especially after such a strong bulk of the book, but it did provide for a satisfying ending, even if it did feel a bit rushed for me. Certainly strong enough to not take away from the fabulous story leading to it, so I definitely cannot complain.
Bottom Line: If you're looking for an exciting book full of strong women and tons of twists, look no further, as this one was unputdownable!
---
Chaos Terminal by Mur Lafferty
Series: The Midsolar Murders #2
Published by Ace on November 7, 2023
Pages: 384
Format:eARC
Source:Copy provided by publisher for review, via Netgalley


Mallory Viridian would rather not be an amateur detective, and fled to outer space to avoid it…but when one of the new human arrivals on a space shuttle is murdered, she's back in the game.

Mallory Viridian would rather not be an amateur detective, thank you very much. But no matter what she does, people persist in dying around her—and only she seems to be able to solve the crime. After fleeing to an alien space station in hopes that the lack of humans would stop the murders, a serial killer had the nerve to follow her to Station Eternity. (Mallory deduced who the true culprit was that time, too.)

Now the law enforcement agent who hounded Mallory on Earth has come to Station Eternity, along with her teenage crush and his sister, Mallory's best friend from high school. Mallory doesn't believe in coincidences, and so she's not at all surprised when someone in the latest shuttle from Earth is murdered. It's the story of her life, after all.

Only this time she has more than a killer to deal with. Between her fugitive friends, a new threat arising from the Sundry hivemind, and the alarmingly peculiar behavior of the sentient space station they all call home, even Mallory's deductive abilities are strained. If she can't find out what's going on (and fast), a disaster of intergalactic proportions may occur.…

This series is such a fun, exciting win! We meet back up with Mallory and the gang of the sentient station Eternity just as more humans are headed to the station, only humans and Mallory have not worked out well in the past. She's clearly less than thrilled, but imagine her surprise when, of all the billions of humans who could have arrived on the ship, she happens to know at least half of them. There begins what can only be described as a dark comedy of errors, where folks both human and otherwise are anything but safe.
Honestly, the best part of this series is absolutely the characters. I adore Mallory, but many of the secondary characters are just an absolute riot. Like more Tina, always, please and thank you. But all the characters make even the most dire space catastrophe seem entertaining. I still cannot totally picture what the other species look like, and in my mind, the Gneiss look like bigger and more jovial Whomps from Mario, so do what you will with that. Regardless, they are all great.
Probably not at all what they look like but it's fine. 
Anyway, I think because I loved the characters so much is a big reason of why I loved this second installment equally as much. I cared about what was going to happen to them, basically. And add to it, the journey to get there was entertaining in itself, again, because of the characters. And the stakes are certainly high, don't get me wrong! There was a lot of excitement and dire straights and murder and hijacking and… well I could go on all day, just do yourself a favor and give this series a chance!
Bottom Line: The characters are endlessly endearing and there is plenty of action to go around, so bring on book 3!
---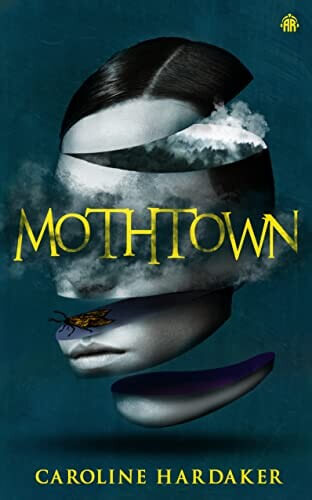 Mothtown by Caroline Hardaker
Published by Angry Robot on November 14, 2023
Pages: 360
Format:eARC
Source:Copy provided by publisher for review, via Netgalley


Including illustrations from bestselling illustrator and political cartoonist, Chris Riddell, Mothtown is the unsettling and eerie new novel by Caroline Hardaker, perfect for fans of Midsommar and Rivers Solomon's Sorrowland.

As a child, David could tell something was wrong.

The kids in school spread rumours of missing people, nests of bones and bodies appearing in the mountains. His sister refused to share what she knew, and his parents turned off the TV whenever he entered the room. Protecting him , they said.

Worse, the only person who shared anything at all with him, his beloved grandpa, disappeared without a goodbye. Mum and Dad said he was dead. But what about the exciting discovery Grandpa had been working on for his whole life?

Now 26, David lives alone and takes each day as it comes. When a strange package arrives on his doorstep, one with instructions not to leave the Earth, a new world is unfurled before David, one he's been trying to suppress for years…

Blending horror and literary fiction, Mothtown is the strange new novel from celebrated author Caroline Hardaker.

I have recently decided that moths are not great. Maybe even worse than birds because at least there are some cool birds, like penguins and flamingos and such. Moths, nah. Anyway this book isn't actually about moths as such, so that is some good news! (Also, another positive thing is that most moth-related fare seems to know that the moths are not great. Self-awareness, we love to see it.)
What I Enjoyed:
Look, this is a weird book. I like weird! This is a good thing! It is dark, and a bit depressing at times, and David sure is a mess of a person. The reader cannot help but feel for him, since his beloved grandfather is  missing or dead depending on who you ask,  and the rest of his family seems pretty emotionally stunted at best. In this world, people go missing sometimes and that is just that. I don't fully get it, and I don't know if we're supposed to fully get it, but basically David is told that this is just the way things are but also, that Grandad really is dead so shhh. So, that is how David grew up, and now he is an adult but maybe not a fully productive adult? Anyway, it is easy to see how he is still dealing with these remnants of his childhood. Anyway my point is, I liked all the heavier emotional stuff, and David trying to figure out what is going on, and what happened to grandad, and all that jazz. Also, the drawings are lovely, and while things were a little weird, they were good weird!
What I Struggled With:
The weirdness veered a bit off course for me, I'm afraid, into confusing. I think I understand what was going on by the end, but since it wasn't explicitly spelled out, I doubt myself. That is just who I am. So when things got a little less interesting-weird and a little more confusing-weird, I liked this book a little less. I am going to add a spoiler here so someone who has read it can tell me if they agree, yeah? View Spoiler »So the whole time, David was just mentally ill, right? And I assume so was grandad? Anyway, that was my takeaway. He was clearly stalking his perceived girlfriend, and whatever he was doing in his room was… a very clear sign. But I felt like the author wanted us to wonder if he was really mentally ill, or if his family just committed him because they didn't want him to really disappear? Someone, send help and answers. « Hide Spoiler
Bottom Line: Often good-weird, sometimes confusing-weird, the author's writing style and character development were definitely solid enough to keep me reading!
---
Calamity by Constance Fay
Series: Uncharted Hearts #1
Published by Bramble on November 14, 2023
Pages: 320
Format:eARC
Source:Copy provided by publisher for review, via Netgalley


Bramble's inaugural debut is equal parts steamy interstellar romance and sci-fi adventure, perfect for fans of Firefly and Ilona Andrews.

She's got a ramshackle spaceship, a misfit crew, and a big problem with its sexy newest member…

Temperance Reed, banished from the wealthy and dangerous Fifteen Families, just wants to keep her crew together after their feckless captain ran off with the intern. But she's drowning in debt and revolutionary new engine technology is about to make her beloved ship obsolete.

Enter Arcadio Escajeda. Second child of the terrifying Escajeda Family, he's the thorn in Temper's side as they're sent off on a scouting mission on the backwater desert planet of Herschel 2. They throw sparks every time they meet but Temper's suspicions of his ulterior motives only serve to fuel the flames between them.

Despite volcanic eruptions, secret cultists, and deadly galactic fighters, the greatest threat on this mission may be to Temper's heart.

Well this is a strong start to a series! I am already in love with the characters, and the author has a way with humor that really works, especially in offsetting some of the more dire circumstances. This is a space adventure, which you likely surmised from basic reading skills and/or the cover, but it is really a standout one. The stakes are high, and the plot is captivating, but the real stars of the show here are the characters.
If you do not absolutely adore Temperance from the start, I don't know what to tell you, you cannot be helped. She is fabulous, and hearing the story in her voice is the best. And while Temperance is awesome, so too are the other characters. I loved their dynamic and camaraderie, and watching them bring a new member (fancy family member Arcadio Escajeda) into the fold was extra fun, especially considering Temperance's angry lust for him. Speaking of Fancy Families™, they seem to control all the things in this world. Because of course a few wealthy people control everyone else. Lots of relevant topics are presented in this story- likely even more relevant than the author could have imagined in light of recent events. So while this is an incredibly fun story, make no mistake, it is also high octane excitement, too!
This is (very thankfully) a start to a series that I cannot wait to continue, but this one ends in a way that is satisfying enough that you won't be tearing your hair out waiting. Or maybe you will just because you want more of the story, and that is super valid too!
Bottom Line: Amazing start to a new world full of space adventure!
---
Last Girl Breathing by Court Stevens
Published by Thomas Nelson on November 7, 2023
Pages: 400
Format:eARC
Source:Copy provided by publisher for review, via Netgalley


When the answers to a present-day murder lie in the past, one teen girl must examine a tragic event to prevent more lives from being lost. No one expected it to rain that much. But the rain kept coming, the dam broke, and lives were lost. One was Lucy Michaels's little brother. She was there and while she saved the lives of many young boy scouts, despite being a child herself, she couldn't save him.

Now eight years later, Lucy is preparing to graduate from high school and compete in the air rifle competition at the Olympics when her stepbrother goes missing right before his most important football game. The search is focused on the same plot of land where her younger brother died, and she can't help but draw parallels.

When the search for a missing person becomes a murder investigation, Lucy knows the secrets she holds about what her stepbrother was up to that day could help find the murderer. The clues quickly connect Lucy's ex-boyfriend to the murders, but he couldn't be guilty... could he?

Everyone involved has their own secrets and revealing hers to the wrong person could put her life—and her whole town—at risk. Last Girl Breathing is a page-turning hunt for the truth as Court Stevens once again creates nonstop suspense with characters who will break your heart.

Last Girl Breathing is such a harrowing gut punch, but with some truly lovely moments scattered throughout. I adore Court Steven's books, and this one is no exception. It is, however, pretty dark, so do go in prepared. I could not find any official content warnings, but there is murder, and death of a child, so it does deal with some heavy topics. Lucy's story is sad from the first page, knowing she lost her beloved younger brother. And it only gets more harrowing from there, when her loved ones start to go missing, or worse, end up dead.
The author does an amazing job at allowing the readers to truly feel Lucy's emotions throughout the story. Add to it, everyone in the town seems both too kind to be the killer, but also just a bit suspicious enough to plausibly be the baddie. You don't want to think that any of these people Lucy loves could be capable of murder, but you also can't be sure. So much like real life experiences, really- you think you know people, and they cannot be capable of horrific things, but then they often are. Anyway, obviously someone is responsible for what is happening here- the victims did not hurt themselves, that much is clear.
This story is told over many years and many heartbreaks, and I loved that it seemed so realistic. There is nothing neat and tidy about this, and the author made some very daring, but very realistic choices. While my emotions didn't always love them, my head knew that they were right narratively. While the book itself is definitely darker in style, there is absolutely some heartwarming hopefulness to be found.
Bottom Line: Another stunning and heartwrenching novel from Court Stevens, complete with relatable characters and just enough glimmers of hope.
---
Swarm by Jennifer D. Lyle
Published by Sourcebooks Fire on November 7, 2023
Pages: 336
Format:eARC
Source:Copy provided by publisher for review, via Netgalley


Sixteen year-old Shur is one of the first to see the creatures. While staring out the window in history class, she spots one floating over the soccer field. It looks like a monarch butterfly—but it's huge. Within minutes, her classmates' phones are buzzing with emergency alerts. These things are everywhere, and though nobody's exactly sure why the alerts are telling them to take cover, Shur knows it can't be good. It's only when she's left school and headed home that she what the creatures do: they attack.

By the time Shur, her two brothers, and their two best friends make it back to her house, it's clear the five of them must survive whatever comes next on their own.

As the "butterflies"—new hybrid creatures thought to be created by climate change—multiply and swarm outside, anxiety-prone Shur focuses on what she can control: boarding up windows, stocking food, and preparing a shelter in the basement. They lose internet and power while vigilantes create terror outside.

Meanwhile the creatures begin to fulfill their ultimate purpose: multiplying via parasitic load, and before long, the butterflies aren't the only thing trying to get in. To protect her family and survive the invasions, Shur must find the strength to protect their sanctuary at any cost.

Guess what other animal we're going to skip? Butterflies. Too much like moths? Nah, it's cause these ones will hunt you down and murder you. Murder you bad, guys. I was worried because this one could have gone two ways: hokey, because giant butterflies, or awesome because giant butterflies. Happy to report, it was definitely the latter! What happens is this: giant, mutant butterflies have taken to the sky, and by the way, they do not like people. Or any animal, really, they'll attack whoever, they shan't be picky. But since Shur and her siblings and friends are people, they're mostly concerned about that.
They basically have to race home, and barricade themselves inside the house, hoping that no butterflies can smash through the windows or doors. If it sounds like a lot, that's because it is. Add to it, the last they heard from their mom, she's stuck at work and won't be able to join them. Oh yeah, and if you get bit by one of these monsters? It's game over, but painfully game over, and sort of zombie-esque. Shur has a pretty serious panic disorder to throw into the mix, which is no fun any day, but extra especially when you have to keep your wits about you at all times.
First and foremost, I love a survival story, and this one has all the best elements of characters trying to survive. It also had a great family focus, as you can imagine, since Shur was trying desperately to keep her siblings safe, along with their friends. Even their friends have to come to terms with being away from their own families during this time, so it is a huge focal point of the story. I also thought that the author handled the mental health piece very well. Shur is worried about having a panic attack at the worst times, sure, but she's also really worried about what happens if she can't get her medicine (after all, she only has a finite supply in the house), the withdrawal, etc.
The book was exciting from start to finish, and I loved the balance between character development and action. Sure, the killer butterflies required a bit of suspension of disbelief,  but not much, and the author included the fact that it was wild and outrageous as part of the plot- Shur and the gang were just as shocked as we the reader are!
Bottom Line: An exciting and emotive survival story that you should not read before heading out to the butterfly sanctuary, but should definitely read in all other cases.
---
The Temple of Fortuna by Elodie Harper
Series: Wolf Den Trilogy #3
Published by Union Square Co. on November 14, 2023
Pages: 384
Format:eARC
Source:Copy provided by publisher for review, via Netgalley


The final instalment in Elodie Harper's Sunday Times bestselling Wolf Den Trilogy

'Beautiful, moving, captivating.' Jennifer Saint'Vivid, unsentimental and compelling.' The Times

Amara's journey has taken her far; from a slave in Pompeii's wolf den to a high-powered courtesan in Rome... though her story is not over yet.

While Amara plays for power in Rome's imperial palace, those dearest to her remain in Pompeii. But it is AD 79, and mighty Mount Vesuvius is about to make itself known...

Praise for the Wolf Den Trilogy:

'Harper's recreation of this ancient world continues to thrill.' Observer

'Gripping and richly imagined.' Louise O'Neill'

A spell-binding novel that brings Pompeii back to life.' Anna Mazzola

'Brutal yet beautiful... compulsive.' Susan Stokes-Chapman

'A one-of-a-kind historical novel.' Red Magazine

"Perhaps nothing marks the passage of time as inexorably as the loss of love."
All you really need to know is that this book, and this series really, restored my faith in trilogies. All the books were strong, but this one blew me away, full stop. I will give you a few reasons why you need to pick this series up immediately, if not sooner:
My favorite thing about this series is how the author managed to make people who lived over two thousand years ago (and yes, some of them were definitely real people, albeit in fictionalized form) so completely relatable. Someone will be meandering down the streets of Pompeii, headed to a bathhouse thinking about life and I am like "I feel you, ma'am". The tying together of humanity, past and present, is simply exquisite throughout this series.
Speaking of history, wow did this send me down a rabbit hole! I find history fascinating, for many reasons. But I think the biggest for me is that I find it so beautiful that we have so many shared experiences over the course of humanity. Some are awful, like what happens in Pompeii, or Amara's slavery in the brothel. But some are so uplifting, and this book shows both angles brilliantly. And while the reader will obviously find many of the tenets of ancient Rome horrific, a quick look around will show us that we're not in such a different society after all.
The characters were truly remarkable. It helps that this is a series so we get to know them so intimately, but wow. Just wow. I felt like I was reading about friends at this point. Again, a great commentary about how little the human experience really changes, despite other differences.
My. Emotions. That is all. They are not okay. I knew they would not be- this whole series is about Pompeii in 79 CE, which… well doesn't take a history major to know that some things are going to go down. It was emotive from the start though, when we first encounter Amara and her friends in the brothel. So while the eruption certainly was always going to be a tragedy for some, there is plenty of both joy and heartache to go around.
While I cannot say much because spoilers, I love the direction the author went with this conclusion. I had assumed that she'd have gone in one direction, but I was so, so thrilled at the way it ends, and how we get there. That's all I'll say, but I promise, if you start this series, you will not be let down by its end, not in any way.
Bottom Line: Read this series. You won't be sorry, and you will fall in love with these characters, find yourself immersed in their lives. Now, I need to go add Pompeii to the places I must, must visit in my life.
Have you read any of these books? Plan to? Let us chat about them!